Welcome to winter! The one time of year where you can shamelessly bitch and moan about how cold your feet are without social repercussion. In honor of this wonderful time of year, and the fact that we're just over half way through it, I thought I'd bring you a special treat. Ta-Da! A boot round-up!


Lets start by talking about fabric and heel. There was a time when I literally wore my chunky heeled black leather boots every single day with every single outfit. The height of the heel and the mid-range quality leather just made them versatile. This is not always the case. The height of a boot heel can range from completely flat to infinity and can be chunky or hot sexy stiletto style. Most boots you find will be in the one inch to five inch range. Both the material and the cut determine the dressiness of boots. For someone going for a more femme look, a tan mid-calf boot made of distressed leather without a heel will look daytime casual, while a black boot with a stiletto heel, a contoured ankle and a long shaft will look more appropriate for the evening. For someone going for a more butch look, a lower shaft boot with a slight heel in a black or cognac polished leather will look more dapper than a tan, chunkier heeled combat or work style boot. Generally speaking, duller or distressed leather or suede is more casual while polished leather in dark or rich colors tends to be dressier. That being said, these rules cannot be broadly applied to all boots. You really have to take it boot by boot.
When shopping, be aware that leather boots change shape and size as you wear them. Make sure that anyone helping you with boots knows what they are talking about and can help you fit properly, particularly through the toe and inseam. In fact, it might be worth brushing up on your boot terminology so you can best explain what you're looking for. One very common boot shopping hardness is finding boots that fit around one's calves or are comfortable on the ankles. If this is a problem for you I strongly suggest using a measuring tape to figure out the circumference at the widest part of your calf and ankle and then ordering boots online. If this freaks you out, try shopping in a specialty boot shop. In most boot shops and department stores you should be able to find boots abundantly common in black and brown, easily found in slate and tan and less commonly seen in red and blue. Both leather and suede are in style and widely available right now, although bright colors are much more common in suede. I would say the availability of colors roughly correlates with how good boots actually look in that color. The exception to this rule is slate which should be the most widely available color of boots because grey boots look fucking awesome.
Though most people have a general sense of how to wear their own personal favorite basic boot, I receive a lot of questions about particular types of boots and how best to achieve just exactly the look/formality/gender expression/awesomeness one might be going for. There also seems to be a lot of confusion about general to tuck or not to tuck. This varies greatly by boot. Thus, I've divided some of the most common types of boots in to categories that made sense to me at the time of writing. I've done my best to talk about how each particular boot might play a role within your personal style and gender expression. This list is certainly not meant to exhaustive, if it were I would have included mukluks.
+
Snow Boots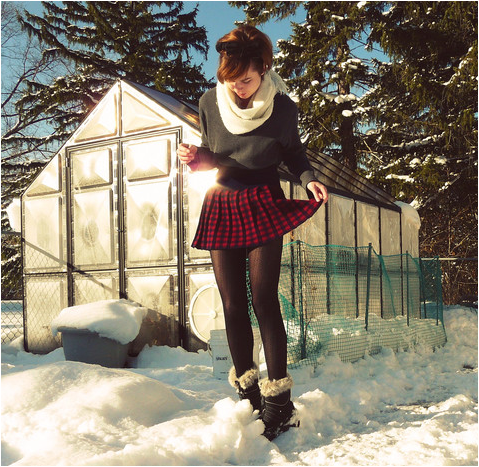 The thing about snow boots is that they're the only type of boots you truly absolutely "need." If you live in a place that gets snow, winter boots are the boot equivalent of Wikipedia. Technically you can get by without it, but it really sucks and you feel cold and alone and it ruins your day. If you don't have a working pair of winter boots, it means you're ruining all your other shoes and probably costing yourself tons of money and sadness. I love to wear winter boots in to work and then change in to Sperry's/Toms/moccasins/slippers.
One of the best things about snow boots is that, since they're only a "sometimes shoe," you can go as simple or as crazy as you want. You can find snow boots that look almost exactly like regular leather/sued boots except they're waterproof or ones so extreme they look like snowboarding boots. Personally, I like Sorels the best because they're hilariously over the top in terms of "Looking Like Your Dad" but they also come in funky colors.
I have one pair that are black and go up to my knee where they get so furry my dog barks at them and another pair that are ankle height and plaid. That's right, I have two different pairs of the same brand of snow boots. I live in New England and these are things I need.
As far as I'm concerned, winter boots should always be worn outside your pants. Even if you're not into skinny jeans or wear particularly baggy pants, winter boots go on top. Otherwise your pants will get wet and salty like the tears you will be crying from how much colder this will make you. Yes, there are winter boots that look just like hiking boots but are winterized, but I don't think those keep you warm enough.
Higher boots in black or a pattern will look more girly, a lower boot in brown will look more butch, and big chunky classic snow boots are super versatile with respect to gender presentation.
+
My Picks
Summary!
When to wear: To and from the place you're going whenever it's snowy/wet outside
When not to wear: Inside or at a party where you'll get sweaty
What to wear them with: Anything! You're adventuring outside in to the blizzard, but remember the boots always go on top! Try with wool tights and a dress, heavy snow gear and baggy jeans or with a ski vest, plaid shirt and skinny jeans.
+
Military Boots
This year military inspired boots are back with a vengeance, which is great since they might just be the best queer boot on the planet. Actually, the boots that are in style are more similar to a traditional "paddock boot" for English horseback riding mixed with your classic combat boot BUT with a thinner sole.
Basically I'm talking about any boot with a flat, or near flat, sole that laces up about 7-10 inches hitting you above the ankle. Your military boot is your everyday, going to the bars, going to work, going to class, going grocery shopping, "taking your dog out" boot.
As long as you're not sporting a super thick/rugged sole, you can wear military boots just about anywhere besides a semi-formal (or nicer) party.  The toned down, pointed toed, stylized military boots that are being shown right now could replace probably half of the other shoes you have.
Military boots usually come in your basic black, brown and grey, but I'm a classic kind of girl and like them best in black. Most of the styles being shown right now have a zipper down the side or back which is awesome because 1. It looks badass and 2. You never have to re-lace them up. It's also easy to find military boots with a variety of heels. If you like a completely flat boot, they're definitely available, however, if completely flat boots give you that duck-feet feeling so luckily you can find military style boots with heels. You can, of course, always switch out for the classic lesbian Doc Martin.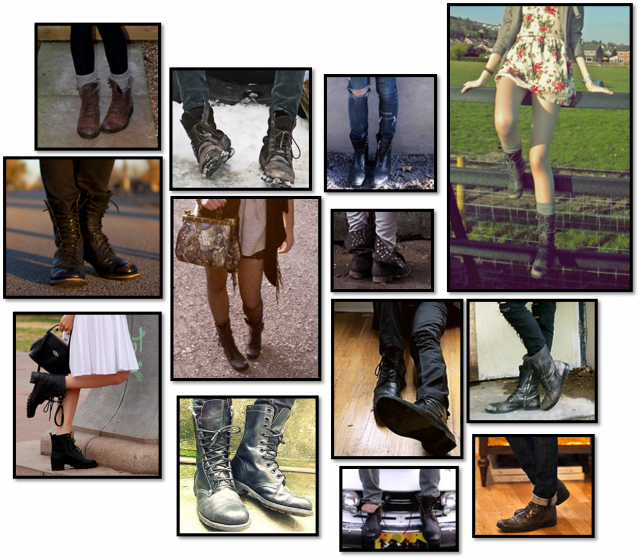 There are three basic ways to wear military boots:
First, you can lace them all the way up and be done with it. This style works over very skinny jeans or under basically any other type of pants. You can also wear your boots like this with tightish pants rolled up to just above the boot.
Second, you can lace them halfway up and tie the laces at the ankles. The half-way lace is best suited for tucked in skinny jeans, straight leg pants or rolled up slightly and pinned flat flares.
Finally, you can lace work boots halfway up and fold over the top. Anita Dolce Vita, Features Editor at dapperQ, pointed out to me that this looks particularly cool if you boots have a colorful or interesting lining.
Another great way to wear military boots is with a dress. It takes the feminine edge off of wearing a dress in a distinctly queer way. I like wearing my black one with floral or overly girlie dresses and skirts to give them an edgy look. You can wear them with low socks so your bare leg just melts right in to the boot or scrunch down a ski sock so it just shows above the lip of the boot. A thick wool tight is also a cute option with a dress or shorts in the winter giving you a ski-bunny appearance.
+
My Picks
Summary!
When to wear: Everyday for your normal stuff or out to a relaxed bar
When not to wear: When going to dressier clubs or anything semi-formal or nicer
What to wear them with: Skinny jeans or straight jeans tucked in, looser jeans on the outside, shorts or to give girlier dresses an edgy look.
+
Equestrian Boots
If you want to look like Spencer from Pretty Little Liars and/or anyone with a ton of money, the best way to do so is by investing in a pair of riding boots. Riding boots are preppy in the best way possible. Dont' get actual riding boots, of course, those are expensive and scary, but you can find riding inspired boots anywhere. Your riding boot should come up anywhere from mid-calf to just under the knee and be leather or faux-leather with a flat sole.
Some riding boots, called "field boots," have laces up the ankles but not all the way up the leg. Traditionally this is meant to support your ankle while riding, non-traditionally this is meant to look awesome/dapper.
Others resemble a more run-of-the-nill black leather boot, which support a harness at the ankle or a strap/buckle at the top. Many riding boots  have a distinct cuff at the top which is distinguished by color, texture or even just a seam.
However, riding boots traditionally lack a zipper, which means you'll often find yourself having to jam your sweaty foot down a boot unless you find one with an elastic panel (which gives your calves some breathing room). But side and back zippers are popping up more often on riding boots these days, hidden on the inner calf or along a seam or sometimes purely visible in a pop of color.
Riding boots provide a more "femme" silhouette while not being totally girly, and therefore they perfectly complement a femme preppy look, such as skinny pants + blazer and/or loose blouse. But riding boots are actually quite versatile — 'cause they lack a high heel, you can wear them to work or other business-casual type settings or throw them on with short dresses or skirts during the day. However, when paired with skirts that go past the knee, riding boots can give you an 'overly bundled prairie style' look' and riding boots also look weird underneath jeans. Riding boots are designed to be worn over riding pants, after all, and the slim foot and lack-of-heel makes them a flop underneath a straight or bootcut leg.
Plus, riding boots can be very expensive, so why hide them! (I also love how riding boots look with a bit of knee high socks sticking out the top!)
+
My Picks
Summary!
When to wear: For work, dinner with friends or anytime you want to look particularly preppy. Particularly cute with a blazer. Or horseback riding.
When not to wear: When going a semi-formal event or anyplace they might get trashed
What to wear them with: Skinny jeans, straight jeans or flares tucked in, short skirts or shorts with tights but rarely with longer skirts.




Next: More boots and team member's top picks!
+
Rain Boots
I don't have a ton to say about rain boots. Rain boots err on the side of girly but in black can be pretty androgynous, especially if you pair them with sort of a solemn "It's Raining in Paris" black trench coat.
Now when I was 17 I shamelessly acquired this overly expensive pair of Burberry boots but I still rock that shit every time there's a drizzle. They're the best rainboots on the planet: they've yet to spring a leak and the back-zipper saves me from foot-stuffing catastrophes. That zipper is a complete game changer.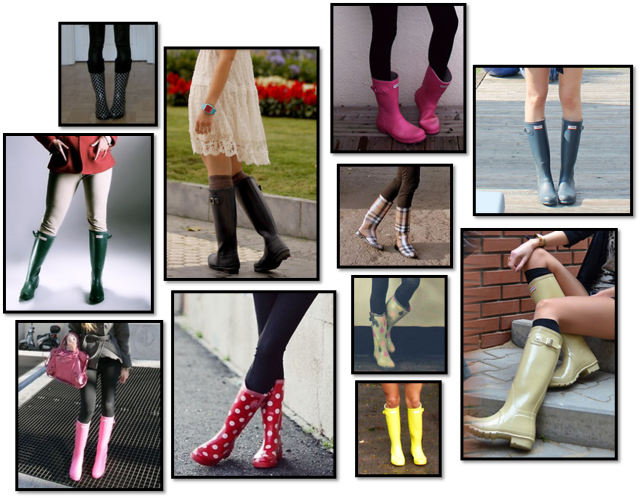 Much like snow boots, rain boots are sometimes-shoes so you can get away with more and the many colors/designs provide for fun mixing-it-up times when it's yucky outside. Remember to tuck in your pants, obviously, lest your pant leg become wet & dirty.
My Picks
Summary!
When to wear: When it's rainy outside
When not to wear: When it's not rainy
What to wear them with: Basically anything, as long as you're okay with looking somewhat femme or sporty.
+
Over the Knee Boots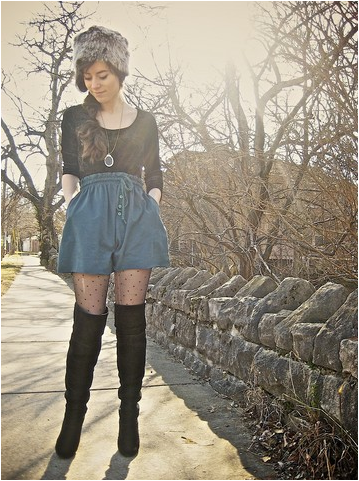 Over-the-knee boots are in the category of "shoe too cool for me to wear." Previously only visible in go-go costumes or dominatrix outfits, these boots have been making a comeback in everyday style. The latest over-the-knees are like the lovechild of riding boots and go-go-boots and manage to cover your knee in front but not surpass the crease of the back of your knee, thus making them one hundred billion times more comfortable than thigh-high predecessors.
While over-the-knee boots are a truly femme style, super-platform high heels and patent leather will look too costumey. Go for a suede of distressed leather in a light to medium brown with a narrow foot and a flat sole. That way it's almost like you're just wearing the most badass riding boots ever.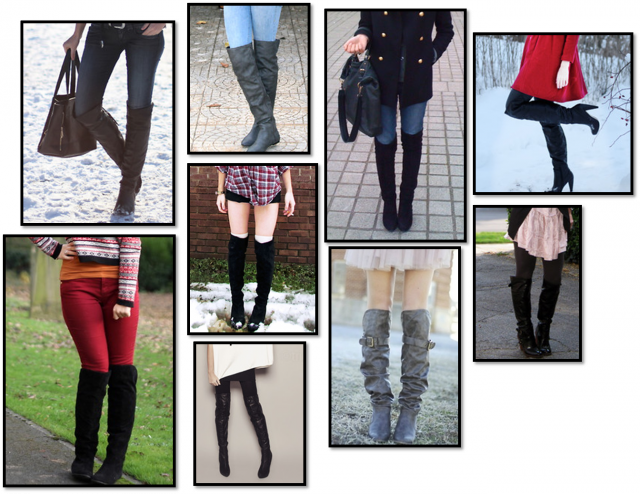 Over the knee boots can definitely bring up What The Hell Do I Wear With That feelings. A totally safe bet are leggings with a longer blouse/button up. Beware of skirts or dresses with over the knee boots, it can look very costumey/dated.
I think over-the-knees look awesome with short-shorts and tights, but my roommate says it looks trashy. Decide for yourself.
+
My Picks
Summary!
When to wear: In casual settings.
When not to wear: Anytime you need to look dressed up/appropriate.
What to wear them with: Leggings and maybe shorts with tights depending on how adventurous you are. Skip skirts on this one.
+
Ankle Boots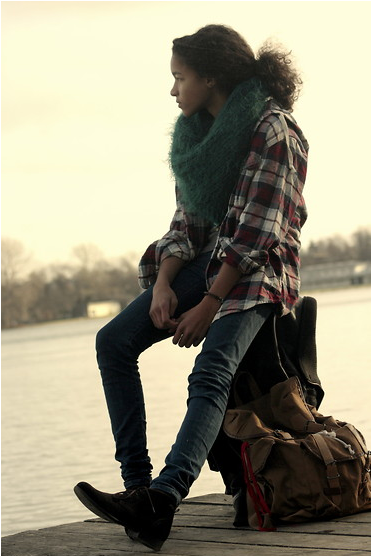 At the bottom of every boot is an ankle boot, so this is one big fat category. Generally speaking, I think of ankle boots as encompassing three subtypes of boots: booties, Chelsea boots and chukkas.
1. Booties
As you can probably tell from the "ies" ending, booties are the most femme of the three types. These lace-up or zio-up high-heeled boots cut somewhat at the ankle, come in all sorts of styles and colors (I love an oxford pattern), and even look cute as peep-toes or wedges.
Dressier, higher-heeled booties work as a formal attire show and complement an above-the-knee OR full skirt or dress. My favorite aspect of high-heeled booties is that you can wear them with a cornucopia of nicer women's pants while avoiding the "tuck or not to tuck" dilemma and providing greater accessibility to women with different body types.
Leggings and skinny jeans look great with booties, but wide-leg, boot-cut and straight leg slacks look AWESOME with booties.
Lower-heeled booties can make great casual shoes, look sexy for going out in skinny jeans/leggings and look great with shorts. If your bootie is more sturdy and casual, you can wear it with socks and look adorable and probably could even pull off a cool look with cargo pants.
Though booties are generally a pretty femme trend, you can create a great androgynous gender-bendy look by mixing them with menswear. Imagine how cool black stiletto peeptoe booties might look with a white button-up, suspenders, black pants and slicked back hair!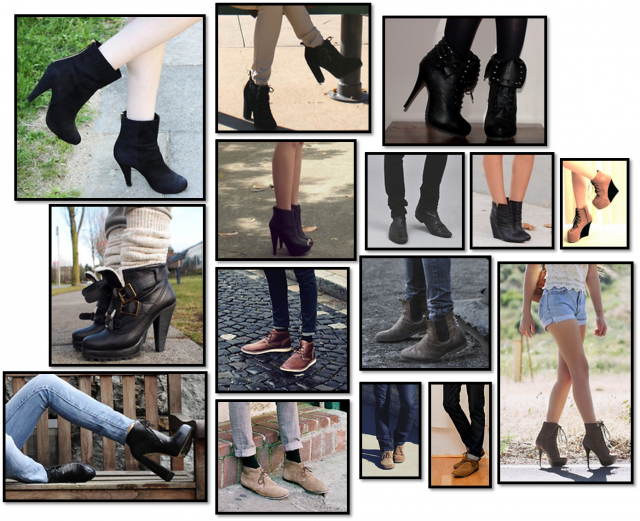 +
2. Chelsea Boots
"Chelsea boots" are like an English riding boot that gave up halfway through: low heeled and tightly fitted, these babies end narrowly at the ankle and sport the Chelsea boot signature of an elastic band on one or both sides. They look great with most cuts of pants and are basically gender-free in terms of styling, which's great if you want an androgynous work shoe.
Chelsea boots were originally designed as riding boots during the Victorian era but were repopularized in the 60s by the Beatles and then again in the 70s and 80s by their appearance in Star Wars.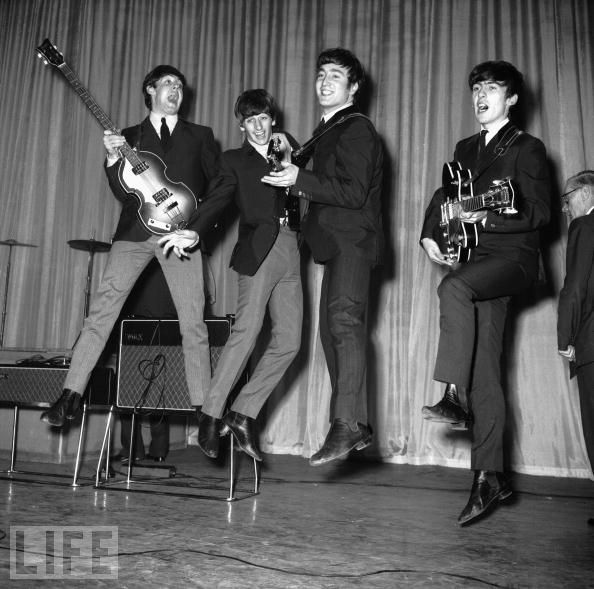 There's a 90% chance your mom has a pair of these. My mom swears they're super comfortable so they're great if you work on your feet all day.
+
3. Chukkas
Finally I come to chukkas. You might not think you know what a chukka is, but I bet you actually do. They're those suede hipster ankle boots with only two laces eyelet. What I love about chukkas is that they're, like Chelsea boots, gender-neutral but, like booties, look awesome with everything.
Because they only lace up a little bit, chukkas walk the line between flats, loafers and ankle boots. You can just as easily wear a pair of black chukkas with a pair of patterned tights and a cute dress as you can a tan pair with straight leg slacks, a button-up and a bow tie. Two equally awesome looks, one type of boot.
They are similarly easy to dress up and dress down.
There's one rule about chukkas — actually, it's bout all ankle boots: they just don't look good with cropped pants. That two-inch band of skin above your ankles between your pants and boots is mega unflattering.
My Picks
Summary!
When to wear: In a casual or semi-formal setting depending on the boot.
When not to wear: In an ultra formal setting
What to wear them with: Anything except cropped pants. No skirts/dresses with Chelsea boots either.
+
Comfort Boots
Some of the most amazing types of boots weren't necessarily designed for a trip to the club. This category includes sweater boots, Uggs and Ugg-style boots
I'm not hating on Uggs. There's nothing, and I mean nothing, as satisfying as slipping into some warm soft shearling (or faux shearling) boots first thing in the morning to grab a bagel and walk your dog. They're like a wonderful hug for your legs.
Similarly, a pair of super soft sweater boots are practically just upgraded socks. If I had a fireplace I would wear sweater boots in front of it every day. Everyday.
However, and this is a big however, I just don't think boots that are designed for snuggling are appropriate for work, social events or really anywhere you need to look remotely nice. Please withhold your pitchforks and burning. It's not that there's anything wrong with being comfortable, but between the hardline top edge and the duck foot; Uggs just don't create a remotely flattering look.
Summary!
When to wear: At home or while walking to yoga
When not to wear: In any remotely nice setting
What to wear them with: Leggings and your favorite sweatshirt
+
Cowboy Boots
Cowboy boots confuse the hell out of me, but I like them anyway. You see, I was a kid in the eighties and early nineties so I had a pretty sweet pair of white ones when I was three. Since that time, I've been living in New England where cowboy boots weren't a big thing until recently. Now, slowly but surely, it's starting to look like a rodeo around here.
Due to their ever-increasing popularity, it's increasingly easy to find pairs in a range of styles/colors, which is great for those with large or small feet. Cowboy boots are also super-sexy on a masculine-of-center girl and offer a way to get a little extra height without looking too girly. The key is subtlety.
Unless you're actually attending the Pendleton Round-Up, you don't necessarily want a super flashy boot that will lead you to be known around the neighborhood as "That Girl With the Cowboy Boots." I like boots with just a little stitching and minimal inlayed color. Additionally, a more distressed leather makes a better boot for casual settings.
An eye towards subtly when wearing cowboy boots should extend to the rest of your outfit also. In order to avoid looking costumey, steer clear of plaids, tucked in button ups, Canadian tuxedos (jeans with denim shirts and a jean jacket) and peasant blouses. These all add to the cowboy costume effect.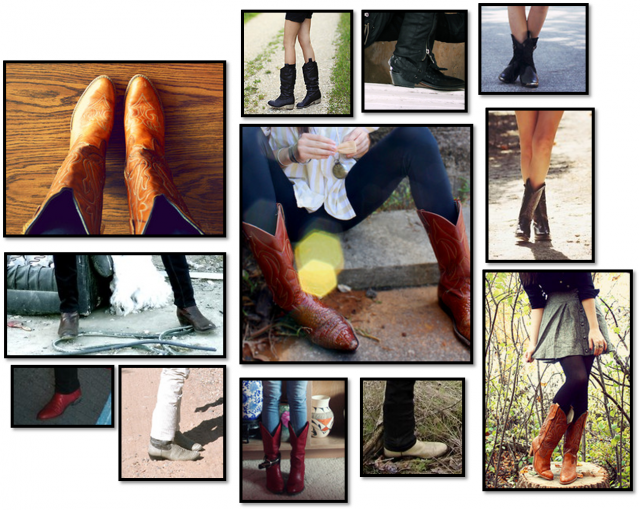 Casual cowboy boots are great with shorts, knee length or above skirts or with jeans. If you're looking for more of a statement or femme look, tuck your jeans in to your boots. Conversely a more subdued or butch style is to wear bootcut or straight leg jeans on the outside of the boots. There is, as with everything, a gradient in between, particularly if you're actually in the South where men sometimes wear knee length cowboy boots (buckaroos) outside of their jeans. Jeans worn on the outside of cowboy boots should be long enough that they fold over/scrunch a bit in the front, but not so long that they drag in the back.
But if you're a Southern or Midwestern dweller with masculine-of-center leanings, cowboy boots have a whole other non-denim world to explore. Dressy cowboy boots (which can easily surpass $400) work underneath slacks in lieu of loafers, oxfords or derby shoes. Dress cowboy boots can even be worn with a tux to some southern black tie events (usually the invite with specify Wester Black Tie). Keep in mind, however, that this is limited to high quality polished leather or snakeskin boots.
One last thing to be careful of when buying cowboy boots. Make sure they properly fit in the toes. I bought a beautiful pair about four years ago. Unfortunately I quickly discovered that if I tried to open a door the toes were so long that the door bounced back at me. If you have more questions regarding the fit and wear of cowboy boots I suggest checking out Bootedman.com's guide to cowboy boots.
My Picks
Summary!
When to wear: When it's dry outside. For casual fun or clubbing in the North, also for work and formal events (with suits only) in the South and Midwest
When not to wear: To formal events in the North
What to wear them with: Pants, short, suits or flowy dresses. Avoid getting to cowboyed up with tucked in plaid button-ups.
+
Vegan Boots
Many people chose not to wear leather or other animal skins for a variety of reasons. This can be tough with boots. Obviously rain boots and snow boots come vegan-standard, but it can be really tricky to find good quality faux leather boots, especially if you're also looking to avoid unfair labor practices and thus forego cheap-faux-leather shoes from mass-production stores.
Your local show store might not have very many good quality vegan boot options, so I suggest hitting the internet. Plenty of online shops, such as Novacas and Moo Shoes, sell exclusively vegan shoes. Alternatively, you can also just select "faux leather" on many mainstream shoe shopping websites, such as Zappos. Whatever your choice, remember two things:
First, because no natural leather is involved, finding vegan boots should actually be cheaper. Second, because no natural leather is involved, you may have to shop around more or even pay more (contradictory, I know) in order to find a high quality vegan boot.
+
Team Picks
Given the option to pick a boot, this is what our amazing staff and affiliates came up with:
Lizz: Sorel Tivoli Boots and OTBT Hutchinson Boots
Jamie: Loretta Vegan Ankle Boots from Novacas
Brittani: TBL 6-Inch Waterproof Flat Wedge and Men's 6-Inch Basic Waterproof Boot
("I got mine in high school and they were both like special editions so they're a little different and thus cooler but whatevs.")
Anita Dolce Vita, DapperQ Features Editor: Steve Madden Cablee Boots and Sperry Top-Sider Starpoint
Laneia: Frye Harness 15R
Carmen: Laredos
Rachel: Dr. Martens Castel 8-Eye Boot
Laura: Clarks Saloon Dillon
Sara Medd: All Saints Vintage Damisi Boot


Well there you have it, a nowhere near complete guide to getting your queer boots on. Whether you just can't live without your wellies or you're finally figuring out how to style cowboy boots, there's no better time to catch boot fever than in the middle of the winter heading in to spring. So everyone share your boot stories!
Pages: 1 2 See entire article on one page