Art Attack Month: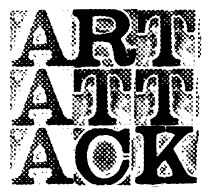 0. 1/28/2012 – Art Attack Call for Submissions, by Riese
1. 2/1/2012 – Art Attack Gallery: 100 Queer Woman Artists In Your Face, by The Team
2. 2/3/2012 – Judy Chicago, by Lindsay
3. 2/7/2012 – Gran Fury, by Rachel
4. 2/7/2012 – Diane Arbus, by MJ
5. 2/8/2012 – Laurel Nakadate, by Lemon
6. 2/9/2012 – 10 Websites For Looking At Pictures All Day, by Riese
7. 2/10/2012 – LTTR, by Jessica G.
8. 2/13/2012 – Hide/Seek, by Danielle
9. 2/15/2012 – Spotlight: Simone Meltesen, by Laneia
10. 2/15/2012 – Ivana, by Crystal
11. 2/15/2012 – Gluck, by Jennifer Thompson
12. 2/16/2012 – Jean-Michel Basquiat, by Gabrielle
13. 2/20/2012 – Yoko Ono, by Carmen
14. 2/20/2012 – Zanele Muholi, by Jamie
15. 2/20/2012 – The Malaya Project, by Whitney
16. 2/21/2012 – Feminist Fan Tees, by Ani Iti
17. 2/22/2012 – 12 Great Movies About Art, by Riese
18. 2/22/2012 – Kara Walker, by Liz
19. 2/22/2012 – Dese'Rae L. Stage, by Laneia
20. 2/22/2012 – Maya Deren, by Celia David
21. 2/22/2012 – Spotlight: Bex Freund, by Rachel
22. 2/24/2012 – All the Cunning Stunts, by Krista Burton
23. 2/26/2012 – An Introductory Guide to Comics for Ladygays, by Ash
24. 2/27/2012 – Jenny Holzer, by Kolleen
25. 2/27/2012 – Tamara de Lempicka by Amanda Catharine
26. 2/27/2012 – 10 Contemporary Lesbian Photographers You Should Know About, by Lemon/Carrie/Riese
27. 2/27/2012 – Read a F*cking Book: 'The Last Nude,' by Amanda Catharine
28. 2/27/2012 – Spotlight: Alice Hyde, by Laneia
29. 2/28/2012 – Spotlight: Mars Hobrecker, by Laneia
30. 2/28/2012 – Spotlight: Michelle Muldrow, by Laneia
31. 2/28/2012 – Spotlight: Laura Doughtie, by Rachel
32. 2/28/2012 – Spotlight: Sadie Lee, by Mira
33. 2/29/2012 – Spotlight: Kathryn Weaver, by Laneia
34. 2/29/2012 – Ariel Schrag, by Whitney


Ariel Schrag is the graphic artist every midwestern / east coast-ern / west coast-ern / southern / northern / everywhere-ern queer needs to experience. Her books, Awkward, Definition, Potential and Likewise document the uncomfortable twists and turns of figuring out your sexuality in high school, and the four graphic memoirs perfectly document the insecurities of developing self-hood and the never-ending, heart-rending cycle of "does she like me / doesn't she like me / OH NO SHE DOESN'T LIKE ME."
The four books were written and illustrated by Schrag during each of the four years of high school — Awkward documents her freshman year, Definition sophomore year, Potential junior year and Likewise senior year — and her style changes and develops over the course of the four books. The series begins with Awkward, a semi-self-conscious graphic diary of Schrag's daily life and ends with Likewise, a swirling cloud of Emily-Dickinson-head-flying-off revelation, where Schrag seeks to communicate emotions, the effect of drugs, and thoughts in illustration that's sometimes psychedelic and sometimes The Scream-esque. It's a brilliant set of memoirs that document queer adolescence in all of its painful and honest detail.
Potential was nominated for the Oscars of the graphic novel world, the Eisner Awards, and it's my favorite of the four. The cover is modeled on a high school AP Biology textbook, which reflects how Schrag is trying to "connect the biology she reads in textbooks to the biology she's living," according to the book description — connecting the idea of sex to having sex, the idea of love to the act of loving someone, and figuring out how to negotiate these connections for the first time. In Potential, Schrag deals with a first-time same-sex relationship (and inevitable heartbreak), her thoughts about sexuality and desire to lose her virginity right now ("IT'S TIME TO LOSE MY FUCKING VIRGINITY," she screams in one panel) and the painful, emotionally numbing divorce of her parents. It's a book that hits your adolescent self hard in the gut. Schrag has a way with these sorts of things.
The details Schrag catches in her illustrations definitely reel you in to various points in your adolescence. Schrag's mussy, cow-licked lifestyle haircut in Likewise reminds me of my own hair when I was in college, and probably will remind you of some of the hair cuts you've gotten in the past, too. Her description of how her wardrobe needs to be just so in order to look right — with just enough balance and proportion from ankle to shoulder — perfectly captures the microscopic attention to (or maybe more accurately, scrutiny of) our own bodies that is so uniquely high school. And Schrag's frequently-described stomach-falling feeling when she realizes she is being let down or disappointed by the person she loves is captured perfectly, and takes me directly to when my stomach flopped over in anxiety and disappointment as a teenager.
All in all, Schrag's books are amazing. She has a web comic that updates occasionally, titled Ariel and Kevin Invade Everything, and regularly posts illustrations published in various magazines and newspapers (like this one of Lady Gaga in New York Magazine) on her website. Schrag's got some rennaisance-woman skills and has also written for shows like The L Word's third and fourth seasons and HBO's How to Make It in America. Schrag wrote the film adaptation for Potential, to be developed by Killer Films, the same group that worked on Boys Don't Cry — the film started shooting in 2009, but there's no release date yet, to which I ask WHEN IS IT COMING OUT BECAUSE I NEED TO SEE IT.
Check out Schrag's website here, listen to Schrag read excerpts from Potential below, and view some excerpts from Awkward and Definition below, too. It's awesome. I promise.