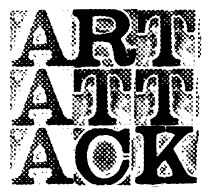 Art Attack Month:
0. 1/28/2012 – Art Attack Call for Submissions, by Riese
1. 2/1/2012 – Art Attack Gallery: 100 Queer Woman Artists In Your Face, by The Team
2. 2/3/2012 – Judy Chicago, by Lindsay
3. 2/7/2012 – Gran Fury, by Rachel
4. 2/7/2012 – Diane Arbus, by MJ
5. 2/8/2012 – Laurel Nakadate, by Lemon
6. 2/9/2012 – 10 Websites For Looking At Pictures All Day, by Riese
7. 2/10/2012 – LTTR, by Jessica G.
8. 2/13/2012 – Hide/Seek, by Danielle
9. 2/15/2012 – Spotlight: Simone Meltesen, by Laneia

Simone Meltesen's work-in-progress series, Girl Paintings, is super relevant to our current feelings re: CAMP, but also we would've loved these paintings any day of the year. Simone is a 28 year-old queer woman in Brooklyn with a lot on her CV. Her work has been in group shows at The LGBT Center, The Flux Factory, Sweet Lorraine Gallery, and A.I.R. Gallery, all in New York. She's currently working as Director of the A.I.R. Fellowship program at A.I.R. Gallery — the first cooperatively run gallery for women artists in the world. Simone has also run the art room at the Willie Mae Rock Camp for Girls for the past six years, which we thought you'd appreciate.
Artist's Statement
The paintings in my current body of work present an alternative narrative of female adolescence. They depict a mythology and iconography of adolescent girlhood that posits girls as the primary actors in their own lives – a site that girls have rarely occupied in western art. Drawing inspiration from sources such as girls' sleepaway camps, Girl Scouts, the Riot Grrrl revolution, girl gangs, slumber parties, and family photos, I create elaborately detailed, surreal coastal landscapes that are populated by a utopian society of adolescent feral girls.
(continued below)
Some of the girls congregate in threatening packs, weapons in hand, while others operate independently, hunting hairy whale-like monsters and surveying the polychromatic inter-tidal terrain. While the landscapes are painted in gouache, intricately detailed and specific, the girls themselves are faceless, anonymous and rendered as simple line drawings in graphite pencil. Lacking faces, and therefore emotions, the girls' identities, as well as motives, are non-specific and fluid. The compositions are framed within rough oval shapes on large rectangular sheets of paper. These portals are a threshold into a hidden world – and suggest that there is more going on beyond the edges of each scene than what we are able to view.
The landscapes of forests, cliffs, and especially tide pools are derived from memories of time spent on the coast in Northern California, where I grew up. The tidal terrain functions as a liminal space, a secret landscape only visible when the tide is out if we know where to look. Similarly, the girls operate in the fraught space between childhood and adulthood, and like most teenagers, their actions are inscrutable and puzzling to outsiders. The images of girls wielding knives and axes, stabbing and killing strange beasts, are a corrective to acceptable mainstream parameters of female "empowerment" messages aimed at girls.
Simone adds that though queerness is not the main subject of her artwork, it is definitely a theme. "It's important to me to represent queer girls in my artwork. I try to impart this with 'alternative lifestyle haircuts' as well as the body language of the girls in my paintings."
Learn more about Simone Meltesen and A.I.R. Gallery and follow Simone's personal blog.