Art Attack Month: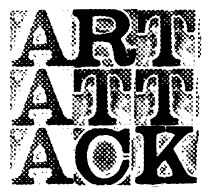 0. 1/28/2012 – Art Attack Call for Submissions, by Riese
1. 2/1/2012 – Art Attack Gallery: 100 Queer Woman Artists In Your Face, by The Team
2. 2/3/2012 – Judy Chicago, by Lindsay
3. 2/7/2012 – Gran Fury, by Rachel
4. 2/7/2012 – Diane Arbus, by MJ
5. 2/8/2012 – Laurel Nakadate, by Lemon
6. 2/9/2012 – 10 Websites For Looking At Pictures All Day, by Riese
7. 2/10/2012 – LTTR, by Jessica G.
8. 2/13/2012 – Hide/Seek, by Danielle
9. 2/15/2012 – Spotlight: Simone Meltesen, by Laneia
10. 2/15/2012 – Ivana, by Crystal
11. 2/15/2012 – Gluck, by Jennifer Thompson
12. 2/16/2012 – Jean-Michel Basquiat, by Gabrielle
13. 2/20/2012 – Yoko Ono, by Carmen
14. 2/20/2012 – Zanele Muholi, by Jamie
15. 2/20/2012 – The Malaya Project, by Whitney
16. 2/21/2012 – Feminist Fan Tees, by Ani Iti
17. 2/22/2012 – 12 Great Movies About Art, by Riese
18. 2/22/2012 – Kara Walker, by Liz


The very first time I saw one of Kara Walker's installations, I was at the contemporary wing of the Museum of Fine Arts in Boston with my brother having just finished our most recent round of "If I Weren't An Engineer/Doctor I Would Be An Artist." I breezed by the wall, barely looking, and then backtracked, slowly foot by foot as though I was video footage in paused-rewind. I was quite suddenly captivated by Walker's black and white cutout figured pasted on to a grey painted wall. It was The Rich Soil Down There and it looked just exactly like this.
Well actually more like this. Huge.
I'm not sure I can precisely describe how I felt in those first moments looking at the larger than life paper figures in The Rich Soil Down There. I started with an overwhelming sense of curiosity; what the hell was I even looking at? As my mind began to fill in the blanks of the scene my intrigue changed to fascination and even shame and embarrassment. Those moments where you wonder, "Are people watching me and seeing my interest in this?" Walker's images are so raw I doubt I'll even feel grown-up enough to look at them without some embarrassment. In a really good way.
Walker was born in 1969 in Stockton, California but when her father, also an artist, took a position at Georgia State University, she suddenly found herself in Stone Mountain at age 13. In the birthplace of the KKK revival, Walker found herself suddenly forced to confront her own racial identity in a way quite unlike what she had experienced in California. Walker earned her BFA from the Atlanta College of Art in 1991, but only afterwards was she able to "escape the South" where where Walker says "I still find it impossible to speak."
Walker went on to earn her MFA from the Rhode Island School of Design in 1994. That same year, in New York City, Walker debuted her signature cutout style in her 50-foot mural Gone: An Historical Romance of a Civil War as It Occurred b'tween the Dusky Thighs of One Young Negress and Her Heart. Three years later, in 1997 her work was included in the Biennial exhibition at the Whitney Museum of American Art, New York. That same year she became one of the youngest recipients of a MacArthur fellowship. She was 27 years old.
Walker's work largely consists of paper silhouettes pantomiming complex, confusing, provocative and violent scenes of the Antebellum South. Often her silhouettes obscure what might otherwise be too gruesome to bear. Through these scenes Walker explores gender, race, sexuality, history and story telling. "Most pieces have to do with exchanges of power, attempts to steal power away from others," said Walker. In the world of Walker's murals, figures are usually cut out of black paper and pasted on to white walls such that everyone is quite literally "black." Exaggerated facial and body structures combined with specifically chosen costumes defines the race and ethnicity of Walker's figures and in turn comments on the way race is used to define ourselves and others. We find ourselves ashamed at how naturally it comes to use to use an exaggerated face or the outline of a head kerchief to identify race — we're participants in what we're seeing, and we look back at ourselves, and sometimes we don't like what we see.
Walker on silhouettes as a medium:
I was really searching for a format to sort of encapsulate, to simplify complicated things…And some of it spoke to me as: "it's a medium…historically, it's a craft…and it's very middle-class." It spoke to me in the same way that the minstrel show does…it's middle class white people rendering themselves black, making themselves somewhat invisible, or taking on an alternate identity because of the anonymity … and because the shadow also speaks about so much of our psyche. You can play out different roles when you're rendered black, or halfway invisible.
Walker's characters aren't the only things that end up distorted. She exaggerates truth and blends fact with fantasy, leaving her viewer actively deciphering history. History, folklore, desire, nostalgia: it's all in there. There aren't even timely consequences in Walker's murals. No one is rewarded or punished. No one within the murals judges or reprimands. The viewer finds themselves thinking, "I can't believe this all happened" and only remembers as a male figure births a child that the work is indeed Walker's fiction. Walker constructs and captures timeless moments in history that never were — and in doing so, tells a kind of truth about the things that really did happen. In my mind, it is impossible to accurately explain or depict the complex horrors of the American slave trade and thus Kara Walker doesn't attempt to. Says Kevin Young, author of Triangular Trade: Coloring, Remarking, and Narrative in the Writings of Kara Walker, "Walker is less an artist of history, whether racial or artistic history, than a historian of fantasy."
Walked continued (and continues) to advance what her art is and what it can do. In 1997 she debuted Slavery!Slavery! Presenting a GRAND and LIFELIKE Panoramic Journey into Picturesque South Slavery of "Life at 'Ol' Virginny's Hole' (sketches from Plantation Life)" See the Peculiar Institution as never before! All cut from black paper by the able hand of Kara Elizabeth Walker an Emancipated Negress and leader of her Cause, a room-sized piece laid out about a circular room. The 12×85 foot mural depicts over 20 figures engaged in a nightmarish plantation afternoon that specifically references the nostalgic supposed idyll and casual interracial interactions of afternoons depicted in traditional Antebellum Southern paintings.
As her career progressed, Walker began to use color and movement to convey emotion and add depth to her works. "I knew for a while that I wanted to make a piece that tried to engage the space a little bit more directly than the pieces that are just cut paper on the wall," she said. "And my thinking about the overhead projectors connected with my thinking about painting as far as creating an illusion of depth, but in a very mundane, flat, almost didactic way." She used overhead projectors to cast evocative light on her settings.
Though Walker is best known for her cutouts, she also continues to produce drawings, paintings and text based work. Her 1997 work, Do You Like Creme in Your Coffee and Chocolate in Your Milk?, consists of 66 pages of drawings and texts largely on traditional 11-5/8 x 8-3/16 paper. Walker created the piece during her first pregnancy as a diary style response to criticism from other black artists who who felt Walker's artwork promoted stereotypes and that she was unfit to receive a MacArthur fellowship.
In 2001, Walker decided to begin exploring video and performance work. She created Testimony: Narrative of a Negress Burdened by Good Intentions in 2004 essentially animating her figures through puppeteering. Even as Walker's more recent work moves towards drawings and away from silhouettes, Walker continues to produce videos to acclaim. Her most recent, Fall Frum Grace, Miss Pipi's Blue Tale, tells the tale of a woman who seduces her husband's slave and explores the mythology of female sexuality in the Antebellum South.
It's been a very slow leap… from the wall to the moving image. I went through the projection pieces first and then I hemmed and hawed on making a film for a long time… I kept running across silhouette films from the early 20th Century and I thought that was just the logical next step. Just esthetically. But… I think because this work is very theatrical and because… the structure sort of referenced… you know, fall into these two camps, visual and literary. It almost screams for some kind of… merger of those worlds. Something theatrical in a real sense. I think, for a while, I resisted film because I kind of liked the stubbornness or obstinate quality of just looking at stationary images that kind of force you to make the connections.
Kara Walker's artwork speaks to the part inside all of us that wants to wash over the past. That wants to pretend stereotypes don't exist anymore and we've reached that great big beautiful "post-racial" tomorrow. It speaks to that place where things are uncomfortable and you'd rather not talk about them. You where you want to look away but you just can't. What I didn't know in my first moments gawking at The Rich Soil Down There was that my emotions were playing directly from Walker's hand. That, without my realizing it, her artwork was having its precise intended effect.
My works are erotically explicit, shameless. I would be happy if visitors would stand in front of my work and feel a bit ashamed—ashamed because they have simply believed in the project of modernism.
Hear and see Walker speak for herself about her artwork:
Watch Stories on PBS. See more from ART:21.