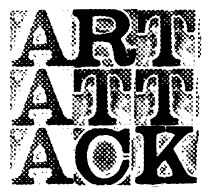 Art Attack Month:
0. 1/28/2012 – Art Attack Call for Submissions, by Riese
1. 2/1/2012 – Art Attack Gallery: 100 Queer Woman Artists In Your Face, by The Team
2. 2/3/2012 – Judy Chicago, by Lindsay
3. 2/7/2012 – Gran Fury, by Rachel
4. 2/7/2012 – Diane Arbus, by MJ
5. 2/8/2012 – Laurel Nakadate, by Lemon
6. 2/9/2012 – 10 Websites For Looking At Pictures All Day, by Riese
7. 2/10/2012 – LTTR, by Jessica G.
8. 2/13/2012 – Hide/Seek, by Danielle
9. 2/15/2012 – Spotlight: Simone Meltesen, by Laneia
10. 2/15/2012 – Ivana, by Crystal
11. 2/15/2012 – Gluck, by Jennifer Thompson

I'll be honest: I don't know much about visual art. I mean, I've seen it. I've spent time wandering the rooms of the Tate looking thoughtful. And I've done my share of staring at naked saints on Italian mezzanines. I've never cried about that kind of art. But I've come to realise that the times I have had feelings about it have been when I knew a little bit about the person behind it. That's why Vasari wrote The Lives of the Artists, right? Self-Portrait with a Bandaged Ear wouldn't be so great if we didn't know lead-poisoning made Van Gogh sever his ear and give it to a prostitute. And Tracy Emin's sketch of a woman masturbating probably wouldn't have caused so much fuss if we didn't expect to see her staggering around Soho at 4 a.m., with a half-empty bottle of red and her left boob hanging out (that actually happened). So with that in mind, there's someone I think you should really know about (if you don't already). Her name is Gluck and she might be someone you'd have wanted to sleep with if you'd been alive in the twenties.
I only know about Gluck because once I got lured into a gay walking tour that went by her house. Then I saw a self-portrait. Then I started reading the internet. And although there's not much out there about her, Gluck's life and work are relevant. Why? Because they are among the only visible things of that time that probably represent YOU, had you been a queer Englishwoman before the Second World War happened.
Gluck is a bit like the Gertrude Stein of the oil-paint world, in that she was strong-willed, androgynous, and a bit rude. She also had a studio where lots of lesbians used to hang out. She is brilliant because she ignored pretty much every social rule about gender by doing a lot of things that were considered inappropriate for a woman of that class and time. Also, her paintings are really good.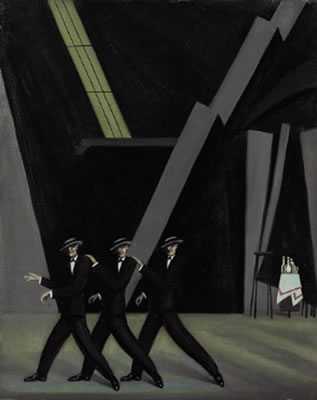 She was born Hannah Gluckstein in 1895. That means she was born in the Victorian times, when women had almost NO rights and the suffragette movement was only just starting to happen. Her father was an Englishman who owned the J. Lyons and Co. coffee empire, her mother was an American opera singer, and her brother grew up to be a conservative politician. In other words, they were rich and conventional.
No surprises that they wanted her to first get educated, then get married. But she found her way to art school instead. Not only that, she cut off all her hair and started wearing men's clothing. By the time she'd finished school she had abandoned her family name completely, and answered to nothing other than Gluck. This was because she wanted to be known by her art and not by her gender. On the back of publicity prints of her paintings she wrote "Please return in good condition to Gluck, no prefix, suffix or quotes." And she even resigned from a prestigious art society because someone had called her Miss Gluck on a letterhead.
This woman was a fighter. And the attitudes people had towards her are still really resonant today; walking around London in tailored shirts and gentleman's shoes, her father thought it was all just a pose. And her mother put it down to a kink in the brain. But it didn't stop them from giving her a huge private income that allowed her to have a house in London and a studio in Cornwall.
There she spent time painting and (I like to imagine) having lots of girl-sex. Romaine Brooks even came over from Paris to visit and paint her portrait. The painting is called Peter, a young English girl and it's really awesome (see top image). Not only does Gluck look hot in the portrait, it probably made people of that time revaluate their conventional ideas about gender by bringing androgyny a tiny bit closer to the mainstream.
Gluck painted everything. In Cornwall she painted landscapes; in London she painted party scenes from the dance floor of the Pavilion. She was famous for her portraits of women and her beautification of their sass and arrogance in a society still mostly confined to good behaviour. When she started an affair with the famous florist Constance Spry, Gluck started painting flower arrangements. And during the war she painted soldiers shooting pool or just hanging out.
We should definitely salute her. She defied her family's conservatism, was openly out, didn't give a fuck what society thought about her gender identity, and she made some incredible art. And if that wasn't enough, she seems to have had a list of sexual conquests en ratio with Shane's (given the not-that-progressive nature of that era as a whole). One of her most famous paintings is called Medallion, a celebration of her marriage to socialite Nesta Obermer.
As it's not lawful to get gay-married in 2012, we have to assume this marriage was more figurative. Nesta used to call her Dear Tim or Timothy Alf, which is cute. But eight years later she broke it off on account of the fact Gluck was getting demanding and possessive.
The sad thing is this: I do not think Gluck aged well. She became cantankerous and her confidence turned into arrogance. She was allegedly totally heartbroken about Nesta, which is something that didn't stop her pursuing Edith Shackleton Heald (the first female reporter in Britain's House of Lords) almost immediately. The two quickly shacked up together in Edith's country estate and spent the next 30 years in a turbulent relationship that made Gluck stop painting and disappear from the public eye. Instead of making art, she started a 10-year war with commercial paint manufacturers, insisting there be a higher fixed standard of art materials available. Luckily for us, she did do one more show before her death in 1978. Instead of party scenes and women, the show was full of love-loss, wasted years and death; the most famous painting is a decaying fish-head entitled Rage, Rage against the Dying of the Light.
It's a real shame that Gluck is not better known outside the art world. Her life and work is a significant (albeit small) slice of our history. Even if she died sad, she had a pretty remarkable life, being a queer woman subject to the same attitudes and issues that we face almost a century later. Given the time she was incredibly brave, and so completely at ease with her own sexuality that I think she deserves a little bow from all of us.