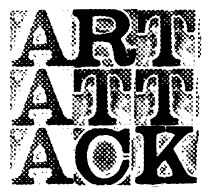 Art Attack Month:
1. 2/1/2012 – Art Attack Gallery: 100 Queer Woman Artists In Your Face, by The Team
2. 2/3/2012 – Judy Chicago, by Lindsay
3. 2/7/2012 – Gran Fury, by Rachel
4. 2/7/2012 – Diane Arbus, by MJ


"Giving a camera to Diane Arbus is like putting a live grenade in the hands of a child."
– Norman Mailer, 1971
You're most likely familiar with those square-shaped spooky black & white pictures of so-called "deviant and magical people" Diane Arbus took in the mid-to-late 60's: "dwarfs," "giants," "transvestites¹," circus performers, nudists and so forth. The photos are shocking and grainy and went places most Americans would never go, seeing people most Americans would never see.

Diane Arbus worried she'd always be known as "the photographer of freaks." Her notorious photos of 'weirdos' are evocative and have undeniably become her signature, but a lot of smart art people point out that she had a long and varied career, doing corporate and fashion photography for major New York City ad companies and magazines.
I actually don't care much about this lesser known part of her career. What I like about Arbus, along with the masses, is the darkness of those silver gelatin prints. Maybe it's just me but when I first got into Arbus, I thought of her as the photography world's answer to Sylvia Plath. They both dug deeper into the apparently and/or secretly grotesque, saying things and seeing things that women weren't supposed to say or look at. Both suffered from depression and both ultimately committed suicide (Arbus overdosed on barbiturates and was found in the bathtub with her wrists slashed). Arbus, and Plath too, were strong but also volatile women whose work made people in their time feel uncomfortable.
Diane Arbus was raised in Manhattan by Jewish parents who owned a department store. They were wealthy and Diane went to prep school and then at the age of 18 she married her childhood sweetheart, Allan, another photographer (like Plath, who married a fellow poet). That was 1941. They had their first daughter, Doon, in 1945 and then had Amy in 1954.
Despite inherent disdain towards the fashion world and the glossy mags that celebrated it, the couple started their own photography business "Diane & Allan Arbus," for which they produced fashion editorials for magazines like Glamour and Vogue. They had a co-dependent, kind of obsessive love. She was not supposed to be a mood-swinging Manhattan photojournalist of grit who had sex parties and wanted to hang around only on the fringes of society. I know this because I read Patricia Bosworth's biography on Arbus, which you should too because it's all about art and insanity and reads like a novel.
Diane quit the business in 1956. She and Allan separated in 1958 and divorced in 1969. In 1956 she'd started studying with Lisette Model and then was working for magazines like Esquire and The Sunday Times.
This is when she started hitting her stride. A lot of it was because of Lisette Model. She transitioned from a 35mm style of commercial photography into the kind she really wanted to do:
"My favorite thing is going where I've never been," said Diane Arbus.
She was awarded Guggenheim Fellowships, taught at Parsons and Copper Union and The Rhode Island School of Design and began exhibiting at places like the Museum of Modern Art. She's considered part of the "New York School" of photographers from the 40s/50s. She liked photographing people in Washington Square Park and at circus sideshows on Coney Island. She usually became very close with her subjects.
Her images are alternately grainy and soft, but always solemn. I once went to an Arbus exhibit with a friend who felt disturbed by her work. He said that her pictures felt exploitative; particularly the ones of people with intellectual disabilities. "These people thought they were innocently getting their portrait taken. Instead she highlights their freakishness and uses it to advance a career as an artist," he said.
In On Photography, Susan Sontag argued that Arbus's "gaze" is "based on distance, on privilege, on feeling that what the viewer is asked to look at is really other."
This could be the case. It could also be argued, though, that Arbus doesn't necessarily see her subjects as "freaks," she just knows the audience does. Today nobody with politically correct or even polite intentions would refer to any of her subjects as "freaks," but they readily did so then. Maybe that's the point, really, that "freak" is just another fluid social construction, not an inherent or true quality of any human being. It was a different time. Maybe it was empowering for her marginalized subjects to be featured, or simply to be visible. Her work makes people look within themselves and acknowledge our discomfort with ourselves and humanity, and the shameful disgust towards things we don't understand.
Diane Arbus said: "Most people go through life dreading they'll have a traumatic experience. Freaks were born with their trauma. They've already passed their test in life. They're aristocrats."
There are some queer aspects to Diane Arbus worth mentioning. Arbus was bisexual by most accounts. According to the biography, Diane occasionally slept with women but "liked men better" and kept her liaisons with women "discreet." A friend who accompanied her and her "woman friends" to the movies said "he always felt acutely uncomfortable" despite nothing "out of the ordinary" happening: "Diane could create a very pervasive sexual atmosphere around her and she had an especially tender, insinuating way with the women she was attracted to," he said.
On this, Bosworth adds: "it's as if she could sense not only the person's deepest needs and most passionate demands, but seemed to suggest that she was willing to comply with any of them."
She was especially interested in gender roles. In "The Missing Photographs:  An Examination of Diane Arbus's Images of Transvestites and Homosexuals from 1957 to 1965," Laureen Trainer writes:
"The poses that Arbus chose to capture were incredibly calculated and posed to challenge the boundaries of culturally-defined gender. The images investigated and questioned the sexual duality inherent in transvestitism and emphasized the extent to which gender is not biological, but rather a phenomenon that could be donned and removed. For example, in one particularly powerful image of the tension and duality of transvestites, "One impersonator's image is successively fractured in a series of make-up mirrors. Her woman's hat and make-up appear in one mirror while another reflects her male arm and torso." In another image, Arbus captures a man with a female wig and make-up tensing his biceps like a weight lifter. In this case, in which there is a man who is dressed like a woman but creating a manly pose, the impersonator is mocking the arbitrariness of culturally-defined gender roles and accoutrement."
"I really believe there are things nobody would see if I didn't photograph them," Diane Arbus said.

¹ "Transvestite," once used interchangeably (and often incorrectly) with "cross-dresser," is now considered a derogatory term, and we use it here only to accurately quote Arbus and her critics, as we have no genuine way of knowing her subjects' actual gender identity in terms of proper terminology at this point.