Last night on Pretty Little Liars, four unusually attractive adolescent females went to school, went to one another's houses, received text messages, gave Noel Kahn a lot of dark, brooding glances, and probably spent at least ~25 minutes a day making their hair look perfect. Or else they all just wake up looking that good. I don't know. I'm gay, my hair looks like shit.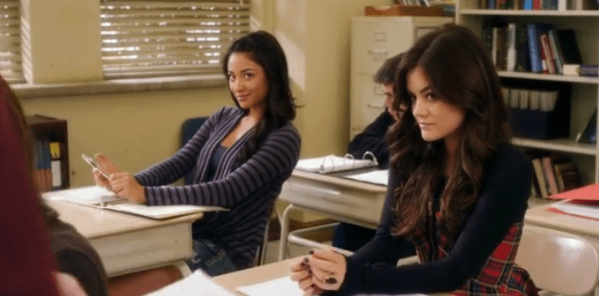 Here watch it!
Pretty Little Liars, Episode 112: "Salt Meets Wound"


So! Let's get down to the homobusiness.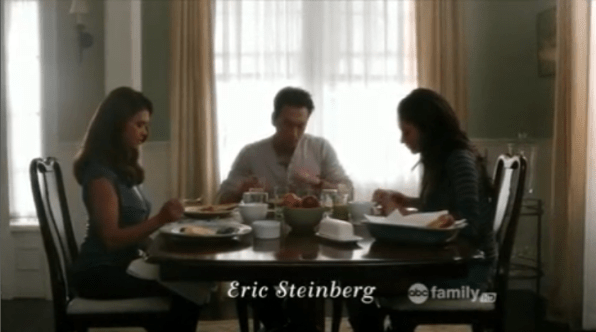 Emily's family has decided to invite Maya to dinner so they can send discouraging vibes to Maya's face rather than behind her back.
Mom: So does your friend have any allergies?
Emily: What?
Mom: Is there anything I should know about what Maya eats?
Emily: No, she eats everything.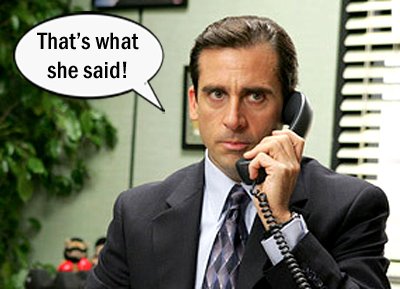 Emily's Dad seems game for the event but Emily's Mom is, of course, silently mourning the death of her dreams that Emily could be heterosexual, just like her friends! After all, why would you want your daughter in a (seemingly) stable, monogamous relationship with a sweet, smart, hot girl like Maya when she could be dating the English teacher or dodging the bullets of a prior affair with her older sister's former-fiancee or wheelchair-bound while a douchey jock and a drunk dork fight over you at a party on a school night? Yannow?
Emily: Dad, I know I asked for it but if Mom can't handle this dinner tonight I'll just tell Maya–
Dad: We're looking forward to it. Your Mom was up all last night preparing the menu.
Emily:You don't think she'll try and poison her do you?
Dad: (LOLs) Your mother, it's not her style. She'll kill her with kindness.

At skewl, Emily asks Maya to wear a dress to dinner and Maya makes a butch joke and Emily goes Dr. Killjoy on her, insisting that she not make any butch jokes because her family won't think they're funny. This isn't the Etheridges or the O'Donnells, Maya.
Aria recommends that Maya at least iron her jeans. Do people really iron jeans.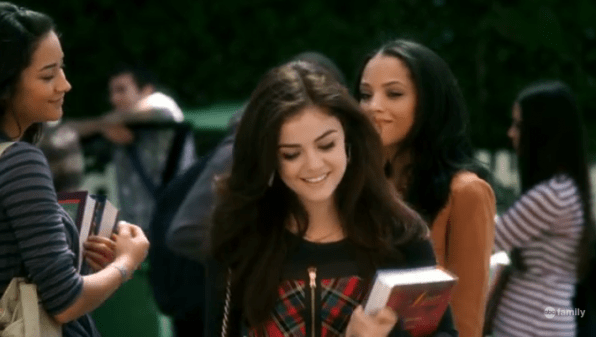 Maya asks if Emily still wants to do this and Emily says yes but also says her parents have been acting "weird" since she came out. They have been whispering and "changing the channel whenever Ellen comes on" which is upsetting, what else is on at that hour, Dr.Phil? Idk.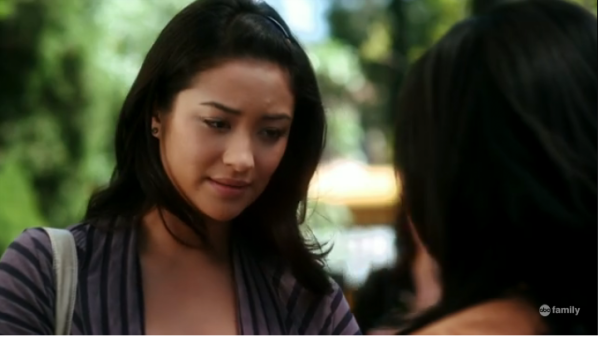 Later, Emily gets some advice from Spencer, who says to not let Maya talk too much.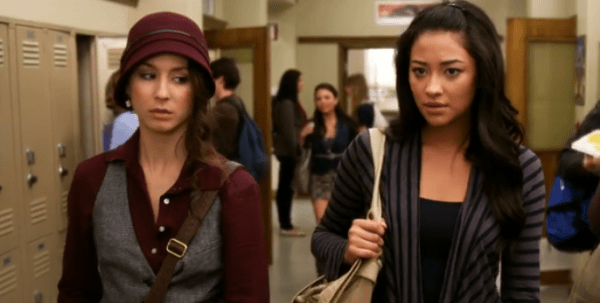 At the dinner, Maya nervously talks about herself and her family, upsetting Emily's Mom with tales of her parents hippie lifestyle, like the time her Dad proposed to her Mom and instead of a ring, drew one on with a Sharpie. Or the time her parents met at a "No Nukes" rally at Berkeley. And also the time that her parents didn't get married until Maya and her brother had already got born. Deviance is genetic, duh.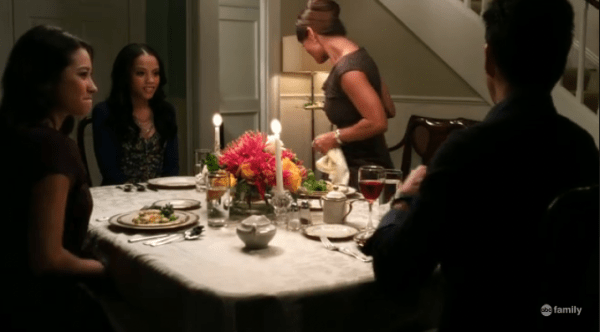 This situation was uncannily similar to my own experiences, as my parents were dirty hippies and my ex-girlfriend's Vietnam Vet Dad liked me way more than her Mom. Swap "allergic to citric acid" for "allergic to seafood" (mhm that's right, Emily somehow forgot that Maya can't eat fish [WHAT ABOUT A FISH TACO LOL]) and basically THIS IS THE STORY OF MY LIFE.Or not really, but I'm trying to find something relate-able/special/not-generic here to run with.
When Emily's Mom gets up and heads into the kitchen, she turns around and spots Emily & Maya playing footsie while joking around with Dad…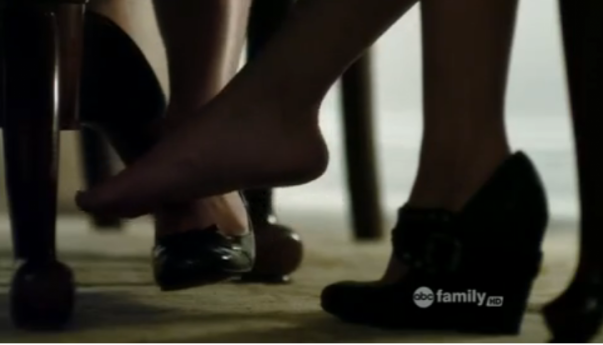 …and then Emily's Mom goes into the other room to sob silently to herself.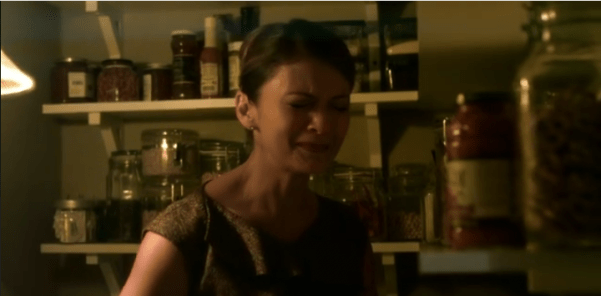 After dinner, Maya and Emily go outside to process their feelings and Maya admits she was nervous as fuck but had to hold it down earlier just to make sure Emily didn't totally lose it. That's a very sweet lesbian thing to do.
Mom peeks outside just as the twosome are sharing one of their Very Special Totally Chaste Not Even Remotely Sexual Lesbian Kisses, and gives Maya some food to bring back to her soybean farm.


When Emily gets back from Hannah's Disaster Surprise Party, Mom tells her that Dad's been called back to Texas.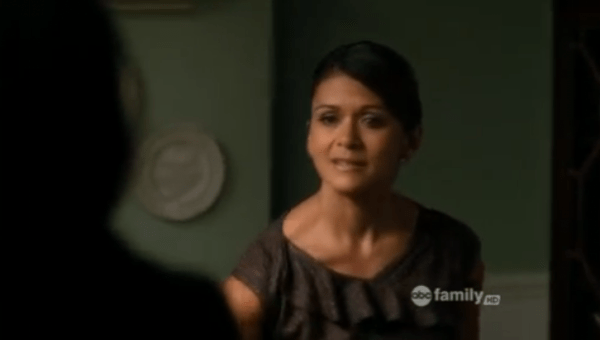 Emily: "Tonight meant a lot to me. Thank you. Maya had a great time."
Mom: "Your Dad thinks she's very sweet."
Emily: "She is. And I'm glad you're okay with it."
Mom: "I'm not okay with it. The whole thing makes me sick. Sick to my stomach."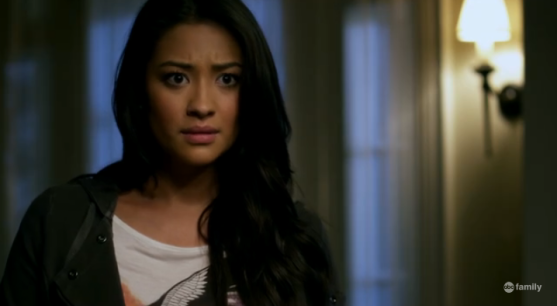 Everyone needs to take some tums and settle down, clearly.


Next week on Pretty Little Liars, the girls get EVEN CLOSER to finding out who "A" is! Watch the preview here.
How did you feel about last night's episode or the 75% of the plot points I did not discuss here?