Pure Poetry Week(s):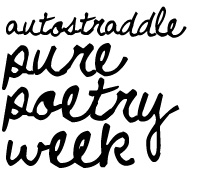 #1 – 2/23/2011 – Intro & Def Poetry Jam, by Riese
#2 – 2/23/2011 – Eileen Myles, by Carmen
#3 – 2/23/2011 – Anis Mojgani, by Crystal
#4 – 2/24/2011 – Andrea Gibson, by Carmen & Katrina/KC Danger
#5 – 2/25/2011 – Leonard Cohen, by Crystal
#6 – 2/25/2011 – Staceyann Chin, by Carmen
#7 – 2/25/2011 – e.e. cummings, by Intern Emily
#8 – 2/27/2011 – Louise Glück, by Lindsay
#9 – 2/28/2011 – Shel Silverstein, by Intern Lily & Guest
#10 – 2/28/2011 – Michelle Tea, by Laneia
#11 – 2/28/2011 – Saul Williams, by Katrina Chicklett Danger
#12 – 3/2/2011 – Maya Angelou, by Laneia
#13 – 3/4/2011 – Jack Spicer, by Riese
#14 – 3/5/2011 – Diane DiPrima, by Sady Doyle
#15 – 3/6/2011 – Pablo Neruda, by Intern Laura
#16 – 3/7/2011 – Vanessa Hidary, by Lindsay
#17 – 3/7/2011 – Adrienne Rich, by Taylor
#18 – 3/8/2011 – Raymond Carver, by Riese
#19 – 3/9/2011 – Rock WILK, by Gabrielle
#20 – 3/9/2011 – Veronica Franco, by Queerie Bradshaw
#22 – 3/12/2011 – William Carlos Williams & Robert Creeley, by Becky
#23 – 3/13/2011 – NSFW Sunday is Pure Poetry Edition, by Riese
#24 – 3/14/2011 – Charles Bukowski, by Intern Emily
#25 – 3/16/2011 – Rainer Maria Rilke, by Riese
#26 – 3/17/2011 – Lee Harwood by Mari
#27 – 3/18/2011 – Jeffrey McDaniel by Julieanne
#28 – 3/20/2011 – Dorothy Porter by Julia
#29 – 3/21/2011 – Sylvia Plath, by Riese

I hated legendary depressive Sylvia Plath from approximately the date of my introduction to Sylvia Plath (September, 1997) until almost exactly ten years later (September, 2007). She was just putting it all out there, you know? The vast, vacant depths of sadness, and how lonely but intimate that kind of consistent, inexplicable otherness could feel.
I am vertical
But I would rather be horizontal.
-i am vertical-
It was just out there, like you opened your front door and there was Sylvia Plath, crying on your porch with her hair messed up. Or so I figured, from skimming Ariel.
They call it "confessional poetry." Which sounds so indulgent.
+
A Brief Biography of Sylvia Plath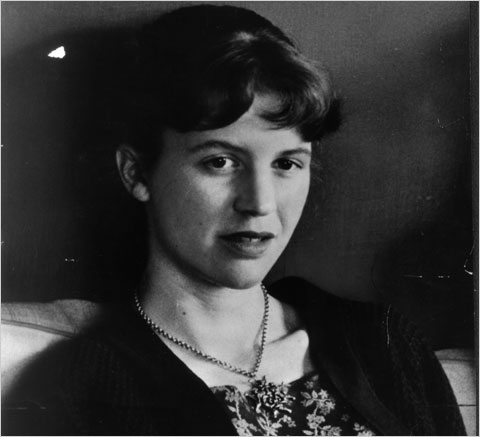 +
Sylvia Plath was born in 1932 in Massachusetts, and started writing right away at the age of 11. Sylvia Plath's father died whe she was only 8. She attempted suicide while an undergrad at Smith College but still managed to graduate and go on to Cambridge with a scholarship. There she met Ted Hughes, who she later married, and who later left her for another woman. Plath published her most famous book of poems, Ariel, around this time. In 1963 she published The Bell Jar, a semi-autobiographical novel, under a pseudonym. That same year, at the age of 30, she stuck her head in the oven and died by suicide.
End of Biography
+
"I always expect lips to curl whenever I dare to mention that my favourite poet is Sylvia Plath. There seems to be an expectation that you have to be an intense adolescent girl to really appreciate Plath."
– poet Helen Kitson, Envoi Magazine
+
I blame myself, mostly, for my hatred of Sylvia Plath, but really honestly I blame "Amber," my first roommate at boarding school.
Within 24 hours of meeting Amber, she'd informed me — and really anyone within earshot — that she'd tried to commit suicide three times, that her father, a well-respected doctor, beat her, and that she'd had sex with four guys. Her present boyfriend, an alum of our school who seemed to be using Amber as an excuse to never grow up/leave campus, was one of those guys who always wears shorts, even in the winter. He was a "shorts guy. " Amber decorated the wall around her bed with quotes of things she herself had said. She called them "Amberisms."
Within 24 days of our meeting, Amber still didn't know anything about me. She never asked. Eventually it came up that my Dad had died two years prior but she was shockingly unaffected and quickly returned to her own narrative. My resentment of her was tempered by sympathy, but then overruled by aggravation and then taken hostage by self-loathing.
I shut my eyes and all the world drops dead;
I lift my lids and all is born again.
(I think I made you up inside my head.)
-mad girls love song-
The thing is, she put it all out there, you know? Amber did. Like she hadn't gotten the memo that grunge was over and Kurt Cobain was dead and we'd all decided to be happy now.
It works, there is nothing wrong with it.
You have a hole, it's a poultice.
You have an eye, it's an image.
My boy, it's your last resort.
Will you marry it, marry it, marry it.
-the applicant-
Amber had read Ariel cover-to-cover within hours of picking it up for our Poetry workshop and LOVED IT. I felt I didn't actually have to read Sylvia Plath to LOATHE her because I was regularly forced to read and evaluate poems inspired by Sylvia Plath, composed by Amber, with titles like "Fade to Black" and "Locked in the Bathroom."
I was ten when they buried you.
At twenty I tried to die
And get back, back, back to you.
I thought even the bones would do.
But they pulled me out of the sack,
And they stuck me together with glue.
-daddy-
And so to me, Sylvia Plath was Amber. It's unfair, isn't it? Sylvia Plath didn't deserve that. But it was easier for me, at that time, to believe depression wasn't entirely "real." Like it's really just an issue of mind-over-matter and truly anyone, even me (repeatedly diagnosed with Major Depressive Disorder when all I wanted was to be normal), even Amber, was capable of being just as happy as the wide-eyed Betty Boop cartooned on the midriff-exposing "belly shirt" she wore almost every day.
Dying
Is an art, like everything else.
I do it exceptionally well.
I do it so it feels like hell.
I do it so it feels real.
I guess you could say I've a call.
–lady lazarus-
I eventually disliked Amber for a lot of less complicated reasons — she hoodwinked me out of a classroom job later that year, stole my CDs, ate my Cheetos and frequently locked me out of the room to have secret sex with her enormous boyfriend. We had nothing in common besides the only thing we'd never talk about.
I guess when you're a teenager you read so many terrible teenage therapy poems (inspired by Sylvia Plath or Trent Reznor or Elizabeth Wurtzel) about darkness that by the time someone hands you Sylvia Plath you're like OH GOD SHUT UP ABOUT YOURSELF ALREADY.
That's a mistake.
"I know the bottom, she says. I know it with my great tap root;
It is what you fear.
I do not fear it: I have been there."
-elm-
+
"There are so many things in Sylvia's life which echo with young people now. A dependent mother who needs you to be happy and successful. An absent father. A woman trying to make it in a man's literary world. Working and having children at the same time."
– elizabeth sigmund (a friend of sylvia's)
There are so many things I didn't know/understand when I was 15 that I know/understand now — like that Sylvia Plath was brave. She told the truth of her life and of mental illness at a time when women weren't supposed to. She's still not my favorite poet, but there's still something good there.
At 14, she had this to say:
How frail the human heart must be
a mirrored pool of thought.
–i thought i could not be hurt-
There's not much wallowing, just brute-force verse, just language in fists, just up to your elbows in ridiculously vivid imagery, just truth. She didn't want attention or sympathy. If Sylvia Plath was a blog, she'd prefer "thank you, this makes me feel better about being me" to "I'm so sorry this happened to you."
I didn't know yet how to talk about sadness without sounding pitiful because I hadn't seen it done. I judged Sylvia Plath by her fans.
+
Ten years or so later, various catastrophes led me to surrender to my own diagnosis (significantly less serious than the bipolar disorder Plath struggled with, which is one hell of a mental illness, especially back then) and the treatment without feeling like I'd given up my pride by doing so.
But was there a place for that in my writing? In anyone's?
Yes.
Because it's never the big things that spark a lightbulb — hey, I know this story, this story's like mine — "hopelessness" is too big. It's the other things. The smaller things. The unexpected similarities between you and someone else that strike a previously unseen chord of recognition.
"What a thrill—
My thumb instead of an onion."
– Cut
Some underlined quotes from The Bell Jar:
"The only thing was, when I tried to picture myself in some job, briskly jotting down line after line of shorthand, my mind went blank."
"The one thing I was good at was winning scholarships and prizes, and that era was coming to an end."
"If you expect nothing from somebody you are never disappointed."
"So I began to think maybe it was true that when you were married and had children it was like being brainwashed, and afterward you went about as numb as a slave in a totalitarian state."

"I didn't want my picture taken because I was going to cry. I didn't know why I was going to cry, but I knew that if anybody spoke to me or looked at me too closely the tears would fly out of my eyes and the sobs would fly out of my throat and I'd cry for a week. I could feel the tears brimming and sloshing in me like water in a glass that is unsteady and too full."
+
In 2007, on a lunch break from a temp job, I marched into Barnes & Noble and finally picked up The Bell Jar. I was teetering on the verge of a brief agoraphobic depressive episode that'd last into the winter and I figured I had nothing left to lose w/r/t sanity. Everything meant something new now that I was older and had grappled with my own demons. Plath was fresh in my mind when shit stubbornly hit the fan all winter long and I wrote and wrote about it.
Every woman adores a Facist,
The boot in the face, the brute
Brute heart of a brute like you.
– daddy-
Women who dare to share are usually accused of "oversharing." But good writing is never just about sharing pieces of your life and declaring them good because they're true. Good writing is when you manage to talk about yourself and everyone else at the same time.
And g-damn if that isn't the most powerful story a woman can tell — a queer can tell, a transperson can tell, a person of color can tell — the truth of your life, the world splitting open, and so forth.
+
Sometimes, on workshop days, I'd feel like Amber just walked into our poetry class and set her heart on the table, and we all sat there and watched it bleed and talked about it, and she left it up there for the rest of class just so we wouldn't forget it, even though she'd stopped paying attention to us, and then she took a bit of it back and slapped it on her sleeve and left the classroom.
G-d bless Amber for going on, for living, for certainly growing out of her own ridiculous adolescence as we all did — for doing everything in spite of everything. And G-d bless Sylvia Plath, in all of her "self-centered" glory, for being a thing Amber could relate to — because part of what makes these mental illness memoirs appear so self-centered is that well — depression is a self-centered experience. Befriending a fellow depressive is occasionally even more self-destructive than keeping it to yourself (which is why books/poems about it are so important), so depression walls you off like that. Everything IS about you because nobody else understands what the fuck is wrong with you. Or at least they didn't, then.
The best one can hope for is, I think, what Plath accomplished: she utilized the distance between her and the rest of the world to deepen her perspective and tenacity and speak the truth of her life. And beautifully, too.
Her God, Herr Lucifer,
Beware
Beware.
Out of the ash
I rise with my red hair
And I eat men like air.
– from lady lazarus-
Original illustration of Sylvia Plath for Autostraddle.com provided by and copyright Michelle Mishka Colombo 2011