Pure Poetry Week(s):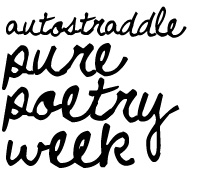 #1 – 2/23/2011 – Intro & Def Poetry Jam, by Riese
#2 – 2/23/2011 – Eileen Myles, by Carmen
#3 – 2/23/2011 – Anis Mojgani, by Crystal
#4 – 2/24/2011 – Andrea Gibson, by Carmen & Katrina/KC Danger
#5 – 2/25/2011 – Leonard Cohen, by Crystal
#6 – 2/25/2011 – Staceyann Chin, by Carmen
#7 – 2/25/2011 – e.e. cummings, by Intern Emily
#8 – 2/27/2011 – Louise Glück, by Lindsay
#9 – 2/28/2011 – Shel Silverstein, by Intern Lily & Guest
#10 – 2/28/2011 – Michelle Tea, by Laneia
#11 – 2/28/2011 – Saul Williams, by Katrina Chicklett Danger
#12 – 3/2/2011 – Maya Angelou, by Laneia
#13 – 3/4/2011 – Jack Spicer, by Riese
#14 – 3/5/2011 – Diane DiPrima, by Sady Doyle
#15 – 3/6/2011 – Pablo Neruda, by Intern Laura
#16 – 3/7/2011 – Vanessa Hidary, by Lindsay
#17 – 3/7/2011 – Adrienne Rich, by Taylor
#18 – 3/8/2011 – Raymond Carver, by Riese
#19 – 3/9/2011 – Rock WILK, by Gabrielle
#20 – 3/9/2011 – Veronica Franco, by Queerie Bradshaw
#22 – 3/12/2011 – William Carlos Williams & Robert Creeley, by Becky
#23 – 3/13/2011 – NSFW Sunday is Pure Poetry Edition, by Riese
#24 – 3/14/2011 – Charles Bukowski, by Intern Emily
#25 – 3/16/2011 – Rainer Maria Rilke, by Riese
#26 – 3/17/2011 – Lee Harwood by Mari


Some rich guy from my school was holding a sweet sixteen party and invited all 250 people from my grade. There was a lot of alcohol. I was fifteen and due to self-perceived bad-assery, I became very drunk. Like a normal fifteen year old at a party, I started to recite poetry – "Tabacaria" by Fernando Pessoa (there is an English translation, Tobacco Shop, but it butchers the poem) – one of my friends then kissed me. My other friend became jealous and joined in. And that, homodarlings, was the first time I kissed girls. Later that night I would be showered by yet another friend (a whole different story) and all of this because of the power of pure poetry.
I am pretty much obsessed with poetry, but not very faithful to my poets. I devour an author, turn him/her inside out and then move on. I sometimes come back, but only to those very very special ones. Lee Harwood is one of them.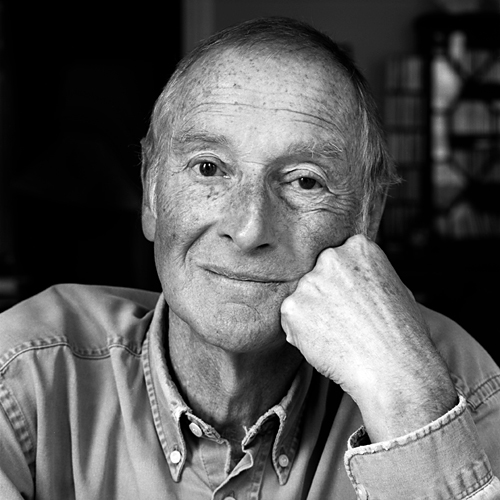 He was friends with John Ashbery and other cool people from the New York School. Lee Harwood was associated with the British Poetry Revival in the 60s and 70s, which was an exciting time to be a wide-eyed. He was part of the International Poetry Incarnation at the Royal Albert Hall (London) on June 11, 1965. It was this huge event that brought Allen Ginsberg and an audience of over 7,000 people. Can you imagine? Seven thousand people. You'd probably have around 300 – 400 today, and over half of them would be completely disingenuous.
Here's the first in a series of clips from Wholly Communion, a film that document the International Poetry Incarnation:
I like Harwood's poetry because it's kind of all over the place without being noisy about it. It is simple, mostly like a collage of images that pop into his mind and it has a nice cadence to it, like if I were hearing the ocean. There's not a strain of pretention in it, so you can just make yourself at home and breathe quietly while he talks about beautiful ladies. I don't know if this makes any sense but I like warming the pages in the sun for a bit before reading them.
Maybe pick up a copy of Collected Poems (Harwood).
Soft White (1968)
When the sea is as grey as her eyes
On these days for sure the soft white
mist blown in from the ocean the town dissolving
It all adds up her bare shoulders
Nakedness rolling in from the sea
on winter afternoons – a fine rain
looking down on the sand & shingle
the waves breaking on the shore & white
It is impossible to deny what
taken by surprise then wonder
the many details of her body
to be held first now then later
In body & mind the fine rain outside
on winter afternoons the nakedness
of her bare shoulders as grey as her eyes
the sea rushing up the beach as white as
The whole outline called 'geography'
meeting at a set of erotic points
lips shoulders breasts stomach
the town dissolves sex thighs legs
Outside then across her nakedness
it rains in the afternoon then the wonder
her body so young & firm dissolves the town
in winter grey as her eyes
+++
QASIDA (1971)
it's that
the quiet room
the window open, trees outside
"blowing" in the wind.
the colour is called green.
the sky.
the colour is called blue.
(sigh) the crickets singing
windows open. You move . . .
No, not so much a moving
but the artificiality of containment
in one skin. "No man an island" (ha-ha Buddha)
. . . lonesome, huh?
THE music, THE pictures
(go walkabout)
Small wavy lines on the horizon
somewhere over the distant horizon
the distant city (I hadn't thought of this,
but pull it in) and you
the children are sleeping
and you're probably sitting in the big chair
reading or sewing something
It's quarter past nine
I find you beautiful
***
the words come slowly. No . . .
your tongue the lips moving
the words reach out –
crude symbols – the hieroglyphs
sounds, not pictures
the touching beyond this –
I touch you
in the water
as though I'm in you
that joy
and skipping in the street
the children hanging on our arms
***
You know . . . – the signals (on the horizon?)
"blocked off" the ships at night
keep moving
these clear areas beyond the clutter
that clearing
on summer nights as we lie together . . .
there are green trees in the street
yes, there is the whole existence of
our bodies lying naked together
the two skins touching
the coolness of your breasts
the touch
The setting . . .
it doesn't really matter
We know
So much goes on around us
on the quay they're playing music
we'll eat and dance there,
when the wind gets cold
we'll put our sweaters on
it's that simple, really . . .
***
. . . the dry fields
Up on the mountain sides
white doves (of course) glide
on the air-currents hang there
someone said tumble
"the sound of words as they tumble
from men's mouths" (or something like that)
there are these areas,
not to be filled, but . . .
it's a bare canvas, but not empty –
all there under the surface
This is not about writing,
but the whole process
You step off the porch into the dry field
You're there
You see, you're there
Now, take it from there . . .