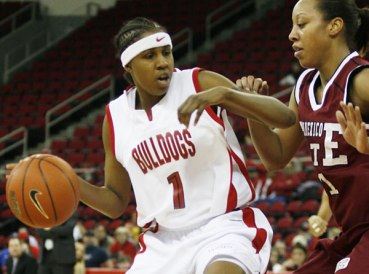 March Madness is officially upon us! If you think March Madness is a sickness spread via the woodwind section of high school marching bands, you have some catching up to do. Beginning March 19th, the top 64 women's basketball teams in the country will compete in a single-elimination tournament to determine the NCAA Division I National Champions.
The popularity of the women's game continues to grow, despite the NCAA's lack of pandering to lesbians. Even if you don't bleed blue/red/some other color that signifies the team you cheer for, you cry rainbow tears and that might be good enough. Because during a game, there is a lot to look out for.
There are women, LOTS OF WOMEN, running, smiling, laughing, hugging, releasing primal energy, and any myriad of totally innocent but unequivocally homoerotic practices that are mysteriously intertwined with competitive sports.
Things to enjoy include accidental boob grabs, lezzie haircuts, questionable fashion taste, female color commentators, female color commentators with accents, cheerleaders that you can pretend are Brittany and Santana, and MORE.
I know 32 games is a lot to handle at once so I'll narrow it down by pointing out some of the best players to watch. Here's the entire schedule and also a handy bracket so you can pick your favorites and watch their games. Pick your favorites however you want. I don't judge.
Courtney Vandersloot, Gonzaga
5'8 – Sr. – Guard
Jeanette Pohlen Stanford
6'0 – Sr. – Guard
Maya Moore UConn
6'0 – Sr. – Forward
Devereaux Peters Notre Dame
6'2 – Sr. – Forward
Brittney Griner Baylor
6'8 – So. – Center
The women's tournament isn't known for its upsets, except for that one time. Regardless, it's fun to pick a few. Most of the time it makes you look like a tool, but every now and then you get lucky and look like a genius. Kinda like when your friends think a girl is incredibly straight, but you call it and they're unsure and then you take her home and you get lucky in a totally different but tad more awesome way.
Predicted first round upsets:
#10 Marist over #7 Iowa
#11 Gonzaga over #6 Iowa St
#12 Fresno St over #5 North Carolina
If you have problems being at predetermined places doing predetermined things at predetermined times, you can flip to ESPN2 whenevs ya want this weekend and there's a pretty good chance there will be some Exploratory majors on your TV screen playing basketball. Plus, EPSN3.com is showing the games for those of you lacking a television or cable or both.
**Please respect players' privacy by NOT outing them on Autostraddle (or anywhere, really)!**