Pure Poetry Week(s):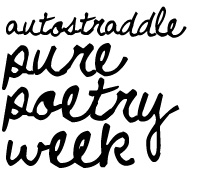 #1 – 2/23/2011 – Intro & Def Poetry Jam, by Riese
#2 – 2/23/2011 – Eileen Myles, by Carmen
#3 – 2/23/2011 – Anis Mojgani, by Crystal
#4 – 2/24/2011 – Andrea Gibson, by Carmen & Katrina/KC Danger
#5 – 2/25/2011 – Leonard Cohen, by Crystal
#6 – 2/25/2011 – Staceyann Chin, by Carmen
#7 – 2/25/2011 – e.e. cummings, by Intern Emily
#8 – 2/27/2011 – Louise Glück, by Lindsay
#9 – 2/28/2011 – Shel Silverstein, by Intern Lily & Guest
#10 – 2/28/2011 – Michelle Tea, by Laneia
#11 – 2/28/2011 – Saul Williams, by Katrina Chicklett Danger
#12 – 3/2/2011 – Maya Angelou, by Laneia
#13 – 3/4/2011 – Jack Spicer, by Riese
#14 – 3/6/2011 – Diane DiPrima, by Sady Doyle
#15 – 3/6/2011 – Pablo Neruda, by Intern Laura
#16 – 2/7/2011 – Vanessa Hidary

'Should I fiddle on a fucking roof for you?'
In 'The Hebrew Mamita,' NYC poet and performance artist Vanessa Hidary asks this question while recounting the story of a man who tries to pick her up at a bar and then tells her she 'doesn't look Jewish'/'doesn't act Jewish.' As someone who's been 'the Token Jew' in several different circles of friends/organizations/other situations, I immediately recognized the sentiment.
Vanessa, who performs as 'The Hebrew Mamita,' was inspired to write her one-woman show, Culture Bandit Soul, based on her experiences as a Syrian Jew living in NYC and growing up with a very diverse group of friends. Her work is full of cultural juxtapositions that reflect this: in her poem 'Culture Bandit,' she talks about 'eating matzah in Harlem' and being 'thrown out of Hebrew school because I spent Rosh Hashanah at the Puerto Rican Day Parade.'  Her first published collection of poems and stories, a work in progress, has even been given the title 'The Last Kaiser Roll in the Bodega.' She is fierce, she is funny and she will make you think, not only about your identity or hers, but about how you relate to others.
In addition to writing and performing, Vanessa works to help other young writers understand their identities and bring about cross-cultural understanding through her work with Jewish organizations and conferences, including conducting poetry against racism workshops with the B'nai Brith, a Jewish youth organization.
But Vanessa's poems don't just resonate with the nice Jewish girls in the audience. Hardly. They're for anyone who's ever been 'the only (insert marginalized group here)' in a group of friends or a work or living environment, people who have been told they 'don't act like a/an (insert marginalized group here)' or anyone who is just totally fucking fed up with being marginalized at all, or labeled, or expected to be/act a certain way because of someone else's silly assumptions related to identity.
As she declares in 'Wild Women':
Let us shine.
Let others enjoy a glimpse.
Get excited
Knowing we go home
Only with you.
To you.
We want
you.
Our capacity to socialize is nothing you've ever seen the likes of.
Don't be alarmed by our tolerance to liquor, coffee, smoking, food,
We are made of some other shit.
We carry grown ass men out of bars
And kick amateur girls to the curb;
But if you get drunky girl one night, don't be surprised…
Sometimes we slip.
That's all for now.
We appreciate your patience and passion.
We know it's complicated,
But you seem like a quick study.
My wild, crazy, unruly, arty, fiery, sweet, smart, talented sisters…
I am you.
You are me.
We are not for everyone
But we live
Vigorously.
Carry on.
Watch her signature poem, 'The Hebrew Mamita,' below: