Pure Poetry Week(s):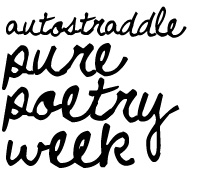 #1 – 2/23/2011 – Intro & Def Poetry Jam, by Riese
#2 – 2/23/2011 – Eileen Myles, by Carmen
#3 – 2/23/2011 – Anis Mojgani, by Crystal
#4 – 2/24/2011 – Andrea Gibson, by Carmen & Katrina/KC Danger
#5 – 2/25/2011 – Leonard Cohen, by Crystal
#6 – 2/25/2011 – Staceyann Chin, by Carmen
#7 – 2/25/2011 – e.e. cummings, by Intern Emily
#8 – 2/27/2011 – Louise Glück, by Lindsay
#9 – 2/28/2011 – Shel Silverstein, by Intern Lily & Guest
#10 – 2/28/2011 – Michelle Tea, by Laneia
#11 – 2/28/2011 – Saul Williams, by Katrina Chicklett Danger



Saul Williams is born of legend. As an NYU student in the late 90s, Williams was exploring abandoned subway tunnels in pursuit of long-buried graffiti when he came across a spray paint can filled with scrolls covered with intricate, nearly illegible graffiti. Anxious to begin filling his first journal, Williams slowly transcribed the writings, which he began to perform at open mics around the city until he was discovered. These poems also became the inspiration for Williams' first album, Amethyst Rock Star, an 11-track ode to – among other things – God, women, history, the present, the meaning of life, and hip-hop.
Admittedly, as a 21-year-old middle-class queer Asian woman, I probably do not share that many experiences with Saul Williams, except for maybe being from New York and having a profound appreciation for women's bodies. To be completely honest, most of my experience with Williams comes from getting heavily intoxicated with one of my best friends and watching Youtube videos/reading out loud to one another. Williams's poetry is meant to be shared, to make you feel closer to something, someone, anything. Because even if you can't always relate, sometimes the most important thing you can do is listen.
Here are some words and things from "Lalala," the first track off Ametheyst Rock Star:
Fire is in the heart. Water
places the art 'round the island of
desiring wheremost primitives stalk
sacrificing their daughters, but these
primordial waters carry a feminine
agenda that no man ever taught us
Much of Williams's tone and content focus on the black experience, but it is also evident that what is most important to him is the universality of the human experience. In his 2003 book/poem, ,said the shotgun to the head, Williams cleverly and passionately articulates the disillusionment found American culture, the disappointment sometimes caused by others (and ourselves), and the hope that, ultimately, love will save us all (or at least will make this life worth living).
your priests and presidents
no longer matter
only you and I, my love
[…]
throw away your map
and swallow
this cratered pill
pull it from the sky
and let it dissolve
under your tongue
it is only a matter of time
before we are timeless
In shotgun, Williams presents himself not only as a prophetic wordsmith, but also as an artist, experimenting with different fonts, sizes, and formats and deliberately vacillating between poetry and prose. A true multimedia artist, he recognizes (perhaps as a result of his study of graffiti) that the visual presentation of words is just as important as the words themselves. I can give you endless examples of text from this poem, but you can't fully feel it until you see it. You have to get your hands on this book.
If you can't see it, at least listen to it. Here's Williams performing an excerpt. It's only a minute long, but that's just because you're going to want more anyway.
Original illustration of Saul Williams for Autostraddle.com provided by and copyright Michelle Mishka Colombo 2011