I can't believe the very last ever episode of Orphan Black airs tomorrow night, y'all. You can get caught up with Valerie Anne's recaps before then, if you want; and also her recaps of Wynonna Earp. This week our QTPOC writers took over the Monday Roundtable to talk about the TV and movie characters that made them feel seen. Ilene Chaiken decided maybe she's going to ignore The L Word's sixth season like all of us already do. Natalie wrote a beautiful piece about Doubt that made Laverne Cox cry. Kayla recapped The Bold Type. And we got a sneak peek at Camille and Amanda from the Stitchers finale.
I know there's some gay hijinks happening on Killjoys and Dark Matter and Valerie's going to tell you all about them once they play out! In the meantime, here's what else is going on in the world of queer TV.
---
The Fosters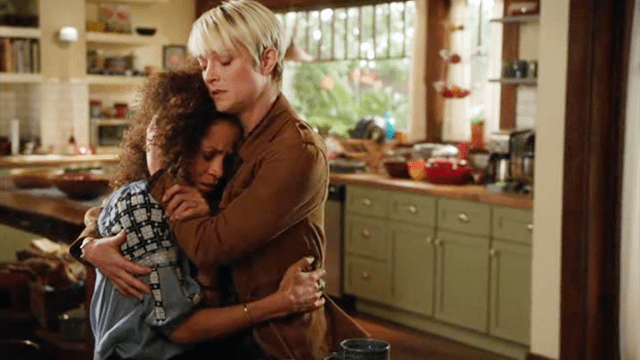 Man oh man, this week was a really good moms episode of The Fosters.
Lena is working around the clock to try to figure out how to help Jesus. She's researching inpatient behavioral therapy. She's researching holistic treatments and gluten-free diets. She's researching electrical current therapy. And she's basically doing it all alone because every idea she has Stef just shoots down with a firm "no" and then rushes back to work. Their impending confrontation over Stef's absence and Lena's stress is put on hold for one night, though, because Dean and Tess invite them over for steaks, a solicitation Mariana cheerfully and immediately accepts on behalf of the whole family. But there's a problem with Dean and Tess' kitchen so they end up cooking and eating at the Adams Foster house.
Stef gets pretty trolleyed on Pinot at dinner and also pretty loud and also pretty loose-lipped about their personal family business. Lena has to reign her in multiple times. Despite the many, many glasses of wine she guzzles, however, she still won't come clean about what happened between her and Tess in high school. Dean's prying but Stef's not talking. Tess is, though. She's washing dishes with Lena, encouraging her natural approach to Jesus' health, and expressing such affection for Stef and Lena's "alternative lifestyle."
The next morning Stef lies about getting called in to work and everything blows right up. The kids went out to a roller derby party after dinner the night before and Jesus had a seizure and Lena just loses it on him. She can't believe how caviler he's being with is life. She's working so hard, can't he see how hard she's working, doesn't he even care? He bites back that she's got nothing left to take away from him so there's gonna be no consequences for his angry outbursts, but she's still got a couple of options left. Number one, Emma's not coming over anymore. Number two, if he keeps it up, she's going to hospitalize him. Sherri Saum is incandescent in these scenes.
When Stef gets home, Lena confronts her with a very hard truth: She wants to go out there and save all the kids in the world but there are kids under this roof who need saving and Lena can't do it by herself. To her credit, Stef doesn't Stef it up. She doesn't make excuses. She doesn't get sarcastic. She holds Lena close and says she's there. She's there.
The episode ends with them sitting side-by-side with Jesus in his bed, hugging.
---
Younger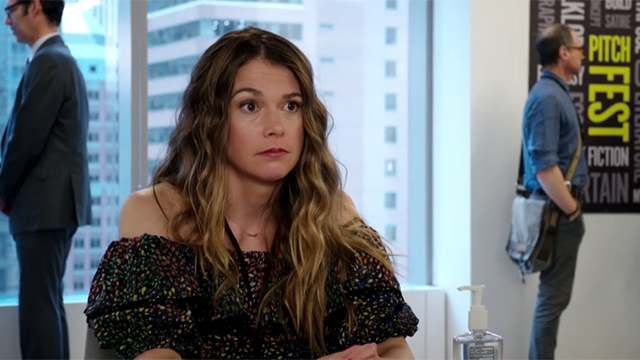 Maggie finally pushed Liza into Charles' arms this week after Charles confessed he's got a thing for Liza and Liza had a bookshelf sex dream about him. But then guess what? Jessica Stein showed up because she wrote a book about her stifling Upper West Side marriage that she abandoned and Liza loves the book and Jessica Stein is Charles' ex-wife! They manage to find some time to smooch between this revelation, something Charles is not sorry for thank you very much. And to be honest Liza's not sorry for it either. It's gonna be a big problem because she's about to compound two lies on top of each other, but they do have an inevitable sort of chemistry.
Speaking also of which: Josh and his weed tag along with Kelsey and Lauren for a day trip up the Hudson and it is there that they finally kiss right on the lips. They agree it wasn't a very bright or wise thing for them to do but it was always going to happen and after last week's ending where Liza and Josh were finally able to wish each other well I think the show might actually go there.
Where I want Younger to go the most, though, is the promised meeting between Diana and Maggie from a few weeks ago!
---
Claws
Written by Natalie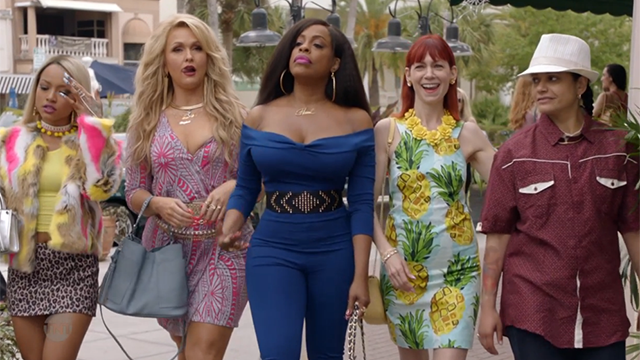 The outgoing owner of Glint Nails, Desna's dream salon, may not like black or brown, but she likes green just fine. She leaves a parting gift for Desna and her crew, though: $12,000 in damage to the salon.
Things are looking up for Bryce and Jen, though, who get a new crib from Uncle Daddy — Jen, who's been pushing for Bryce to cut ties with the Dixie Mafia, relents, seduced by the palatial estate and the promise of good schools, with music classes, for her girls.
Instead of taking a loan from the Bank of Hussner — from Uncle Daddy, via the clinic, or from Uncle Daddy, via Jen — Desna opts to kill two birds with one stone: the girls of Nail Artisan of Palmetto County are going to Nail Palm, the Olympics of Nail Artistry, to compete against the Glint Girls. A win at Nail Palm would give Des the money she needs to open her salon.
Desna taps Jen, Polly and Quiet Ann to compete at Nail Palm, much to Virginia's chagrin. Feeling rejected by the crew, Virginia returns to the life she once knew, thanks to an offer from her roommate, Relevance (Angelica Ross). But when the dancing gig she signed up for turns out to be more like live streaming porn, she hides in the bathroom until Desna and a baseball bat-wielding Quiet Ann swoop in and save her. After a stern (and highly problematic) talking to, Desna tells Virginia that an injury has sidelined Jen and now she's in the game…Virginia's going to Nail Palm.
With Dean and Jen cheering the team on, Nail Artisan advances to the finals, leaving Desna to go one-on-one against the racist owner of Glint. Pushing through her anxiety, Desna's nail art self-portrait — chaotic and complicated, but loving — wins Nail Palm and $15k!
Waiting for Desna after she claims victory? Dr. Gregory Ruval (Jimmy Jean-Louis), the fine gynecologist who's caught Desna's eye. Both their previous dates have been interrupted — the first, to assuage Dr. Brickman's paranoia, and the second, to help Virginia — but he shows up at Nail Palm with flowers in hand. I'm usually a sucker for an accent, but something about this doctor seems too good to be true…handsome, Mercedes-driving gynecologists don't just show up in Palmetto Plaza to buy you a six-piece shrimp, even if you do look like Niecy Nash.
While Desna's off celebrating with the Hot Doc, Dean's with Jen and she notices a picture of the mutilated Coombses in his notebook. Dean explains who they were — and that karma finally got them — and just like that, our moment of piece is shattered. Jen knows.
Meanwhile, Roller's being held captive and is getting raped by this crazy woman, Gladys (Jane Adams), who thinks they're characters from A Room with a View. Eventually, he convinces her to take her artistic talents (and I use the term loosely) to South Beach. This has to be, without a doubt, the stupidest and most offensive storyline on this show, which is saying a lot. Roller is being raped, repeatedly, on our screen and I guess we're supposed to find it funny?
Dean and Virginia are also in South Beach — her, for an impromptu vacation, him, to be a part of a live art installation. Dean's always been a little smitten with Virginia and when he defends her to a poolside creep, she becomes a little smitten with him too. The only thing less surprising than the fact that Virginia eventually takes Dean to bed? Dean's inability to understand that she meant it as a one-time thing, not a commitment.
Gladys takes Roller along with her to South Beach, keeping him zip-tied, drugged and covered in a wheel chair, with a gun handy, just in case. When Gladys' adoring art fans are celebrating her work, Roller makes a run for it, using a knife he stole from room service to free him from his restraints. He recognizes Virginia and Dean. but Gladys has realized that "Mr. Emerson" is gone and chases after him with her gun. Before Gladys can turn the art expo into a crime scene, Roller gets snatched by the Russian twins that have been hunting for him.
Back in Palmetto, Desna's ready to tell Uncle Daddy she's done with the clinic. She's got her money and she's got her replacement at Nail Artisans, Uncle Daddy's boy-toy, Toby. Tired of operating without her best friend and right-hand, Desna drives to Jen's new crib to find out what's keeping her away from the salon. Des finds Jen line dancing (#notaeuphemism) with Hank (Hunter Burke) and urges Jen to come back. Rightfully angry at Desna's role in turning Bryce into a murderer, Jen says that her husband's clinic earnings are enough and she no longer has to work.
Meanwhile, Quiet Ann is in a park having a picnic lunch with her detective girlfriend, who she's still seeing over Desna's objections. It's nothing personal, it's just that having a cop girlfriend performing cunnilingus outside your money laundering operating could be bad for business. Seems fair.
Arlene pushes Ann to be more open, but Ann resists.
"If this is gonna go anywhere," Arlene says, "I need to know more about you than how you like your pussy licked."
Again, fair. Ann pushes against type to reveal that she's originally from the area and that her brother's a nerd. Happy with the six word effort, Arlene pulls her into kiss.
Before she can talk to Uncle Daddy about Glint, Desna's coaxed into doing one last thing for him: planning a Gone With the Wind party, that's part anniversary, part investor showcase. As she is wont to do, Desna gets everything together in short order and at the party, Uncle Daddy agrees to cut Desna loose.
Not everything at the party goes well, though: Desna tries to intervene when she spots a formerly sober Jen taking shots, but Jen rebuffs her. Jen threatens to tell Uncle Daddy but relents. After revealing that she knows about Desna's ties to the Coombses, Jen goes for Desna's throat herself. Quiet Ann breaks up the fight, reminding Jen that they're a family, but Ann's disappointed Desna didn't come to her first.
"You need something taken care of, you come to me," Ann says, leaving me with a deep sense of foreboding. "That's what I'm here for."
Jen goes to tell Bryce about Desna, but when she imagines the logical conclusion — him putting a bullet in Desna's chest — she simply grabs a vodka bottle and leaves. Desna explains what happened, but Jen's not sure she can ever forgive her.
Somehow, though, our dysfunctional family reunites at Nail Artisan, Jen still chastising Desna over what she did and Virginia swearing she saw Roller at South Beach. The girls are trying to strategize about what to do now that Roller's alive when in struts the man himself, decked out in an acid washed denim set.
Everyone's understandably weary, but nuRoller is docile, sweet and attentive and lacks any memory of the day he was shot. Uncle Daddy's decides to celebrate his nephew-son's resurrection with a white party the next day. Until then, Roller just wants to spend time with his woman. They spend the night together at her place and, the next morning, Roller's family and hers celebrate Roller's return over breakfast.
Everything's going swimmingly until the Hot Doc stops by and suddenly, nuRoller starts looking a whole lot more like ol' Roller. He wants to reclaim the life he left behind but Bryce has taken his spot and Roller is seething with jealousy. Roller erupts at the white party when he's told Uncle Daddy wants to keep Bryce running the clinic, but Desna and Ann keep the feuding brothers separated.
Roller disappears from his own party for a bit to meet with the Russian twins and, clearly, they've been working together for a while. They agree to let him out of their deal for $150,000 and give Roller 24 hours to come up with the money. While dancing with Dessna — and discovering where his old stash went — Roller has a PTSD response to someone popping bottles…when he comes to, he remembers who put the hit out him: the Russian Doublemint twins!
Later, at the strip club, Uncle Daddy expresses some reluctance about going after the Russians right now. They're expanding their pill business and now's not the right time to attract attention from the cops or the DEA. Seeing his shot at getting out from under his debt taken away, Roller lashes out and the tension between he and Bryce turns into a fight.
Roller's description of his shooting is too precise — he knows Desna and Virginia are responsible, even as he affixed blame to someone else — and it puts the fear of God in the girls. Knowing that Roller's been getting texts asking him for money, Desna tries to find out the real story. Without much effort, Desna, Polly and Ann discover that Roller's been embezzling money from the clinic and slipping it to the Russians.
When Riva shows up at the salon, it's to figure out what Desna's doing, sticking her nose into Riva's check-cashing business. Desna explains the whole story, including how Roller wrongly fingered the twins for his assassination, and Riva responds with her own story of Roller's double-crossing the Dixie Mafia.
For some unforeseen reason, Desna goes to meet with Roller, alone, and tells him she knows what he did. If he agrees to leave her and Virginia alone, she won't tell Uncle Daddy what happened. Why she thinks she can make a gentleman's agreement with the same guy who tried to choke her to death, I don't know, because he predictably pulls a gun out and forces her into the car.
The season finale of "Claws" airs Sunday at 9PM on TNT. I'll have recaps of it, and the great flashback episode that preceded it, in next week's BOYT column.