GAGA:
In her first fantastic, fun & flirty appearance on Letterman, Gaga talks about the importance of graduating high school and getting spiritually reborn in the vessel, as well as her days as a go-go dancer with Lady Starlight on the Lower East Side of Manhattan. She also got (jokingly) mad at him for reading off rumors she didn't like, including: if they turned her meat dress into beef jerky, whether or not she was single, and if she eats Barbie doll heads during live shows. After that question, Gaga grabs his list of questions and began to eat it. This entire 15 minute interview is Must See TV.
Elsewhere in Gagaland, she makes the bold statement that she HATES the epic (if overblown) "Telephone" video.
"I can't even watch the Telephone video, I hate it so much. Beyonce and I are great together. But there are so many ideas in that video and all I see in that video is my brain throbbing with ideas and I wish I had edited myself a little bit more."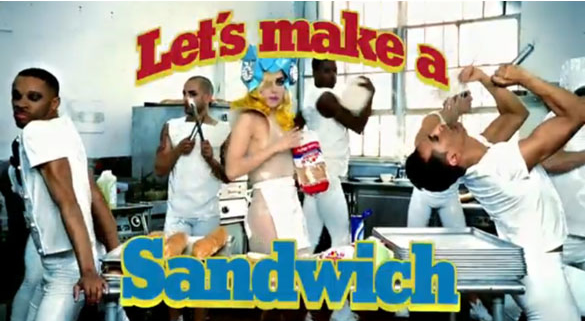 She also appears on the cover of the new issue of Rolling Stone and opens up with some choice nuggets revealing a bit deeper into her psyche:
"When I am not onstage I feel dead. Whether that is healthy or not to you, or healthy or not to anyone, or a doctor, is really of no concern to me. I don't feel alive unless I'm performing, and that's just the way I was born."
She also feels it would be unfair to fans if she were to choose her personal life over them:
"We have this umbilical cord that I don't want to cut, ever. I don't feel that they suck me dry. It would be so mean, wouldn't it, to say, 'For the next month, I'm going to cut myself off from my fans so I can be a person.' What does that mean? They are part of my person, they are so much of my person. They're at least 50 percent, if not more."
However, she did admit to finding it difficult when she first exploded in 2008:
"Being myself in public was very difficult. I was being poked and probed and people would actually touch me and touch my clothes and be like, "What the f**k is that," just so awful. 'It was like I was being bullied by music lovers, because they couldn't possibly believe that I was genuine."
Finally, did we all see her appearance on Saturday Night Live this weekend? In addition to performing a gorgeous piano solo version of "Edge of Glory," "Judas" and um, gave birth(?) during "Born This Way," also appeared in the third Justin Timberlake/Andy Samberg digital short featuring their 80s inspired "Dick in a Box" characters.
FYI, Gaga is set to perform "The Edge of Glory" tonight on the American Idol finale with Bono & The Edge.