Lady Gaga dropped Born This Way this week and it was a really big deal, the release was so hot that Amazon.com had a fire sale and sold it for 0.99 cents. If you missed out then don't fear, you can still download it for the very reasonable price of $5.99, or $6.99 with the booklet.
You called for us to review Born This Way, so we asked Autostraddle team members with diverse music tastes (and varying levels of interest in Lady Gaga) to review one track each! Let's see what our little snowflakes think of this album.

Marry The Night – reviewed by Brittani, Writer
Lady Gaga is gonna marry the night which is probably a more likely scenario than you marrying that lady you love. She does that thing where she repeats the first part of a word a few times and then says the whole word so that's hot. "Marry the Night" is the perfect song for my seated dance parties. It's a techno pop love letter to New York about embracing who you are even when things aren't going exactly as planned. Lady Gaga wants you to go to that place you love and do that thing you do. Own the dark that comes with the light. Just be sure to bring the whiskey.



Born This Way – reviewed by YOU
"Born This Way" has already been reviewed extensively by the Autostraddle community. When this song dropped in February everyone had a LOT of feelings about issues like racial insensitivity and plagiarism and so we created an open thread. Then, just when we thought we'd heard every single feeling that could possibly be felt in response to this song, Lady Gaga made a bizarre music video and it clearly called for another open thread.




Government Hooker & Scheiße – reviewed by Carlytron, Contributor
I decided to review both "Government Hooker" and "Scheiße" (review below) because I found them to be somewhat similar, in that they are easily the most "WTF?!" moments on the entire album. And that's what makes them THE BEST. Both songs were previewed during the Mugler Paris fashion show in March (along with Born This Way). They also have the best titles — unicorns aside — because "scheiße" ("scheisse") is German for "shit." DOES TAYLOR SWIFT HAVE A SONG CALLED SHIT? NO! (though in my mind, all of her songs are "scheiße," amirite?) And am I the only one who learned what "scheisse" meant from the South Park movie? No. Hokay, moving along.
Aaaaaanyway, Government Hooker seems to be about corrupt politicians and willing pop stars or something, whatever, it has the most memorable hook ever: HOOOO-OOOOO-KAAAAHHHH! Brilliant. Impossible to NOT get that stuck in your head. It opens with this operatic silliness and oozes into a thumping, glitchy electronic ode to Marilyn Monroe and other politicans' mistresses ("put your hands on my John F. Kennedy" is a legendary line). The creepy dude voice in this track is VERY Ace of Base, is it not? Producer DJ White Shadow spoke to MTV News about the track and called it his favorite track on the album.
Scheiße was immediately one of my favorite songs. It sounds like old KMFDM/MDFMK or Lords of Acid (the first person to remix this song with the old Mortal Kombat theme song gets a cookie!). "I don't speak German but I can if you like" makes me so happy every time I hear it, and her fake German-French-whatever is brilliant. This is my dog Arthur's favorite song because the way she says Scheiße in the chorus sounds sorta like "schnauzer." But yeah this is some sort of female empowerment anthem… maybe not the best one ever but it's a really catchy song. In my brain, I've decided that the narrator of this song is the same girl from the Bad Romance video (though we all know those were Russians, not German) but I feel like there's some sort of loose common thread there. Basically, Lady Gaga is Sonya Blade, I think that's all that we need to know (her ponytail in the SNL Digital Short "Threeway" is very much on-point).
Overall, I have to say that I was prepared to hate this album. Gaga has been everywhere lately, with bizarro marketing partnerships and endless public appearances, and I haven't loved the singles off BTW very much. But she really buried the lede on this one… the strongest tracks on here are not the singles (I still cannot stand "Born This Way" or "Hair") and I'm glad I gave it a chance to impress me. HAHA JK THERE WAS NO WAY I WOULDN'T HAVE GOTTEN THIS ALBUM, DUH. Srsly though there is SO MUCH GOING ON on this album I can't even begin to deal with it all.


Judas – reviewed by YOU
This is another track that's already been discussed extensively. When Gaga released the "Judas" music video, popular reactions included "huh", "I can't even", and "I gave up and watched 'Like A Prayer' instead". Naturally we created another open thread. Then everyone hassled Alex via formspring until she recapped the music video.



Americano – reviewed by Alex, Design Director
At first I think "Americano" is funny and intense and cray-cray in a fun/experimental way. And then I'm like "no habla inglés" so found myself googling the lyrics. Then I realize: this song is serious. Seriously awesome. Gaga says 'Americano' is "a big mariachi techno-house record, where I am singing about immigration law and gay marriage and all sorts of things that have to do with disenfranchised communities in America." Yep, that about sums it up.
I love how Americano's sound matches it's meaning/subject/context. Without looking up the lyrics I got blissfully lost in the sound. But now it means so much more — my favorite lyrics being the opening:
"I met a girl in east L.A.
In floral shorts as sweet as May
She sang in eights in two Barrio chords
We fell in love
But not in court" (get it?! PROP 8 etc duh)
As well as: "Mi corazón me duele por mi generación" — my heart aches for my generation. Brava Gaga.



Hair – reviewed by Jess R., Senior Entertainment Editor
"Hair" was actually the first album track I heard after "Born This Way" and "Judas" and the first that I truly connected to after feeling somewhat lukewarm about the first two singles. I love the fact that there is a solid narrative to the lyrics especially when compared to the poor way similar themes (acceptance, repression, freedom and creativity) were handled on the terribly literal "Born This Way." The track (produced by RedOne) has an expansive and euphoric 80s/early 90s vibe that takes me back to my childhood and will likely be a centerpiece of her live show – a hardcore/dance sister to "Edge of Glory." Loves it.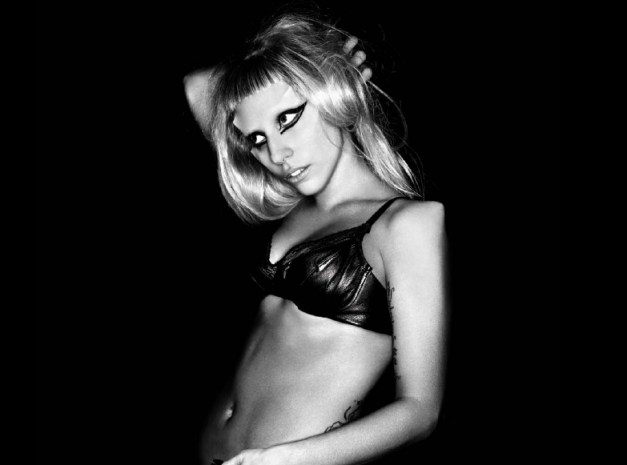 Bloody Mary – reviewed by Laneia, Executive Editor
The beginning of Bloody Mary is the soundtrack to a theatrical spider sneaking up on a small child. Then a beat 'drops' and it feels similar to the first time I saw Thriller on VH1 the summer that my babysitter's oldest daughter started being my babysitter instead. I watched a lot of VH1 that summer.
Love is just a history that they may prove
And when you're gone I'll tell them my religion's you
That seems dramatic and important. Now we're talking about dancing in the way Jesus said it should be done: with your hands above your head. I feel like this song is too slow to dance to, yet the tone is too dull to sing along with. I don't know what to do with this song. Really your only option is to march, I think. This will give you more time to analyze the lyrics.
I won't cry for you
I won't crucify the things you doooo
I won't cry for you, see
When you're gone I'll still be Bloody Maaaary
It seems like she's saying she'll still get her period even after she's been left behind by this person. And she won't cry for the person who left because she'll still have to worry about changing tampons or emptying her diva cup, so she won't have time for crying. She's being really practical here.
This song is about menstruation, practicality and trying not to die alone in France.



Bad Kids – reviewed by Stef, Contributor
For a song that starts out with Gaga's basic interpretation of Suzi Quattro's intro to "Wild One," "Bad Kids" quickly evolves into aggressive distorted guitars and shimmering synthesizers.  Taking aim at not only her own detractors but at the detractors of any of her "little monsters," Gaga (somewhat patronizingly) reassures the listener that hey kid, I'm OK, you're OK, don't be insecure if your heart is pure, it gets better, bullies don't matter, just do you, your hair looks nice.
Like so many songs on Born This Way, "Bad Kids" is a weird manic amalgamation of genres, jumping maniacally from quasi-80s-hair-metal to electro disco to piano pop within the blink of an eye. It's a catchy song, if a bit sugary for my taste. I find I appreciate this song more if I imagine Gaga singing directly to John Bender from The Breakfast Club. I have included this graphic to illustrate my point:


Highway Unicorn (Road to Love) – reviewed by Riese, Editor In Chief
I picked "Highway Unicorn" because I like the idea of a unicorn on a highway. Highway Unicorn is a song that might play in a commercial where people are zooming through a tunnel with lots of lights dancing in stripes over the shiny car. If this song is a video, I hope it will be Ellen Page and/or Neo riding a unicorn through a Lucy-in-the-Sky-With-Diamonds type situation.
Obviously this song is mostly gay propaganda:
She's just an American riding a dream
And she's got rainbow syrup in her heart that she bleeds
They don't care if your papers or your love is the law
She's a free soul burning roads with the flag in her bra.
The spirit of the song is that we should all run like birds and ride the pony and also be strong. This is a 'positive' message for children who want to "run, run" with the fury of the saint in their eyes, which is  reference to the glowy-eyed vampires in Twilight. Little glowball eyes!
The mood of the song is "dance dance in the future" "dance dance again."
My favorite line is "get your hot rods ready to rumble 'cause we're gonna drink until we die," because it describes my life thus far.
I kept turning this song on to review it and then somehow I end up in the kitchen or on g-chat or writing a post and then the song ends and I'm like "where's my song" and then "fuck I was supposed to be listening to that song."
I'm no musician but I've heard a lot of songs in my life, and this one didn't seem particularly innovative or memorable in any way.
But my Halloween costume for next year will be "free soul burning roads with the flag in her bra" and I think we should sell rainbow syrup on Autostraddle.



Heavy Metal Lover – reviewed by Crystal, Senior Music Editor
I wanted to review this track because it had a promising title. I love heavy metal but I don't usually love Lady Gaga, and so I figured if there was going to be one track from Born This Way that could potentially be my jam, this would probably be it. Well. The title "Heavy Metal Lover" is somewhat deceptive, as this track is packed with thick club beats and over-produced vocals that belong in a disco and not a death metal club. Did Bon Scott ever use Auto-tune? I don't think he did. I can't help feeling like some dirty guitar riffs and growls would have been far more suited to the lyrical content, but then this is Lady Gaga and not AC/DC.
There are things that I genuinely love about this track. For one, it's got grit. The theme is trashbag sleaze, I feel like Gaga's basically taken Ke$ha's shtick and schooled her on how it's done. Lyrically this song is smut and rebellion, it's about people gathering to wear leather and have sex and drink Jamesons and cause mayhem. Some reviewers have called this filth pop 'cheesy' but I call it 'relevant to my interests'. I've long forgotten this track's beat, but I'm going to probably going to remember the phrase "I want your whiskey mouth all over my blonde south" forever. Goddamn.



Electric Chapel – reviewed by Robin, Photographer
When I hear this song, I picture the shiny Lady Gaga motorcycle mutant rolling through the night, wind in its hair, and it makes me feel pretty awesome. It feels very much like what I was expecting from this album, some 80's hair metal guitar riffs and classic Gaga belt. I love the mix of genres in this song and Gaga's endlessly changing take on pop music.
There is definitely some Poe happening in this song, but most of all I hear Kylie Minogue. Listen to the chorus of "Cupid Boywp_posts(or "Closer ") and then "Electric Chapel". It has striking similarities, but in the best way.
As for lyrics, I don't expect poetry from Gaga. Maybe in a few of her ballads, but this is not exactly a song for lyrical analysis. Holy fool, pray for your sins, caskets will fall, meet me in the electric chapel… sounds a little bit like a morbid lesson from CCD (Confraternity of Christian Doctrine), but falls right in line with Gaga's newfound religious awakening. I hope the video features some sexy nuns. We get it girl, you are a believer. As far as this album goes, I am too!  Praise Gag!


Yoü And I – reviewed by Sarah, Contributing Editor
"Yoü and I" was the first song Lady Gaga let us hear from her new album, and it is as close to a ballad she has ever gotten. Actually, it sounds like a musical love letter that belongs in the final act of a romantic comedy, not something that Lady Gaga wrote and put on her third album. But I still love it. It's nice to see Gaga, whose real self is usually so detached from her persona, open up a bit. The lyrics sounds like the most personal Gaga has ever written, especially when she says that cute thing about "six whole years." I just wish the person she was talking to wore high heels and lipstick themselves, instead of just getting it on his face. Anyway, the point is, I will be singing "Yoü and I" at a karaoke bar as soon as possible. Preferably one with cheap beer and peanuts on the floor.



The Edge Of Glory – reviewed by Katrina, Writer
I'm not sure where "The Edge of Glorywp_postsis located or what exactly it means, but I'm pretty sure that Lady Gaga knows where it is, and she rode a unicorn all the way there and back just to create this song. Featuring a huge chorus, sweeping hooks, and a mother*cking extended saxophone solo by Clarence Clemons of the E Street Band, "Edge of Glorywp_posts deserves to steal away the title 'anthem' from the album's first single, "Born this Way."
Does it sound a little bit like Cher's "Song for the Lonelywp_postsand Kelly Clarkson's "My Life Would Suck Without Youwp_posts fingerbanged and had a baby? Yes. But think about what that baby would sound like. The lyrics are easy to shout, the beat builds into sweeping hooks, and this is the kind of sh*t that makes you want to fist pump like the rapture is tomorrow. Is this the real anthem of the album? Put it on and imagine yourself at last call at Babylon from Queer as Folk. You've had a little too much to drink, you're surrounded by drag queens, you might not be wearing a shirt, but damn grrrl, you're on the Edge of Glory. That's an anthem.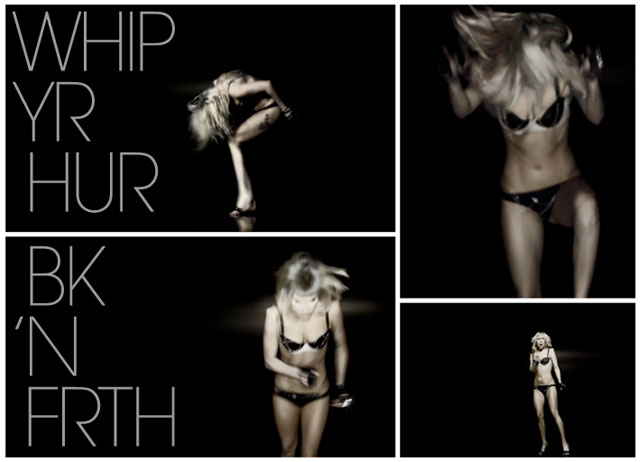 Black Jesus + Amen Fashion (Bonus Track) – reviewed by Katrina, Writer
Black Jesus is kind of a celebrity these days. Referenced by such artists as 2pac, Ghostface Killah, and of course, Madonna in her "Like a Prayerwp_postsvideo, Black Jesus has come to be a symbol of struggle against oppression and the division of races. But I'm going to be completely honest here, I have no idea what the f*ck Lady Gaga is talking about in this song. In accordance with what appears to be an "Express Yourself"/"Like a Prayerwp_postsmotif in "Born This Way,wp_posts"Black Jesus † Amen Fashionwp_posts(I'm still trying to figure out how to pronounce the cross) combines 80s pop sounds with slightly updated electronic keyboard synths to add an eerie undertone. Lyrically, the song is a weird and seemingly arbitrary combination of Lady Gaga's favorite topics: New York City, Jesus, and fashion. It's not a bad-sounding song, it's just not particularly interesting, which is fine, because there's a reason that bonus tracks aren't on the album. There isn't anything to be found in "Black Jesus † Amen Fashionwp_poststhat isn't already in the new album, except, of course, for the final part of the bridge, in which Gaga proclaims, "Black Jesus/Black Jesus/Black Jesus/JESUS IS THE NEW BLACK.wp_posts Whatever that means.



The Queen (Bonus Track) – reviewed by Crystal, Senior Music Editor
A quick pop song is a good pop song. Unfortunately this pop song runs for 5 minutes and 17 seconds, which is 1.73 minutes longer than my attention spa n. I never quite made it to the end of the track, but from what I can gather this song is about Lady Gaga wanting to be Queen, it's very ambitious. The only part of it that I enjoyed is the unexpected gear change halfway through, courtesy of a guitar solo.



Fashion Of His Love (Bonus Track) – reviewed by Crystal, Senior Music Editor
When I heard that this song was a tribute to Alexander McQueen I was slightly concerned because tribute songs absolutely must be good. And this is! I think "Fashion Of His Love" is sweet and overall quite well done. It's a rad 80s jam that sorta sounds like Whitney Houston's "I Just Wanna Dance With Somebody". Out of the songs I've reviewed this is definitely in the top 3.

Now it's your turn! Tell us your track-by-track feelings in the comments!