Hi. It's been a while, Autostrudel¹! How have you been? Me, I've been busy getting a new show together, traveling to the other side of the planet, and paying a young woman to smear hot wax on body with wooden sticks, ripping my hair out by the roots while she talks about Elvis. You know, the usual.
Hey, before you get all excited, it was just the legs, okay? I'm not even going to talk about the other kind of waxing, especially now that my mom knows how to Google (Hi, Mom!). Out of respect to my mom, who could very well be reading this article right now (Hi, Mom!), I'm not even going to tell you how I feel about the other kind of waxing. (What kind? I don't even know what they're talking about! Hi, Mom!) I will say, however, that while I have never moved to Brazil, I do enjoy visiting that fine country. Heh? Yeah? Please indicate with a knowingly raised eyebrow (unless you're my Mom. Hi, Mom!) that you know what I mean².
If you are my Mom, please enjoy this wholesome picture of a quilt: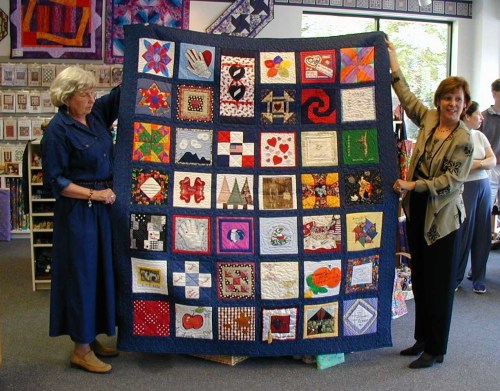 I have to say, the waxing thing is still a little weird for me. I'm not the type of person who unthinkingly subscribes to the Western cultural fetish for hairlessness, especially as it applies to artificially recreated prepubescence. I am the type of person, however, who, in her twenties, not only uttered that exact sentence aloud, but who uttered it aloud while naked with pretty girls. That's right, ladies! Do you like achingly earnest psuedo-intellectualism coupled with a serious amount of body hair? Then I'm your gal! Not only am I hirsute, but I can use it in a sentence. I just did. Check that out. Aww yeah. Raise yo' hands in the air like you just don't care!
I would like to take a moment, if I could, to formally apologize to any of the girls I slept with in my twenties. I know I was annoyingly over-politicized. And to Jodie in particular, I'm sorry you had to know me in my serious vegan years, when I would passionately argue that a chicken's life is as valuable as a human baby's. To girls I slept with in my twenties, I'm sorry. (Also, you're welcome. Because let's be honest, that was a drunken and flexible decade.)
I would like to take another moment, if I could, to formally apologize to my Mom (Hi, Mom!), who's presumably still reading this. I'm sorry you had to read about all the hot girls I had sex with in my twenties. (Also, you're welcome.)
And I would like to take yet another moment, if I could, to formally apologize to anyone I have ever had to apologize to. I find it really difficult to apologize without implying that, whatever my transgression, you should probably be grateful to me for something else. So, I'm sorry. And you're welcome.
Back to waxing!
I figured I'd go all out and get my wax on, since I've recently transported to Australian summer from Canadian winter and I have no need for the ol' protective leg coat. Sure, I could shave, but why do for myself what I could pay a stranger to do for me while they watch me cry? That's my motto when it comes to leg hair, and that's my motto when it comes to therapy. Either way, I just lie back on that little clinical couch and get into it. "Come on! Rip it out! I like it when it hurts! More wax!" (At the moment, I can only afford subsidized community therapy. But they assure me it's just like regular therapy. We do all the usual stuff, like talk therapy and wax treatments. And you can hardly even feel the leeches.)
This probably comes as no surprise to those of you who are waxing pros, but there were two things about the experience that I was thoroughly unprepared for. One, the pain. Two, the intimacy. I know I should have anticipated both of those things, but they caught me off guard and left me somewhat unsettled. It was much like how I feel listening to Jennifer Aniston talk about her love life. Ah. Okay. Too much pain. Too much intimacy. Make it stop. Can somebody make it stop? This doesn't feel good.
I'm sure that those of you who have moved to Brazil (wink, wink) aren't interested in hearing about what I think was painful, so I won't go on about it. I'll just say that on a scale of "ouch" to "holy fuck why fuck why," the pain was somewhere between getting a tattoo on a fleshy body part and learning that there is no Santa Claus.
And I didn't realize how intimate it would feel having someone use a tiny stick to smear a tiny bit of wax on the tiny top of my tiny toe and rip out the tiny little hairs there. I didn't even know I HAD toe hairs until this stranger removed them. Could there be a more profound shared human experience? This stranger, this beautiful creature, this angel, she looked at me and she saw me in a way that I don't even see myself. It's as if she gazed deep into the most guarded secrets of my eternal soul and whispered, "Hello, you. I know your toes sprout hair and I accept that. We're all on this universal journey together. Namaste." Riiiiiiiiiiiiiip! According to some cultures, we're married now.
I've joined the ranks of the freshly waxed. And it's pretty awesome. I feel sexy. I mean, yeah, my eyes are swollen from crying, my fingers are cramped from involuntary clenching, and I have painful red blotches on my legs that make me look like I'm having an allergic reaction to my own self. Mmm. Seductive.
¹ This is how I refer to Autostraddle in my head. It's a pet name that also puts me in mind of deliciously gooey breakfast treats. I think we all win.
² Please tell me you know what I mean. Don't make me say any more than I already have. Seriously, my Mom Googles me, like, every week now and it freaks me out. The internet is riddled with Mom-unfriendly things I have written, said, or posed in photographs next to and I certainly don't need to have it on record that I appreciate and enjoy when my potential sexual partners remove hair from their genital regions. Those types of things are best left to clever innuendo, i.e. the above example in which I mentioned Brazil. It would be unnecessarily crude for me to actually type out in easily understandable English words that I appreciate and enjoy when my potential sexual partners remove hair from their genital regions. I refuse to do that.