When Obama announced that the Department of Justice would no longer defend DOMA in court, and Rep. Dianne Feinstein introduced legislation to begin the repeal process, DOMA's fate seemed maybe not sealed exactly, but certainly looking worse than it had last month. Rep. John Boehner – yes, the same one who prioritized the bill arguing that there was such a thing as "forcible rape" and, accordingly "nonforcible rape" – has decided that he's not ready to give up. According to Boehner, the Republican-led House of Representatives can appoint its own counsel to defend DOMA, so as to avoid becoming "complicit in the President's neglect of duty." In fact, his exact words were:
"I'm really disappointed in the President and the Department of Justice in the fact that they're not going to defend a law that Congress passed overwhelmingly. It's their responsibility to do that. Now, it's happened before where administrations have decided they weren't going to go out and vigorously defend a law that Congress passed but I really am disappointed in the President in his actions but if the President won't lead, if the President won't defend DOMA then you'll see the House of Representatives defend our actions in passing a bill that frankly passed overwhelmingly."
This is the option that's been recommended by Rick Santorum, the aggressively anti-gay senator from Pennyslvania. There are a few details perhaps worth noting when considering Boehner's statement – for instance, that the DoJ has recommended that DOMA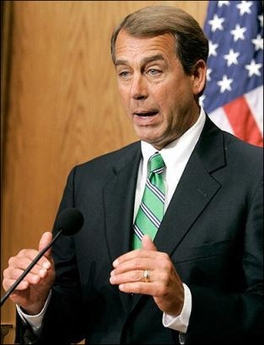 not be defended because it's unconstitutional (at least the section dealing with whether marriage is between one man and one woman) which is in fact what their responsibility is, not mechanically arguing in defense of everything that comes through Congress. Or that the level of support that Congress lends to something isn't necessarily the best metric for whether it should be protected by law, considering that Congress has also passed things like de jure segregation and a resolution to go to war in Iraq in order to divest them of their weapons of mass destruction. But hey, who's counting?
How effective Santorum and Boehner's plan might be remains to be seen – it may not happen at all, and even if it does, the House-appointed counsel may not be enough to prop up DOMA for much longer. On the other hand, the House's obvious disapproval of this move by Obama means it will be very difficult to pass Rep. Feinstein's repeal bill through the House. Perhaps more than anything else this move goes to showcase how far the House is willing to take their stance of opposition to Obama's administration; their attacks on Planned Parenthood and NPR already haven't been particularly effective, as they would need cooperation from the Senate and President to make real change, but have demonstrated that they're willing to use their legislative power to categorically lash out at every measure or cause championed by the left.
Even if, as in the case of collective bargaining in Wisconsin, it doesn't actually do anything to help them or alleviate 'budget concerns.' Although Boehner and especially Santorum have shown plenty of ill will towards gays in the past, and this move might well come from a place of homophobia and bigotry, it seems just as likely that it comes from a deep-seated compulsion to make sure that no one left of center (of left of straight) has anything that they want, ever. Obama's been accused of making his latest moves with the 2012 election in mind, but if you're really concerned about the outcome of that election, it might be the Republicans' strategy you want to be more concerned about.