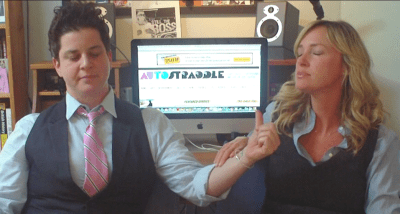 Julie & Brandy are hard at work on the first episode of Julie & Brandy in Your Box Office Season Two but in the meantime in between time, Riese has edited together a little something to bring us all back to the glory days we recall as "Julie & Brandy in Your Box Office: Season One."
Bloopers! Unaired footage! Clips from an entire episode that never quite got finished because we decided the story of how Jack Abramoff stole all our money was too depressing! Falling! Laughter! Rabid manhaters! Bathroom humor! Justin Bieber! Very well-edited montages set to popular music! Nonstop LOL's from beginning to end!
Here's the deal in case you've forgotten:
Julie Goldman & Brandy Howard are a sensational acting/writing duo trying to cause a sensation with their romantic-comedy, Nicest Thing.
But since no one wants to make their movie or cast them in anything, they feel it is their duty to harshly judge everyone else's work based on a sliding scale of rage, bitterness, lesbianisim, and lack of any real significant training.
Are you ready? I kinda think you're not necessarily ready. But here goes!
+
Julie Goldman & Brandy Howard in Your Box Office Season One: The Sh*t You Didn't See
+