feature image via shutterstock
Hey kids, did you know Purim is on Sunday?  I want to go on record stating that I am in no way an authority on Jewish holidays; I dropped out of Hebrew school a few months after my bat mitzvah when it became clear (through a curriculum consisting mostly of baking challah and watching taped Seinfeld episodes) that my synagogue had long since run out of ideas.  Still, I appreciate cultural Judaism, and opportunistically celebrate all the holidays that involve delicious food.
Purim is exceptional for a few reasons – it's one of the less somber Jewish holidays, you get to wear costumes, and did I mention there are cookies?  Most importantly, it's one of the only holidays to celebrate the actions of a female protagonist – Esther, a Jewish queen of Persia who exposed and thereby thwarted a plot by the king's advisor Haman to have all the Jews executed (We can also talk about Vashti, the king's previous wife who was banished for refusing to "flaunt her beauty" for the king's drunken bros and in my mind was a feminist badass, but that is another story for another day).  The point is, Purim is a holiday for drinking, merrymaking, celebrating legendary ladies and eating cookies.
I hadn't eaten hamantaschen since going vegan almost nine years ago, which makes no sense because there's no excuse not to veganize all baked goods all the time.  I was taught as a kid that the triangle-shaped cookies are meant to represent the three-pointed hat Haman wore, and that by eating them we were symbolically defeating an enemy of our people.  This turns out to be the most idyllic and innocent version of the story.  Further research revealed a few alternative explanations – in Israel, the cookies are called oznei Haman, "Haman's ears," apparently referring to the king either hanging Haman by his ears, cropping his ears to humiliate him or somehow insinuating that Haman had elf ears.  Another story likens the shape of the cookies to dice Haman would have cast to select a day for the extinction of the Jews.  The word tasch in German (and by extension Yiddish) means "pockets," which could refer either to Haman's literal pockets or the nature of the fruit-filled cookies themselves.  I'm going to stick with the much more whimsical three-pointed hat explanation if that's alright with you.
Vegan Hamantaschen
Adapted from a recipe on ReformJudaism.org
INGREDIENTS:
– some sort of jam or preserves situation
– 2 1/4 cups flour
– 1/2 cup sugar
– 1 tsp baking powder
– 1/2 tsp salt
– 4.5 tsp Ener-G Egg Replacer
– 6-9 tbsp warm water
– 1/2 cup sunflower oil
1.  Preheat your oven to 375 degrees Fahrenheit.  Line baking sheets with parchment paper.
2.  Time to make the cookie dough!  Combine flour, sugar, baking powder and salt in a large mixing bowl.
3.  In a small separate bowl, combine the egg replacer with 6 tbsp of warm water.  Mix until they are of a smooth, vaguely eggy consistency, then add the mixture to your dough.  Add the oil (and extra water, if your dough is still too dry) and stir thoroughly.
4.  Sprinkle some flour on a clean surface and roll out your dough.  Maybe you can't find your rolling pin because your roommate borrowed it without asking and then left it somewhere weird, but that's cool; EVERYTHING'S FINE.  You can be very resilient and use a vodka bottle instead.
5.  When your dough is like 1/4 inch thick or thereabouts, use a glass or a jar lid or something round and about 3″ across to cut out individual cookie shapes from the dough.  Place your circles on your baking sheet (leaving a good amount of room between each circle).  You can continue to roll out your dough until you've used it all up.  The website I got this recipe from said this should make about 24 cookies; I got about 18, but I got kind of lazy.
6.  Place no more than half a teaspoon of filling in the center of each cookie.  Generally speaking, I've seen Hamantaschen come in a few very specific flavors – apricot, raspberry, date, poppyseed and prune.  I decided to break free of expectations and use three kinds of preserves I found in my fridge – fig, raspberry-apricot (close enough), and blueberry.  This turned out to be a wonderful idea, and therefore I encourage you to get creative with flavors.  In my imagination, we'll eventually all band together and open an artisinal vegan hamantaschen shop in Williamsburg.
7.  Now's the tough part – shaping.  Squish the perimeter of your cookie as much as you can and then shape them into triangles.  If there is one thing I learned in this experiment, it's that pinching the corners is not enough.  It's best to fold them as tightly as you can, being careful to make the edges tall enough to trap the fruit filling inside.  It's an art form, one I am clearly still perfecting.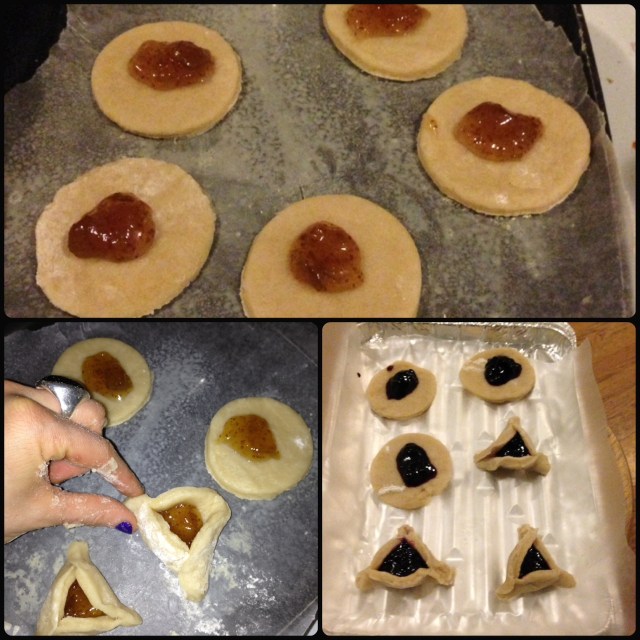 8.  Bake for 20 minutes.  Serve whenever.