Hey guys! We're well on our way into 2011, which means we're rolling out our girls for 2012. This month is March and I seriously cannot be any more excited to show you the two amazing women featured. SERIOUSLY. But don't skip down to the video (amazingly edited by Kelli Griggs) just yet… here's some stuff you need to know:
You can buy our 2011 calendar for $15.
Also, if you missed it, this is the video we opened this years Calendar Girls with:
Kelli & Ashley are January/February.
So – it's time for Round Two of Autostraddle Calendar Girls: talented, smart, charismatic, geeky and really-really-good-looking lesbianisty ladies. We make this calendar for you because you all really need to cut it out with your crushes on straight girls, this shit is out of hand, the last thing you need is 12 months of whatever Maxim & FHM come up with. REAL LIVE LESBIANS!
This year we're going to give you a video every month and just a few teases of what the actual photos will look like, so the Calendar will be chock-full of surprises!!!
Our ladies of March are:

Luna Myers: Originally from Long Beach/Inglewood California, Luna is a student and currently lives in Portland. She paints, reads and dances A LOT. You should be following her tumblr, Ancestry in Progress.
Michelle Marie McCaw: Originally from Illinois, Michelle now lives in San Diego and is a certified EMT and a hairstylist. She also writes for film festivals and works for a high school foreign exchange student program.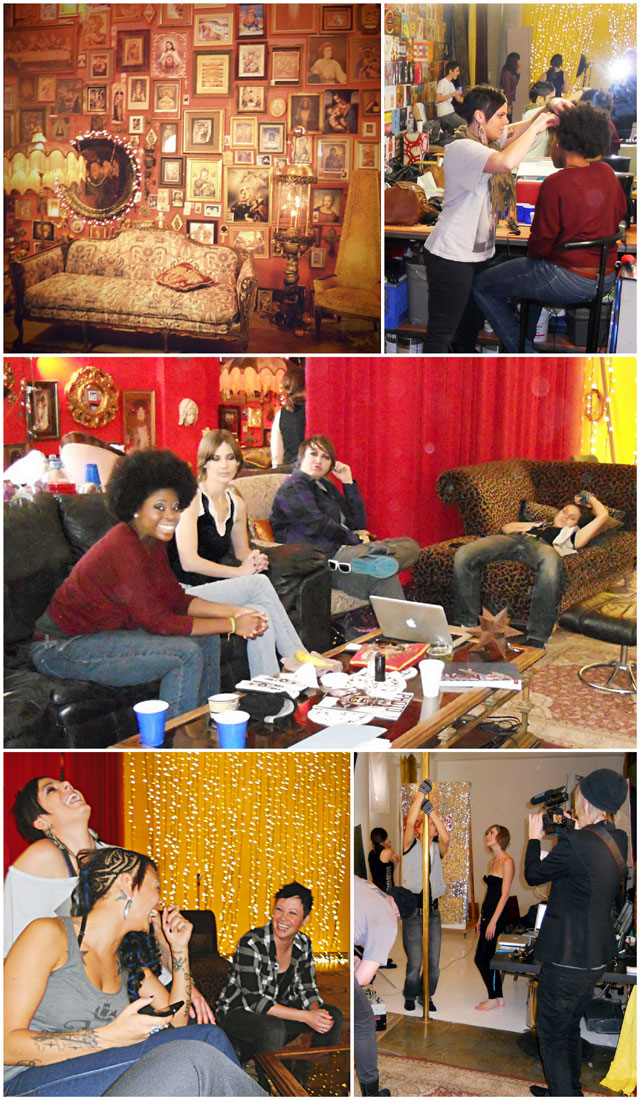 From top left to bottom right:
The 'Jesus Wall'; Luna gettin' her hurr did by hair stylist Danielle DePalo; Luna and some models lounging around; Michelle and stylists Danielle DePalo and Brandi J. Andrews are super cute, videographer of awesomeness Kelli Griggs and Miss April '11 Sarah Croce working the pole.
Here's Robin & Sara to explain a bit more about this year's theme:
The 2012 Autostraddle Calendar is our interpretation of the idea of a "lesbian imagewp_postswithout the traditional presentational definers of gender and sexual identity – when we (literally) strip away clothing, what do our naked selves communicate about who we are?
The 2011 calendar was about solo portraits of women who are brilliant, beautiful and courageous on and off camera; 2012 is about the amazing and vibrant community of queer women.
We sought to do something different this year by creating dramatic scenes and having the models interact with each other. We loved the idea of playing with identity in the form of masks, and the power that comes from choosing what to reveal and what to keep hidden.
Be prepared to see lots of skin this year in the 2012 calendar – but remember that it's what we choose not to show that sometimes gives the most away.
We photographed a group of beautiful and diverse queer women both poolside and on various studio sets in Los Angeles. We're excited for the monthly Behind the Scenes videos, where Autostraddlers can meet our sexy and inspiring calendar girls. (This being possible thanks to Videographer/Video Editor Kelli Griggs and Music Supervisor Stacee Coleman).
We hope you enjoy meeting the girls as much as we did!
Thanks to all of the amazing stylists, the production team members, and of course our brave and beautiful models.
We hope you love the results and look forward to purchasing your own 2012 calendar later this year in support of the project and of Autostraddle.com.
xoxo
Your devoted producers,
Robin & Sara
(Photographer & Stylist)
So without further ado, here is the
Autostraddle 2012 Calendar Girl video for the month of March!
You should watch it in High-Def (720) b/c that's how we look the fanciest:

Credits for Autostraddle.com 2012 Calendar Videos
Producer, Photographer: Robin Roemer
Producer, Wardrobe/Prop Stylist: Sara Medd
Production Manager: Sarah Croce for Geek Goddess Productions
Videography, Video Editor: Kelli Griggs
Music Supervisor: Stacee Coleman
Hair Stylists: Kim Byerrum, Danielle DePalo
Make-up Artists: Brandi J. Andrews, Inara Lopetaite
Catering: Sarah Croce
Special thanks to Ernie Rodriguez and Kevin Break
+
Special Note: As of December 2010, there will be no talking shit about anything in the comments on calendar girls posts. Direct concerns about the project or website as a whole can be directed to robin at autostraddle dot com or riese at autostraddle dot com.
Why? Well, we're committed to making Autostraddle a safe place for progressive debate, but since you're not allowed to say negative things about a woman's body anywhere on this website, there's really no on-topic argument to be had here. These girls are half-naked and gay, and they're saying so on the internet in a public place, which is pretty fucking sweet — they've dealt with the same feelings of discrimination and difference that you have, been told that what their body wants is wrong. But everybody's body is right. You are all beautiful, just some of you haven't realized that yet.
If you don't have anything nice to say, your comment will be deleted! SORRY!
xoxo the editors