---
+
---
+
YOU GUYS IT'S DECEMBER!
1. 2010 is almost over, which means 2011 is gonna be here, which means it's time to shoot our 2012 Autostraddle Calendar just in case the apocalypse DOESN'T happen. This time, Robin Roemer will be doing the photoshoots in Los Angeles. obvs. So, if you live on the west coast and would like to be a part of next years calendar, email us: robin [at] autostraddle [dot] com.
2. The Calendars will be ready for the holidays — it's the sexiest, most stylish/sophisticated gift for all the lesbos on your list sophisticated, sexy & queer gift for all the lesbos on your list. Order the 2011 Calendar now and get 12 months of hot lesbians AND on this Calendar, you won't need to pencil in Coming Out Day or Gay Pride because b*tches we got allll your gay holidays up in there with the rest of 'em.
---
+
This month's Autostraddle Calendar Girl is:
Romi Klinger!
Miss December
From Photographer Robin Roemer:
"Romi and I had a blast shooting for the last month of the year. She was so fun to work with and as you can imagine after all that air time on the Real L Word, very comfortable in front of the lens. Romi did her own gorgeous make-up for this one. Thanks to Sara Medd for the amazing threads for the shoot."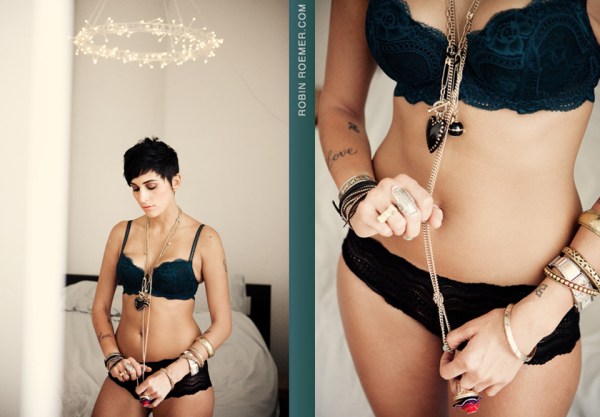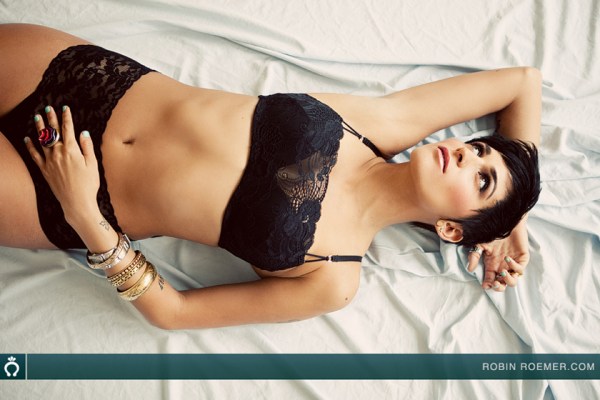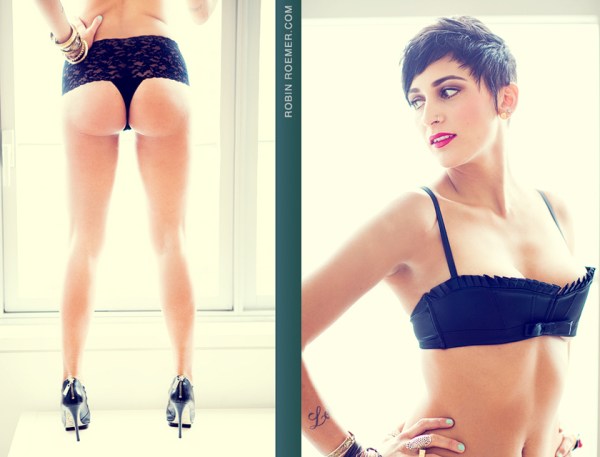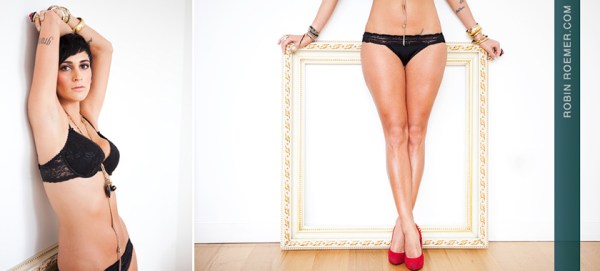 ---
+
The Official Calendar Girl Data Sheet on Romi: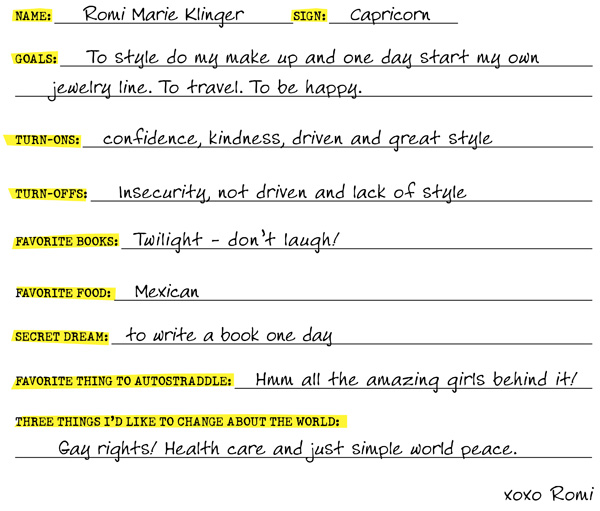 ---
+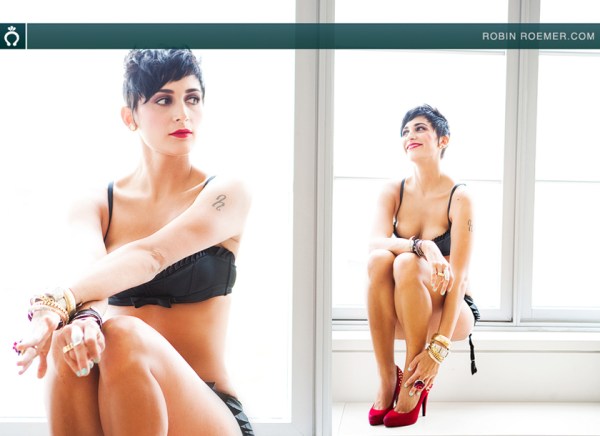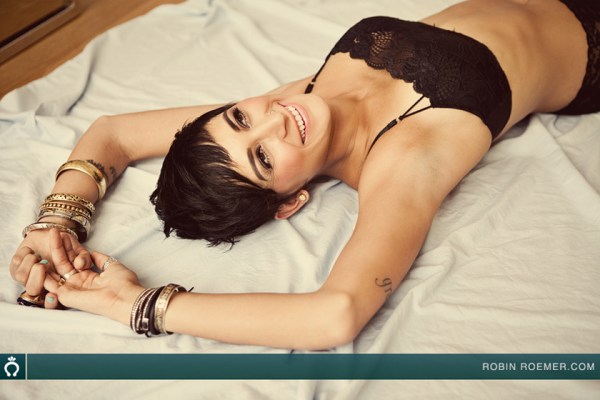 Romi Klinger is a founding mother of the basically-famous PYT Productions (the hottest weekly lesbian party in Los Angeles) (with costumes!), she has her own make-up company, Tragik, with Sara Bettencourt, and she works at the super-fancy Marc Jacobs store in West Hollywood.
But perhaps you recognize Romi from something else — like the first season of Showtime's infamous series, The Real L Word starring Romi's friend Whitney. Perhaps you read what Romi had to say to Autostraddle back in August about her experience on the show. Also, you can find out even more about who she is and what she cares about by reading this interview with Romi, Sara and Alyssa AND this feature on PYT Productions. That's a lot of Romi-related reading. Then, read her #1 feeling:
"I grew up in a family with two women as parents and I saw what happened to my family as a result of not having a lot of rights. It's important to me that I be protected under the law with gay rights. I do promotional parties for lesbians with my company PYT and we did a huge fundraiser on Pride for the Harvey Milk Foundation."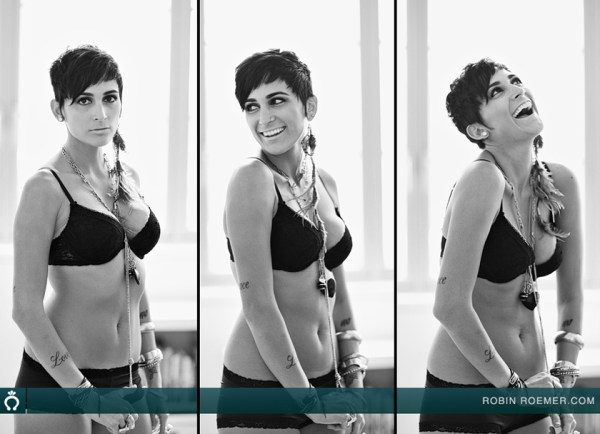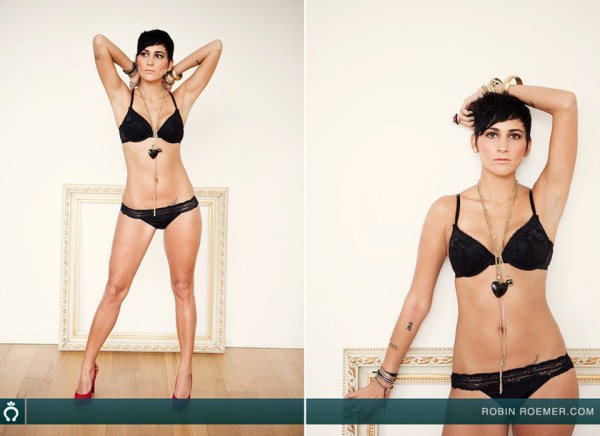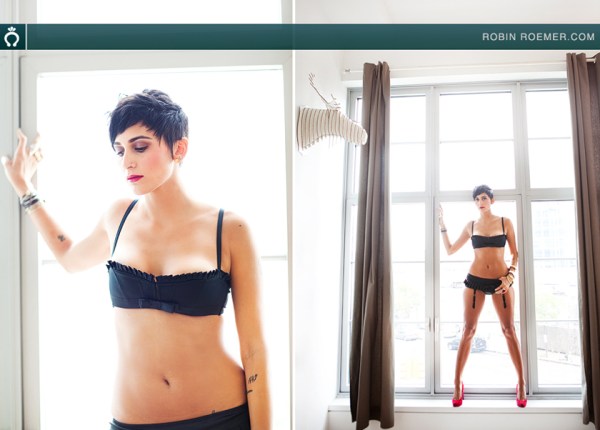 ---
+
See all the calendar girls so far this year.
+
We just think Maxim, COED and Playboy shouldn't get to corner the market on "monthly devotions to very very good looking women.wp_postsWe know lots of hot lesbians who also look good casually lounging on bedsheets and hanging out at the pool/on the couch.
Each month our photographer Robin will shoot a Le Cadeau by Robin set (as featured on WeTV) with one beautiful, talented, smart, interesting and sexy lesbian lady. At the end of the year, we'll have a pretty kickass calendar that you can buy for 2011, which is our last year on earth before the apocalypse. Don't you want to keep track of that in style?
---
+
+
+