On Sunday night, Showtime took No Limits to The Limit with lesbian strap-on sex on The Real L Word!
You know, like you saw in The L Word, except with real people. And yeah, The Real World has been showing drunken people having sex in hot tubs and under covers for years, but generally it's blurred, night-visioned or under-the-sheets. But this is SHOWTIME! That means it's TIME for a SHOW! And this show has a strap-on in it!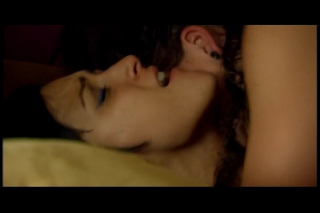 Yup on Sunday, Whitney f*cked Romi with a strap-on for all the world to see. On the bright side, Romi has fantastic breasts! But also, is this okay? Is this teevee now? Do they feel weird? Should we feel weird? Do you feel weird?
So Autostraddle talked to Romi giving her an opportunity to share her perspective on the insta-infamous episode and how she's handling it all. I mean, it's a big deal, amirite?
But firstly, since we're already blacklisted so at this point who the hell cares, our BFF Ilene Chaiken has chimed in with her RATIONALIZATION of the year aka her two cents on filming real sex: "I'm sure there's a whole big psychological and sociological analysis that could go into it, because there's something that definitely is altered by the presence of the camera — particularly sex, I would say. When there's a camera present, that becomes an element of the sexual encounter. My approach to it was simply never to ask for it or push for it. It wasn't contractual, it wasn't contractual between me and Showtime — instead, we just allowed it to happen and let everyone set her own boundaries. I cast people and I was pretty sure some would never want to go there, and that other members of our cast would be comfortable with it. To me, that's part of our storytelling."
What isn't a part of Ilene Chaiken's storytelling, one might ask? I mean, besides character arcs and insects. Also does she not know about our love of sociology. Stay tuned later this week for our full recap of episode 107/free publicity for IFC, per ushe BUT BUT BUT.
This time, the people are actual people, and people have feelings!
So, here's our exclusive statement/number one feelings from Romi Klinger:
"First of all, Whitney and I were extremely intoxicated at the party and we weren't even really aware that the cameras had followed us in the room.  We had already been very comfortable sleeping with each other and it's not a secret that this is one of the ways lesbians have sex. I'm not ashamed of having sex with Whitney or using a strap-on – because we do. That having been said, it was very difficult for me to see it on television because I am not a porn star. It's not something I wanted out there for my friends and family to see in that graphic detail. I have no choice but to own it now, because it happened, it's done, and I'm just trying to get through the hype of everything. Straight sex is everywhere, in the movies, on TV and I guess it's good for these walls to be broken down and hopefully remove mystery of it… but it's a little uncomfortable to personally be the one breaking those walls down. I'm not part of the main 6 cast members, I have no power whatsoever in what airs, so having it removed from the episode was not an option and that is hurtful – because it is ME out there. Do I regret mine and Whitney's actions – no. We're two adults comfortable with our sexuality. Am I upset that it is in the public eye – yes. I just hope my family isn't disappointed in me or feels like I let them down."
---
Before you go!
It takes funding to keep this publication by and for queer women and trans people of all genders running every day. And A+ members keep the majority of our site free for everyone.
Still, 99.9% of our readers are not members.
A+ membership starts at just $4/month.
If you're able to, will you join A+ and keep Autostraddle here and working for everyone?
Join A+