We've just declared today "Strap-On Day." It's not like an official holiday or whatever, we just invented it.
STRAP-ON LESBIAN SEX:

Seven Minutes in Heaven: Coming Out (VERY NSFW): "There is something Unitarian Universalist about Courtney Trouble's charming all-girl (and trans) spin-the-bottle romp "Seven Minutes in Heaven: Coming Out," but instead of free coffee and homemade lemon squares, newcomers get strapped."
How to Have Strap-On Sex For Beginners:"…Speaking of power, that power can be very addicting.wp_posts(@allesexguide)
On Butches: Coming Inside: "The truth is, it feels embarrassing, really, to come while strapped on and fucking. The amount I have to let go and risk is sometimes too much for my heart to open up." (@sugarbutch)
How to Choose a Harness (from babeland)
You can buy "harnesses" that actually look like boyshorts, like the Grrl Toyz Grrl Shorts (small, Large/Extra-Large which goes well with this Tantus Acute Dildo, Midnight Purple or the Grrl Toyz Strap-On. Or look, this one is purple!
Also good news, somebody who may or may not have been a Calendar Girl during a winter month has made you a really fabulous video featuring some of her favorite/only strap-on scenes, from Tipping the Velvet and The L Word. It's kinda/super NSFW, so I hope that you're not really at work, if you are, maybe watch it when you get home:
STRANGE SEX:
Need something new to watch tonight. Watch Strange Sex on TLC at 10pm and 10:30pm. The reviews suggest that this show manages to cover stories that are unique and interesting on unusual sex practices.
PORN EXHIBIT:
Do you like art? How about porn? Have you ever wondered "gee, how can I see art made out of pieces from a nudey mag?wp_postsWell now you can! July 9th-August 8th Jonathan Yeo has an exhibition in Los Angeles titled "Porn in the U.S.A."

BE A REAL STUD:
For all of you expensive jewelry lovers, gold diggers, and vibrator connoisseur—you can now enter to win a
24K Gold, Diamond-Studded JimmyJane Vibrator from Babeland!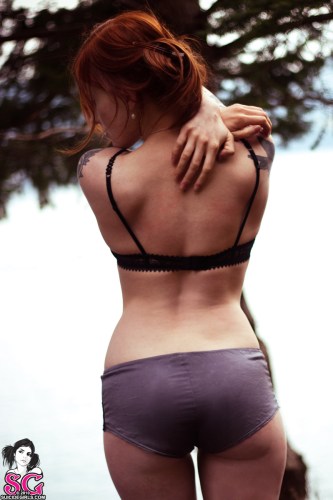 CHLOE:
If you haven't seen Chloe yet, you probs should. Just because it has awesome people in it and then they have SEX.
PUBIC HAIR:
Because we're basically on the pulse of everything in the world, someone actually did a study on this, "Although women's total removal of their pubic hair has been described as a "new norm," little is known about the pubic hair removal patterns of sexually active women in the United States." Well they studied the hell out of that shit:
Findings suggest that pubic hair styles are diverse and that it is more common than not for women to have at least some pubic hair on their genitals. In addition, total pubic hair removal was associated with younger age, being partnered (rather than single or married), having looked closely at one's own genitals in the previous month, cunnilingus in the past month, and more positive genital self-image and sexual function.
REMEMBER SKINS, 'CAUSE WE DO:
Hey remember when this happened? You're welcome! I also like to think back on these moments.
TOPLESS:
In 1992 New York State ruled that it was acceptable for females to go topless in public areas where men were allowed to as well. Although it is legal, it is often rare to see bare breasted women frolicking in the park, unless it is gay pride and then it seems like no one wants to wear their shirts. Photographer Jordan Matter has a book filled with topless women in New York. He photographed over 100 women topless in public areas all around the city. There are little blurbs by and about these women and their views on body image and body-luvvv.
SEXY TUMBLR ALERT:
Do you need more sexy things to put your eyeballs on? You should try Dykes on Bykes because that ish is SEXAYYY and the captions are ace. "This is NOT a blog about beauty! This is a blog about STRONG women ATTITUDE and of course a bit of ROCK'N'ROLL" Baby, you had me at Dykes.