Friday night, I was lucky enough to venture to an amphitheater with every other lesbian in St. Louis to see Lilith Fair! I was a little young to catch Lilith's '90s-era Girl Power Glory (I'm 22), so this was my first Lilith experience.
The attendance at the St. Louis show was pretty lackluster, honestly, but who the hell cares really. It might not be back next year so if you can make another date this summer, GO. It's a cultural experiene, if nothing else.
Disclaimer: These photos are not awesome. We realize that. I couldn't bring my camera to the show, and Lilith didn't wanna give us any press/photo passes this year, so this is the best I could do. All these photos were taken with my HTC Incredible, maybe you should read about it.
I showed up around 6 p.m. to catch the band I was the most amped to see, Metric. They only played a half hour set but Emily Haines managed to rock it regardless. I'd gotten into the VIP section (long story), which is generally an older crowd as us millenialls don't have the money to buy those tickets. I imagined that most of Metric's typical fans were back on the lawn, but I was happy to see that the people around me did seem to really get into their music.
After Metric came The Court Yard Hounds, which is actually the Dixie Chicks minus one chick and plus a new name. I enjoy a good banjo solo as much as the next Southern-born girl, but I was more interested in checking out the crowd.
Obvs Lilith's target market is women. And lesbians. I was expecting to see a decent number of gay ladies, but good god I think every lesbian over 30 in the entire state was there. And except for gay men, older husbands, and that one tattooed guy who f*cking loved Sarah McLachlan, men were pretty scarce. It felt like Bonnaroo and Dinah Shore had a small event-child.
Then came Emmylou Harris, who looks great for 70 or however old she is. I went and found some beer during her set, and then came back for Mary J. Blige, who was predictably awesome. She covered One and Stairway to Heaven, so I consider that an hour of my life well spent.
And then it was time for Sarah McLachlan! To me, Sarah has always been that vaguely Irish woman who had a lot of emotions in the '90s. Not that I didn't like her, she's just never been on my iPod. But she was super good, and her new songs sound a lot like Sheryl Crow, which is up my alley. Coincidentally, that man in the photo down there is Sheryl's old guitarist! I think his name is Peter.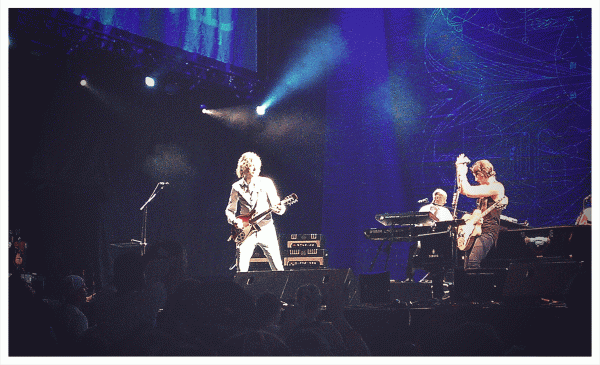 It turns out that Sarah McLachlan is My Type. I was unaware of this until halfway through her first song. Seriously, you guys, she's really pretty and very into feminism and stuff. I had to gchat Executive Editor Laneia in the middle of that "arms of the angels" song to talk about this:
Me: hello i have never felt this before, but i am attracted to Sarah McLachlan
Laneia: wow
i have never felt that either, but she's you're type, totally
Me: her arms are like whoa
yeah she is, I never realized that
seriously I can't handle her shoulder muscles
Laneia: !
i hope you're taking pictures
Me: as best I can, they are so so
oh god, now she's leaning
on a piano
Although the St. Louis photos aren't up yet on the Lilith website, it probably looked something like this: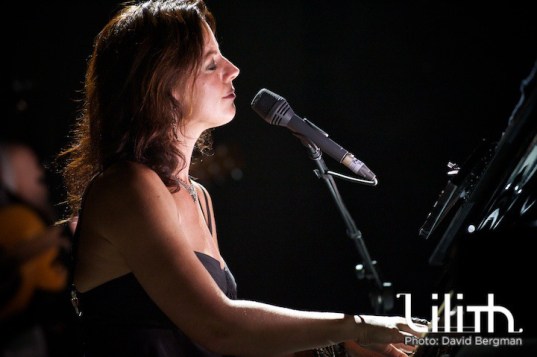 After Sarah was done, all the girls came out to sing "Because the Night," and it felt like the greatest karaoke moment ever. McLachlan kept being really adorable with Emily Haines, whispering in her ear and stuff, and Ingrid Michaelson was really dorky, and I almost died. The end.