You've heard more about the HTC Evo than you would ever have cared to, so we're switching gears to discuss the HTC Droid Incredible. You might have trouble getting your paws on it, since the damn thing is back-ordered across America forever (just like Verizon's Droid X will be, after its launch yesterday). But luckily, Sarah (our lovely Editor and recent Android convert) shoved a little old lady out of line to get her hands on the Incredible. And we're glad she did! No regrets. Here are her impressions.
A month ago, I had a cute little slider phone from Sony Ericsson — a "dumb" phone, if you will. While it was awesome in that it survived THREE complete dunkings in various liquids, the features were obviously lacking. It had a one megapixel camera and could barely load the simplest of webpages. Obvs, the leap to a smartphone was a big one for me. It took me so long to make that jump because I also have a two-year-old iPod Touch, which satisfied my desire for an iPhone long enough for me to realize that what I really wanted was an Android phone.
And now that I have the Incredible, I couldn't be happier about my choice. I never thought I would hear myself say "Thank god I didn't get an iPhone," but here we are. Without further exposition, here are my top 6 reasons why I f*cking love my HTC Incredible.

---
1. Google Integration
+
You know what's fun? Gchatting while walking down the street. Yep, I am that asshole now. What was life like before? Bleak, probably. I realize that all Android phones — not just the Incredible — unleash the full, unbridled power of Google. Howevs, the native Google apps for almost every service make me so happy that I'm gonna talk about it anyway.
The calendar syncs with my Gcal, the phone book syncs with Google contacts (including everyone's Gchat icons), and my email syncs seamlessly to my phone — no fiddling with forwarding or POP codes.
I've been a hardcore Apple geek for years now — just try and pry my Macbook from my hands & see what happens — but I have to say, I really like my life when Google runs it. Everything just WORKS. I kind of hope Google takes over the world so that I can stop having different login info on every site on the Internet.
2. The Incredible's Size
+
This is the sentence in which I refuse to make a size matters joke. Seriously, though, I really like the size of this phone. The screen is significantly larger than that of the iPhone. I didn't think that would matter much, but when I use my iPod Touch, I really miss the extra real estate.
But the Incredible is still small, which I love. I played around with Taylor's Evo while eating brunch-type foods in New York City, and it was just too big. She wants to use her phone as a sort of tablet, which is great, but I carry my laptop everywhere; I have no need for a tablet. The Evo's larger screen would be handy if you're trying to watch TV or something, but I just want a phone! The Incredible fits perfectly in the palm of my hand as well as my pocket, and it's all I need. Here's a handy size comparison of the two devices:
3. Sexy HTC Hardware
+
In a word, this phone is beautiful. I love the design, front and back. The red accent on the earpiece is sharp, and the four navigation "buttons" are super useful without being obtrusive. There's also an optical joystick, which is lacking from the Evo. I usually prefer to have fewer moving parts, but this thing comes in real handy when scrolling through web pages or trying to edit text.
Flip it over, and look at how pretty! The layered design is a bit weird at first glance, but it really helps you get a grip on the phone. Plus it's cool. The only problem is that the lens of the camera sticks out, so it can get scratched. Howevs! I found a case that fixes that and also keeps the contour of the back. Best of all worlds.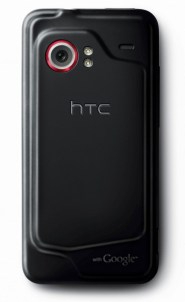 4. Personalization
+
Yeah, yeah, you can add a wallpaper to the older iPhone, but it only shows up in the unlock screen. The home screen was just that boring black with square icons. After two years with an iPod Touch, I was SO OVER IT. I mean, when Executive Editor Laneia emails me a photo like this, I don't want to see it 10% of the time, I want to see it every time I look at my phone.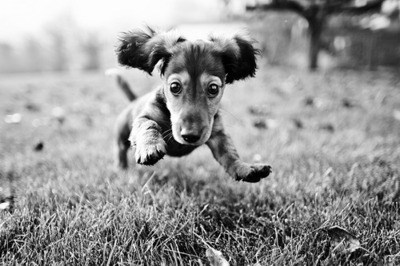 With Android, the personalization options are endless. Hell, you can even change how the OS looks. I love HTC Sense, so I'm sticking fast with that. Look at all the pretty homescreens! Imagine them with a cute dachshund running behind them.
5. 8MP Camera
+
Turns out, eight megapixels is almost a little TOO high resolution. Photos look weird when uploaded to Facebook. But that's a small price to pay for this awesome camera. I took this a few days ago: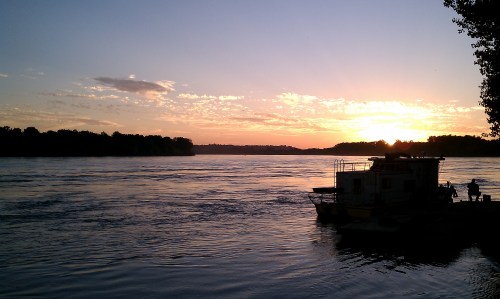 Also it has a flash AND that orangey light that comes on before the flash! The fact that it works as a barcode scanner makes it better than my digital camera. You use the little optical joystick to take photos, which I love because it leads to a lot less accidental button pushing.
6. Verizon
+
I've been an AT&T customer since 2000, so obvs the move to Verizon was kind of a big deal. But um, their service rocks. I mean, their customer service is probs just as terrible as any other company that deals with telephones — I'll find out soon. But the phone service? Awesome. I have a lot fewer dropped calls, and the price is the same for me.
Here's my advice: If you have Verizon, get the Incredible. Not right now, because you can't actually get one right now (silly HTC didn't make enough to meet the demand). But get your name on a list and grab one in August. Of course, if you want a hulking beast of a thing like the Evo, you can check out the Droid X, which just hit stores yesterday. Our web-knower-of-all things Tess just swiped one up, so maybe we can squeeze some impressions out of her soon.
If you have AT&T, switch to someone else and get an HTC Android phone. There's a reason why this company has cornered the market on Androids. They make a damned good product. Now that Motorola and Samsung have the manufacturer in their sights, let's hope that just ups the ante for an even better HTC Android phone.