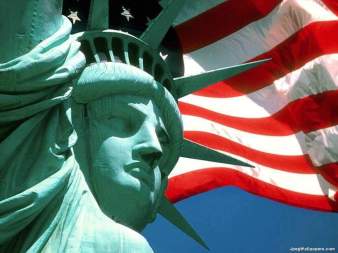 You know that giant, sucky loophole in U.S. immigration law that doesn't allow gay & lesbian couples to attain green cards for their partners because we can't get legally married? Much like your grandparents, immigration services doesn't really think your commitment ceremony was a big deal and therefore they have no need to recognize it. Thanks DOMA! This puts gay & lesbian couples from different countries in a particularly precarious position — unlike straight couples who have a few viable options for U.S. residency/eternal happiness together, the US immigration laws are legitimately often 100% responsible for queer couples breaking up. Though being lovelorn isn't necessarily our government's top priority, it's still pretty fucked up, especially when our friends move to Canada to be with their Canadian girlfriends and leave us here alone with our country fried steak and tri-colored Jell-O and hypocritical closeted Republican senators.
But our lovely legislators hope to change that! Maybe. Rep. Luis Gutierrez of Illinois, Rep. Mike Honda of California and others will urge Congress to pass the Uniting American Families Act this year as part of a comprehensive immigration reform package, which would allow gay & lesbians the right immigrate to be with partners. (@politico)
Joe Solmonese of the HRC weighed in, of course (emphasis ours):
Our nation should bring families together, not tear them apart, yet same-sex, bi-national couples are too often forced to separate because the government views them as strangers under the law. For far too long, leaders have ignored the devastating real-life consequences for these couples imposed by our current immigration policies. Family reunification is a primary goal of our immigration system but our government fails to accomplish this basic objective for thousands of loving same-sex couples.
According to change.org, this law would affect up to 36,000 families in the U.S, who could face separation or deportation without reform.
Howevs, other Democrats think that this is not the greatest time to be talking about gay stuff because the midterm elections are coming up. And you can't win an election if you like gay people. Also this particular issue is problematic because it complicates the Democratic relationship with the Hispanic community, which is very in favor of this immigration reform bill but is also largely socially conservative.
We like Queerty's take, which is basically that people are playing a bunch of political games:
Joanna Burgos, a National Republican Campaign Committee spokeswoman, says Democrats like Illinois' Rep. Luis Gutierrez would be smart to leave the gays out of their immigration reform if they have any hope of courting Hispanic votes, but what she meant to say is, "Run, Hispanics! These disgusting Democrats are trying to force the homosexual lifestyle down your throat!"
This is another one of those moments when I wish America was ruled by an Aaron-Sorkin-scripted West-Wing-ocracy. President Bartlett did things because they were right, not because they got him elected (except for talking about MS, whoops).