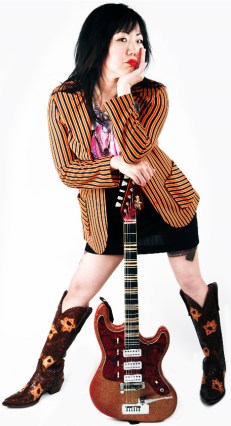 Thanks to the good people at Camp Cho, we're able to offer a lucky Auto-reader the chance to win a pair of tickets and meet & greet passes to Margaret Cho's upcoming Cho-Dependent Tour in VEGAS! The tour will stop at The Pearl at the Palms Casino in Las Vegas on September 17 where you can reenact The Hangover and bond with M.Cho.
Can you think of a more fitting place to see Margaret Cho than Vegas? Everyone knows that what happens in Vegas stays THE MOST INSANE THING YOU'VE EVER WITNESSED. That thing could be Margaret F*cking Cho. Think about that.
If you can't make it to Vegas, definitely check out the list of tour dates for when she's coming to your city.
How to Win:
1. Email music at autostraddle dot com
Tell us your name, state and your favorite Margaret Cho quote from any of her DVDs.
Don't have Twitter? Become a fan of Autostraddle on Facebook! Don't have Facebook? We don't believe you, even my grandmother is on Facebook.
3. Memorize our amazing interview with M.Cho from this week.
The winner will be selected on Friday, July 23 at 12pm, so get your email in quick! If you can't make it to Vegas or don't like to gamble, don't sweat – Margaret's prob coming to a city near you. BUT DON'T YOU WANT TO MEET & GREET HER IN VEGAS, BABY?!