Long before The Real L Word came along with its sunshine vadgeblasters and lesbian sex interrogations and Power of the Claminissms, there were heaps of other women on reality TV shows breaking down the walls constructed by hegemonic symbolic annihilation and lesbian media invisibility. The first-ever "reality show", American Family, premiered in 1973 on PBS and controversially featured a gay male castmember, but the reality genre remained relatively unexplored after that point until 1991, when MTV debuted The Real World — the true story of six strangers, picked to live in a house, and have their lives taped.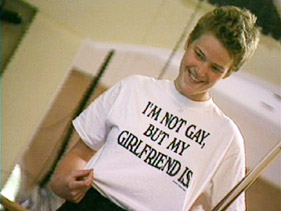 Beth Anthony became the first lesbian on reality television in 1993 when she joined the cast of The Real World: Los Angeles mid-season (replacing Irene Berrera-Kearns, who left after getting married) wearing a shirt that proclaimed "I'm not gay, but my girlfriend is."
The Real World remained in a league of its own for about a decade, adding on The Road Rules franchise in the late 90's. Then with Survivor and Big Brother, the reality TV explosion exploded and, in step, we've seen a ton more homos on the TV.
In fact, lesbian and bisexual women are more visible on reality TV than in any other medium — for better (Real World/Road Rules Challenge 2: Battle of the Sexes) and for worse (A Shot at Love With the Ikki Twins).
Lesbian and bisexual women are often hosts, judges and headliners on reality TV programs, including Jackie Warner (Work Out), Tabatha Coffey (Shear Genius & Tabatha's Salon Takeover), Honey Labrador (Queer Eye for the Straight Girl), Cat Cora (Iron Chef), Jillian Michaels (The Biggest Loser), Jenny Shimizu ( Make Me a Supermodel), Elvira Kurt (My Fabulous Gay Wedding), Tila Tequila (A Shot at Love With Tila Tequila) and Ellen DeGeneres (American Idol).
Lesbian and bisexual women in the cast of reality TV shows include Ebony Haith (America's Next Top Model: Cycle 1), Kathy Harris (BET's College Hill), Lauren Marcoccio (The Amazing Race), Josie Smith-Malave (Top Chef), Michelle Deighton (America's Next Top Model: Cycle 4) Anita Lo (Iron Chef/Top Chef Masters), Sandee Birdsong (Top Chef), Jamie Lauren (Top Chef), Ruthie Alcaide (Real World: Hawaii), Lydia Tavera (Big Brother), Emily Schromm (Real World: Washington DC), Leslie Mancia (America's Next Top Model: Cycle Six), Jessica Cabo (Hell's Kitchen), Coral Smith (Real World: Back to New York), Sarah Rice (Real World: Brooklyn), Natalie Bolton (Survivor), Carol Rosenfeld & Brandy Snow (The Amazing Race), Rebecca Cardon (Workout), and the female castmembers of Gimme Sugar, Curl Girls & A Shot at Love With Tila Tequila.
1. Genesis Moss
The Real World: Boston (MTV, 1997)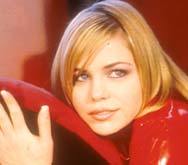 "Back in the good ole days, Real World marathons were like Christmas and my birthday combined, and it was 12 hours of non-stop TV crack. The summer after I graduated from high school (2000) I caught a Real World Boston marathon (originally aired 1997) and discovered Genesis Moss, the first lesbian on TV with whom I ever identified.
I knew I liked girls but the thought of calling myself a lesbian seemed completely alien to me – the media's definition of that word just didn't fit and I truly believed there wasn't anyone else like me. Genesis was quiet, introspective and spent much of her season on the internet looking for other gay people to talk to. Her experience in that house was similar to how I felt in the world at that time. Her mother denied she was 100% gay due to her fascination with drag queens and she burst into tears when a child at the cast's workplace claimed she hated gay people (the week after Ellen came out on her TV show). She was also extremely feminine at a time when K.D. Lang and Melissa Etheridge were the most recognizable out women so she radically changed my entire perspective of what a lesbian could look like. I had never been attracted to another gay person before (and didn't think it was possible in this lifetime) so watching & admiring her on TV was actually my first step in "getting good" with it."
(-Senior Writer Jess)
+
2. Aneesa Ferriera
The Real World: Chicago (MTV, 2001)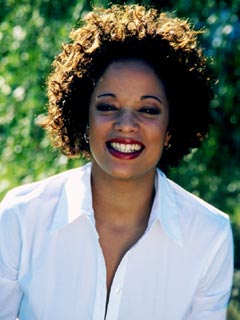 "Her Mom is Jewish, her Dad is African-American, and her shirt is NOT ON. PERIOD."
(-Editor-in-Chief Riese)
+
3. Rachel Robinson
Road Rules Campus Crawl (MTV, 2002)
[Second lesbian cast on Road Rules, the first was Sophie in 2001]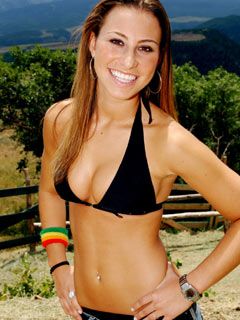 "Rachel was good looking with a great body and had this presence, and she competed as hard as the boys. She was a really strong competitor. She was totally cool with having a girlfriend, you know? And I remember her wearing political t-shirts about gay things. I felt like she wasn't hiding anything, and that was empowering to me."
(-Design Director Alex)
+
4. Ami Cusack
Survivor: Vanatu, Season 9  (CBS, 2004)
[2004: Along with 59-year-old Scout Cloud Lee,
Cusack was the first lesbian to appear on Survivor]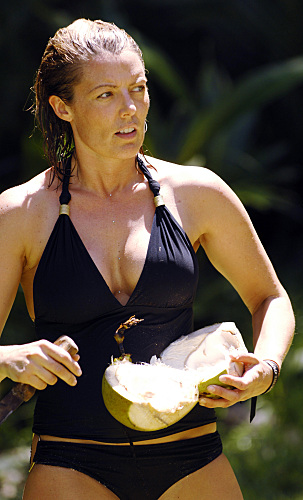 "Ami was a classy girl who always seemed a bit wiser than everyone else. You wanted to cheer for her, you wanted her to win."
(-Design Director Alex)
+
5. Kim Stolz
America's Next Top Model, Cycle 5 (The CW, 2005)
[Kim was the fourth queer woman on America's Next Top Model.
Her season also featured bi-curious Sarah Rhoades and
lesbian Nik Pace, though Nik was not out on the show.]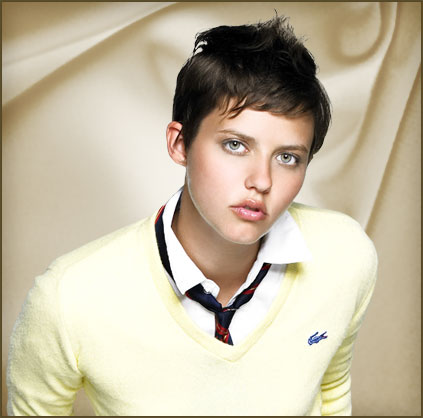 Kim Stolz catwalked onto our teevee screens in 2005 in a tie and cut-offs and told Tyra Banks, "I'm out and I'm gay and I'm really proud of it,wp_postspresenting perhaps the first network-televised image ever of a strikingly beautiful boyish girl who, as Kim told Autostraddle she's always felt, is "unwaveringwp_postsin her "comfort with being gay." 
Kim Stolz wasn't angry or compromised or stupid. It was like she'd come to earth from some other planet or maybe even from The Future; a place where "idealswp_posts= "lawswp_postsand lesbianism was already established as cool & good-looking & seductive and … well … I guess … totally human. To most of America, and to young lesbian women raised on aggressively idiotic & reductive reality television in particular, this Concept was a revelation. Of course to a lot of women, Kim was important specifically because she wasn't a revelation; she was a lot like the lesbians they knew, maybe in another liberal arts college they'd been lucky enough to attend. Finally! Someone articulate & reasonable & passionate & funny! with a background that hadn't hardened her into the understandably furious & defensive lesbian "characterwp_postsusually recruited for Reality TV shows. She's since levied her fifteen minutes into an established career as a journalist and television host. (via Kim Stolz: The Autostraddle Interview)
+
6. Michelle Babin
America's Next Top Model, Cycle 7 (The CW, 2006)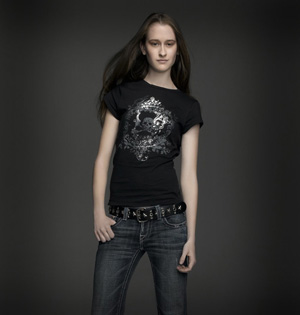 "Michelle and her twin sister Amanda brought a new element to ANTM in more ways than one (ha! see what I did there?). We got to see Michelle's coming out process onscreen, including dealing with her sister's reaction to her coming out as "probably bisexual"/"maybe gay." Amanda later confessed to Tyra in a heart-to-heart that she was scared for Michelle and Tyra reminded Amanda that Michelle "needs you more than ever now, you're her rock." And for just one moment, I was physically moved to tears by a Tyra-Banks-initiated conversation and they weren't tears of embarrassment.
After coming out to the group, Megan & Amanda called their Mom who told Michelle not to worry about it because she loved her no matter what AND I FUCKING CRIED AGAIN." (Riese)
+
7. Tika Milan
I'm From Rolling Stone (MTV, 2007)
"The 26-year-old poet & writer didn't win the contributing editor job on the show that only ran for one season, but she was a rare bird for reality TV — an African-American out lesbian with a "not traditionally feminine" presentation. As she told AfterEllen in a 2007 interview: 'I didn't want to come off as the angry black person, or as the man-hating gay person, either. That's not me, so that wasn't ever going to come out. I was just going to be myself. You know, I was a respectable person. I know when I was 15 or 16, I was dying to see another gay person on television, another gay, black woman on TV. [Nowadays] I could sit around and watch The L Word all day, but nobody on The L Word looks like me.' Unfortunately not enough people were as interested in the inner workings of a magazine as I was, so this show never got past the first season."  (Riese)
+
8. Michele Fleury
Curl Girls (Logo, 2007)
[The first all-lesbian reality show on a major network.]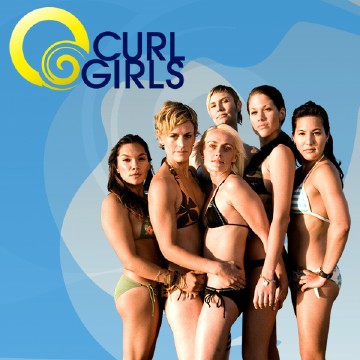 "She seemed more sensible than everyone else. I think I just wanted to make out with her."
(-Executive Editor Laneia)
+
9. Dani Campbell
A Shot at Love With Tila Tequila (MTV, 2008)

Dani Campbell was our friendly "futchwp_postsally in a cast populated by violent, alcoholic, hypersexual human-like creatures, and we were subsequently impressed when Dani made it to the final round as the last lady standing. She didn't win, but that was fine. Maybe you even wanted her to lose, because by that point either you were blind or you'd developed a massive star-crush on Dani Campbell. If it wasn't for Dani, you told your friends, you wouldn't be watching that terribly offensive trainwreck of a show to begin with. She was smarter than the other girls! Or maybe you wanted her to lose because you knew she was cooler than that show. Or maybe you wanted her to win because you hadn't ever seen a girl who looked like Dani win something on the teevee, even if that 'something' was a shot at love with Tila Tequila.
How'd she avoid the snark typically laden upon Professional Celesbians? By being nice. And charming. And genuine. And cute. No, she's not terribly complicated; but she's humble, and she saves people from burning buildings! The New York Post declared "…win or lose, Campbell is the show's breakout star. And she did it by avoiding the typical traps of reality TV. Instead of being wild and attention-hungry, she has come across as down-to-earth, open-minded and funny.wp_posts
(via Dani Campbell Wants More: The Autostraddle Interview)
+
10. Charlene
Gimme Sugar (Logo, 2008-'09)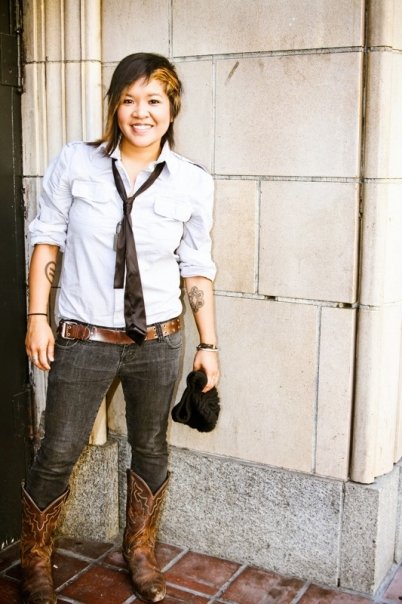 "Charlene is undeniably "real," super-sweet, reads & responds to every fan-email she receives and, as we discovered in conversation with her, probably deserves a coffee table book of Charlenisms ("If you're not yourself on TV, then who are you?wp_posts"I was like, I love everyone, you know what I mean? I love EVERYONE,wp_posts"I love Miami, but I think if there's weather Miami will be the first one to go under the ocean.") and is one of the most genuine people you'll ever find on reality teevee." (via Sweet Sweet Charlene of Logo's Gimme Sugar: The Autostraddle Interview.)
+
11. Ashley Merriman
Top Chef (Bravo, 2009)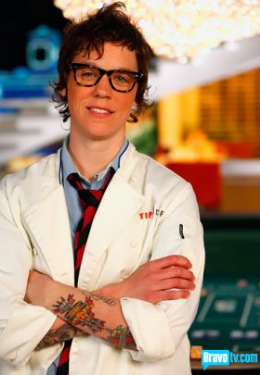 "Besides being AS ADORABLE AS A FUCKING PUPPY she stayed really focused on her goals and never got caught up in the dramz (except for that onnne time they made it seem like she was going off about gay marriage, but we later learned was CLEVARR EDITING)."
(-Laneia)
Who are your favorite reality TV stars?