THE REAL WORLD: MTV's The Real World la-la-la-loves itself a bisexual lady and for the DC season, premiering tonight, we have been granted Emily Schromm. The 21-year-old hadn't been east of Illinois prior to joining the cast, and confesses in interviews that she hadn't seen much of The Real World before going on it.
Down-to-earth, inquisitive, cute and smart; Emily grew up in a Fundamentalist Christian cult in Missouri and used her "athletic tomboy" prowess to get her into sports and back out into the real world after leaving the cult. From her MTV bio: "Since then, she has grown progressively more open-minded and experimental even when it comes to dating and she shares Ty's skeptical view of religion. For her, D.C. will be another new adventure, another step in her growth outside the cult."
In Emily's preview video, she goes to visit her old church and cries just being there, probs because it is mega windy and all her lovely soft hair is getting in her eyes! But seriously look how cute she is! We're going to love her no matter what!
On the topic of her bisexuality (video here – our transcription is mediocre): "I feel like guys haven't really caught my eye … I think I'm picky either way. I'm kinda talking to a girl, but I'm not that impressed with her. I feel like it's more of my first into the maybe-lesbian world, so I feel like that's why I'm testing it out… if it's something I'm kinda inclined to, then go with it. And it's me just being open and honest about myself."
"Never knew how hard it could be
To let the whole world really see me
Opening a book in a thunderstorm
Without allowing a page to be torn."
(Emily Schromm)
On Emily's twitter, she crushes on the super-hawt Aria from our least-favorite band ever, The Paradiso Girls, goes skiing with Mike from the show, and gets nervous watching previews. She also says cute things like:
I heart sportsbras. i'm over this whole try-to-look-like-you-have-boobs thing.
Top 8 thankfuls: tequila. my mom. coffee. the ocean. tattoos. rain to play in. rocks to climb. doggies.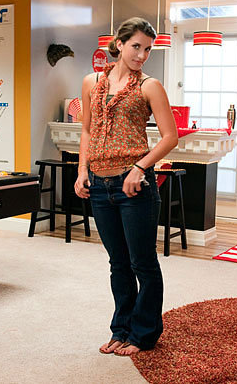 In an interview with Starpulse, the interviewer asks if Mike is her boyfriend. She says; "Oh no (laughing). He is more like my twin since we look alike and we are the bisexuals of the house." Glad that she still identifies as bi, this should be a good season!
In Emily's blog, "My Breath of Fresh Air," Emily writes poems and reflects on her fear of commitment, her desire to take risks, her athletic hobbies and describes herself as "Wreckless. Young. Stubborn. Unpredictable. Sensitive. Tough. Unorganized. HAPPY. This is me." Her prose is full of earnest hope — she takes a journal she refers to as her "Buddha Book" to South Padre for Spring Break to stay grounded and quotes Tennesee Williams and talks about being wild at heart! — that we really debated linking to it here b/c we don't want it to go away, but it would be a**hatty to mention it and not link, right?  In her most recent post she is (we think) hesitant about the upcoming premiere: "This is life, raw as ever/And it was my choice to share… the beauty in the breakdown/Is about truely [sic] finding what's within."
If you're in DC, go to the viewing party and tell Emily about Autostraddle!
Oh, reason #545 we love Emily?