Welcome back to The Fosters recaps! I mentioned it in Boob(s On Your) Tube, but just in case you didn't see it there: I had to skip recapping the first two episodes of this season because the shooter drama was just too much for my little heart to handle at the time. But that's all done and here we are and the recapping season is upon us once more.
Previously, Nick was always a little unhinged and he fully snapped when he saw Mariana kissing Mat during/after R + J, so he burned down his dad's warehouse, brought a gun into Anchor Beach, and then broke into the Adams Foster house and hid in a bunch of closets and under some beds. It was tense and terrifying and he's in jail now. I told you that guy was Degrassi material! Brandon moved in with his girlfriend, Courtney, because he was tired of his moms acting like moms and holding him accountable for his perpetually shitty decisions. Mostly obviously they were mad that he and Callie slept together. She got why it was such a huge problem. He did not. Jude texted Connor during the lockdown, which made Taylor think probably he's still pretty gay. Connor did not text back. And my perfect angel babies, Stef and Lena, were perfect.
---
Boggart versions of Stef and Lena are staring down Callie on the couch in the Adams Foster living room, telling her this time is the time she went too far. Sleeping with Brandon renders her adoption null and void and her social worker is here to cart her away. The social worker is the ghost of Callie's mom. It's bonkers! It's just a dream!
Callie wakes up in a cold sweat and thinks about her life and the choices that she's made and decides she's going to be a straight arrow from now on. No more running away, aiding and abetting, lying, stealing, sneaking, and when Brandon comes around her and opens his mouth she's just going to cover her ears and run away because of his Dark Magic powers that trick her into believing she can live the same repercussion-free life he does as a straight white dude. Okay, but maybe the occasional lie and sneak. Maybe just some light motorcycling with strangers from time to time, but that's all. A girl's gotta live.
In real life, Stef and Lena tell Callie to just shrug it off when people come at her with their rumor mongering at school today. She says she will and adds "no face-punching" the list of good behaviors she will now be exhibiting.
Brandon, meanwhile, lives with Courtney and throws cereal at her kid while she's getting ready for work and doesn't clean up his mess and has a little fit when he walks outside and realizes the family car that belongs to all the Adams Foster kids was not a thing he could just take and keep even though he no longer lives in the Adams Foster house. He goes right to school — where everyone's waiting in a mile-long line to get their bags searched and also get metal detected — to yell at Stef about the car thing. She literally, gloriously shrugs and says grown-ups pay for their own cars and their own insurance and that's what he is now, right? A big bad grown-up? Enjoy the interest on your loan and getting a quote from Geico for a policy for an 18-year-old boy!
The best part is Lena didn't even know Stef took the car back, which means Stef found a non-Lena way to get the car home. Probably Mike took her after work, but I honestly just like to imagine Stef walking ten miles to the car, grumbling to herself the whole time about what an ass Brandon is, and then arriving at the car and getting in and driving away. Very Stef!
Anchor Beach is full of drama. These guys are over having a shooter in their midst and are ready to get down to the business of slut-shaming. Some angry teens glower at Callie and whisper at her. Mariana says she's with Callie and don't even worry about it, but some different girls start gawking at her and doing some side-eyes too. Callie breaks when a dude walks up to her at her locker and asks if she only fucks her brother or if she'll fuck him too. She wallops him right in the head with her fist. Mariana doesn't have to break. The kids in her support group accuse her of turning Nick into a sociopath and Jesus yells at them. Callie gets suspended. Jesus gets to make out with Emma. (Although Stef actually is on Callie's side in this one. She wholly believes it is correct to punch sexists in the face.)
Taylor is above the rumors and the cattiness and all of it because she has Jesus in her heart. Like Jesus, the Messiah of Christianity, not Jesus Adams Foster, the human boy. She invites Jude to go to weekday afternoon church with her and he says yes even though his experience with religion so far has been of the God Hates Gays variety. Jude's still got a weird feeling that maybe God likes him, though. He'd like to find out more.
His confirmation that God is on his side comes almost immediately upon entering weekday afternoon church. For one thing, the youth leader teaches about David and Jonathan, the gayest homosexuals in the entire Bible. And then the lady-pastor's son says today's lesson taught him that God loves him even though his boyfriend broke up with him and he trusts God to send him an even better boyfriend soon. And then the youth pastor has Jude and the lady-pastor's son (name: Noah, obviously) hold each other's hands and stare into each other's eyes and affirm that they are very good looking gay teens whom the Creator of the universe loves very much.
At which point Jude leaps up and bounces.
Taylor: Excuse me, weekday afternoon church is not over.
Jude: You totally brought me here to hook up with that handsome gay teen!
Taylor: And?
Jude: You know I was only gay for Connor.
Taylor: Man, you're an idiot sometimes. You're just gay, dude.
Jude: [Runs angrily into the street.]
What good decisions is Callie making on her free afternoon, you ask? Well. For starters, she goes to a coffee shop and continues to have a conversation with a boy despite the fact that he looks like the shadow creature of Caleb Rivers (from Pretty Little Liars). He's got a motorcycle and those things that make your ear holes bigger. Callie gives him a fake name, a fake age, a fake major at NYU, and then hops onto the back of his bike to zoom around town in a fantasy daze. At least she wears a helmet?
They go to the beach and she takes photos of him on the sly and he is very turned on by this and they kiss. They also drive over to the house where Callie grew up so she can see if the ghost of her mom is hanging around there, as well as in her dreams, but no ghosts are present in the yard at this time.
Lena's not happy when she sees Callie getting off Dark Void Caleb's bike at the end of the day. She literally goes, "Who's the organ donor on the motorcycle?" Just generally, Lena is not happy today. She's not happy Stef has not hired a company to dig a moat around their house and fill it with alligators and board up all the windows. She's not happy Monte wants to use their school budget to educate students instead of making their building into an impenetrable fortress. She's not happy Callie spent her day of suspension gallivanting around town with a whole new Old. She sits down with Stef for a talk with Callie, like in Callie's dream, but instead of telling her they un-adopt her, they tell her she could never do anything to make them give her up and so, girl, stop testing the limits of their love. The limit does not exist!
Callie's having a relieved cry when Jude comes in and mumbles "church" and stomps up the stairs. Callie goes, "Oh right, he thinks God hates him for being gay." And Stef sighs and says she's got this one.
Normally she would, in fact, have this one, but Jude is in no mood to talk. He just grunts a lot and frowns and won't make eye contact.
Jesus and Emma spend the day making out and planning to have sex and then deciding they should get tested for STIs since they've each had a couple of different partners, and the whole time Emma is saying she just wants to be friends with benefits and Jesus is saying he's cool with it even though he's really really into her. Getting tested freaks them out because they didn't know so many STIs existed in the world and potentially their pants, and so Emma says they're still only going to be friends with benefits, but they're going to be exclusive friends with benefits, for health reasons. Jesus smiles so big.
Brandon's day is very hard. He can't play his favorite piano.
At the end of the night, Stef and Lena cuddle up on the bed in their pajamas and talk about whether or not they're cooler than their own parents. I mean, your parents are Annie Potts and Lorraine Toussaint. No offense, but that's kind of a lot to live up to. For real, though, of course Stef and Lena are cool parents. They broke into their neighbors' pool to have sex! They made out in the backseat of the car in the driveway! They got a bounce house for a birthday party for a teenager! Stef is worried that Brandon won't come home, but Lena assures her his spoiled ass will not last five entire days in the real world. Stef knows she's right. They laugh and love each other. They're in it together.
Lena goes to tuck Callie into bed and Callie: a) apologizes for always putting up these walls by making bad decisions, and b) tells Lena her third attempt at a senior project is going to be a photoessay of all the places she and Jude lived when they were finding their way home.
CALLIE! I teared up. (Lena did too.)
At school the next day, Lena gives a speech about literal walls and how they're not going to put them up around Anchor Beach because of her daughter's metaphorical wall breakthrough last night. Or something. Mostly it's about being brave and living even though doing that is to risk being hurt. Mariana seizes this opportunity to tell the Mean Girls to stop Mean Girl-ing her. They don't feel safe because of a shooter and she doesn't feel safe because they're jerks. Or something. The theme of this episode is trust and the ties that bind that narrative together are loose. I don't care, though. Stef and Lena are happy and Mariana comes out on top, and that's what I like to see.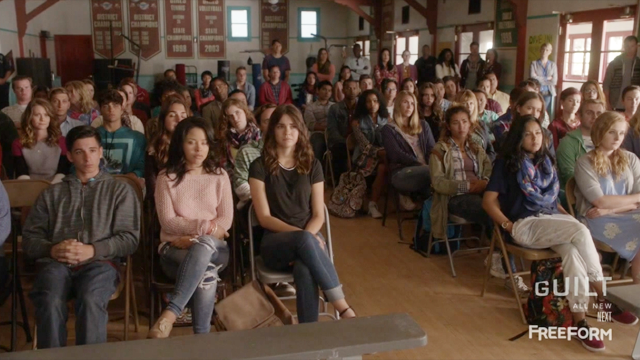 Stef kisses Jude three times on his head at school and he's delighted but also embarrassed so he tells her to stop. She does, but not before giving him a hot tip that not all gay people experience church the same way, so don't give up God on her account. It's the exact permission he needs. Jude goes to weekday afternoon church again and a clothing drive is happening. Noah is there. He smiles and Jude smiles. They'll never be as gay as David and Jonathan, but reaching for the stars is kind of Jude's thing.