Chances are you know someone (probably queer) who identifies as a witch, and it's a term/accompanying aesthetic that's gotten a bit of a makeover since — and only a specific subset of people will remember this — the 90s. In this iteration of the Divine Feminine you're more likely to find a tenderwitch or a spacecrone and less likely to identify one based on appearance alone, but what has stayed consistent through time are its basic principles, symbols and rituals, as well as the guarantee that someone who aligns themselves with it are going to be super hot. Case in point: our own Mey and Cecelia.
Dating someone who identifies as a witch will probably ruin your life in terms of a bar being raised so high that in the aftermath it'll be continually out of arm's reach, but in the meantime I think you should go for it! And luckily for us they have a long standing written and oral history from which to draw inspiration.
Don't mention money or anything associated with capitalism ever.
Eradicate the words "spend," "change," "charge," "stock," "bond" and "owe" from your vocabulary, as well as the name "Bill". Probably just use Apple Pay or Android Pay whenever you go out so they can't see the transaction happening in such an aggressively physical way, and then it'll be like it never happened.
Do everything at 3, 4, 5 or 13 o'clock.
These are times when they'll be feeling the most harmonious.
Strategically place a set of essential oils so they'll come to you.
You could go a couple ways with this: you could take the proactive route and create a trail leading them from their area to your area, or you could keep things passive and simply line your space with them wherever you go. At the coffee shop like: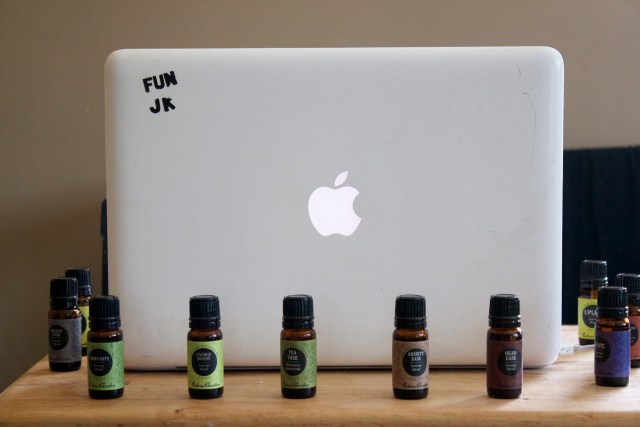 Be a Taurus?
If that's not your sign figure out how for it to be your sign. This one is hard but it's the most critical.
Retweet yourself.
Oh, you're not on Twitter? You should get on Twitter. It's where the witches are. Witches are into signs and vibrations, so give yourself a leg up by putting yourself in a position where repeated exposure could be read as an energy that they should explore. Witches are also drawn to the darker aspects of life, and in fact death as an entity is often consulted, so retweeting things like "sext: help" or "life's fleeting lol" can establish common ground.
Respond to most of their questions with "The Moon."
"What are you thinking about?" "Is there anywhere you haven't traveled yet but want to?" "How have we not met until now?" "Why are you being so weird?"
Tell them you're seducing them.
Witches are used to performing love spells on us, so this will be a role reversal that'll leave them intrigued. Just look how well it worked on Cecelia: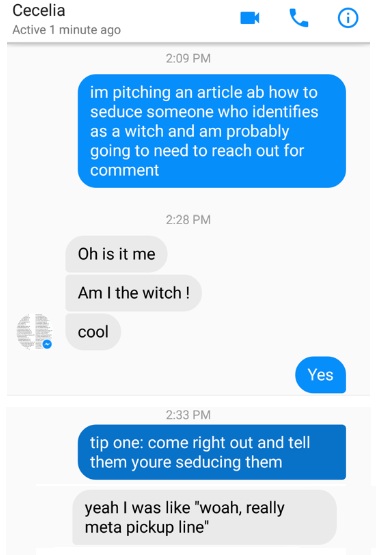 Subvert the gesture of flowers.
Give them a single rose quartz. When you give them actual flowers make sure they're dead and dried so they can be repurposed for their alter.
Incorporate a votive candle at all costs.
When you're making them dinner roll out your homemade pizza dough with a votive candle. If they seem tense and things have progressed consensually, massage their shoulders by rolling over them with a votive candle. Give them the gift of never losing their keys again by fastening a full size votive candle to their chain.
Switch & Bait.
Tell them you want to play Yahtzee (a scenario they've never wanted to find themselves in) but then replace the dice with runes.
Do everything circularly.
Reasoning, seating, walking routes. Make sure the food you eat is circular. If you pick them up take four lefts before starting your drive. Only do things like going to the skating rink or sitting around a fountain.
Download the Sky Guide app.
The soundscape is dreamy, plus you'll be able to look at the stars even if it's not dark yet and can scan each astrological constellation in real time. For a witch this is as good as foreplay. Position their chair to the west so that when you scan their way you'll see Cancer – a perfect opportunity to convince them they're in their feelings.
Good luck, friends, and goddess bless.