Compass South, the new graphic novel by Hope Larson and Rebecca Mock will take you on the perfect adventure for your summer reading. It's got twins, disguises, ocean adventures, swordfights and families torn apart. If you love adventure and young rapscallions getting in all sorts of trouble, you'll be a fan of this book. If you have a heart for the ocean, or if you liked Treasure Planet, Treasure Island or Muppet Treasure Island, you'll probably be a fan of this book. Seriously, go and pick it up, go down to the beach and imagine you're sailing the high seas while you read it — it'll be great.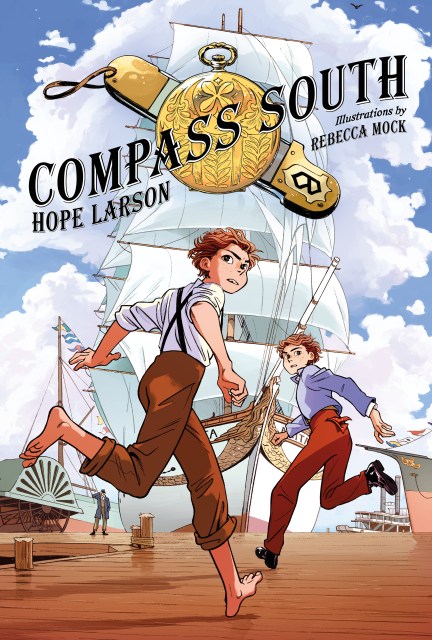 Taking up the tradition of adventures like Huckleberry Finn and The Swiss Family Robinson, but with more diverse casts, Compass South tells the story of a pair of twins whose mother died shortly after their birth who don't know where their father is and go out looking for adventure and fortune. The twins are named by their parents Alexander and Cleopatra, but in order to pull a con, they disguise themselves as twin brothers and Cleo takes up "he/him" pronouns and the name Pat. I'm going to mainly call the character Pat and use "he" pronouns, because that's what it seems like he prefers in the book, but he can be interpreted several different ways.
In my opinion Pat reads very much like a queer trans guy, which is terrific; we need more characters like that in fiction. And we need more well-written ones. Pat is well-written, and in this first book we see the groundwork for a really interesting and cool character being built. I can't wait to see where Larson and Mock take this character, and others in the book, in the future.
This book does a super terrific job of creating an adventure that feels very much true to the era that it's taking place in. I was immediately drawn into the world of Compass South. I was right there with Pat and Alex. That's what I'd say is the main draw for this book — it takes you along for the ride. You feel like you're on the run from the Black Hook Gang, you feel like you're looking for your father, you feel like you're trying to survive on a ship. Because I loved this book so much, I interviewed the artist, Rebecca Mock about how she worked on the book and how she sees its characters.
Mey: I quickly fell in love with the characters of Alexander and Pat, how did you go about designing what they'd look like, especially knowing that Cleo would spend most of the book in boy mode?
Rebecca: I started with a description written by Hope. She was specific about their hair color and general look but wanted to see what I chose as far as details. I made Alex and Cleo mirrors of each other — their hair-part is literally just flipped — but Cleo is overall the more tidy of the pair. Her hair is neatly combed back for most of the story, while Alex's is more wild. (Also, her hair "points" right — moving forward on the page, taking action. Meanwhile Alex's hair "points" left, in more of the "listening" position.) Hope asked me to emphasize Cleo's feminine details — thinner eyebrows, maybe thicker lashes — but I tended to forget these details, since I personally see Cleo as very gender-ambiguous. She has more "ladylike" mannerisms, especially at the beginning. Overall, I think I could have pushed their differences more, but I'm glad you like them!
There's a lot of great adventure on the seas and the jungles and cities, what were some of your inspirations and what kind of feelings were you trying to evoke with those more action packed scenes?
Hope's exciting script was very inspiring to me — she captured the different exotic settings down to the little details. At the beginning of the project, though, I was pretty unfamiliar with how these places looked visually. So in addition to poring through books and image archives for specific places, I watched and re-watched movies like Gangs of New York, Pirates of the Caribbean, Peter Pan and Oliver Twist. Stories about this era and subject matter have this slightly-unreal and fun dramatic feeling to them. I also listened to movie soundtracks while I drew — trying to get into the emotion of the action!
What was your favorite part of drawing this book? Maybe a favorite character or scene?
I of course love every page of this book, and am very proud. But I do have several favorite scenes. The whole of Chapter 6 ("Cape Horn") is a particular favorite part. So much happens — Alex and Edwin both break out of their shells a bit, and there is a lot of action too. The character of The Mate is very dashing and heroic in that chapter, he's probably my favorite side character!
What can we look forward to from you in the near future?
I hope you'll keep an eye out for the sequel to Compass South, titled Knife's Edge, due out next summer. In the meantime, I'm a freelance illustrator and will hopefully have my work pop up in this or that magazine. I'm working on some personal projects that I'll be posting on my blog.
What do you hope queer women who read this book will get out of it specifically?
As a queer woman, I personally felt strongly connected to Cleo's feelings about donning men's clothes. To me she is someone who comes to prefer presenting as male or agender, and finds strength and acceptance through that. The 13-year-old version of me yearned for heroines like Cleo. I also like that, since Alex and Cleo are so similar in appearance, Alex can be identified as somewhat gender-ambiguous as well. I like to think his relationship with his companion Edwin is somewhat romantic, especially since it's not overtly stated — I think that sort of subtle romantic friendship is very sweet. I hope others like these characters too, and I welcome any interpretations!
New Releases July 13
Daring Adventures of Supergirl Vol 1: TP
Suicide Squad Vol. 4: The Janus Directive TP
Wonder Woman by Greg Rucka Vol 1 TP
Princeless Vol 5 Make Yourself Part 1 TP
The Chilling Adventures of Sabrina #6
Stumptown #10
Voltron: Legendary Defender #1
---
Welcome to Drawn to Comics! From diary comics to superheroes, from webcomics to graphic novels – this is where we'll be taking a look at comics by, featuring and for queer ladies. So whether you love to look at detailed personal accounts of other people's lives, explore new and creative worlds, or you just love to see hot ladies in spandex, we've got something for you.
If you have a comic that you'd like to see me review, you can email me at mey [at] autostraddle [dot] com.