by riese & alex
The term "Lesbian Chic" has been tossed around with relative abandon since 1993, when it was first popularly employed in response to heterosexual supermodel Cindy Crawford straddling lesbian k.d. lang on the cover of Vanity Fair. Madonna kisses a girl in the 90's? Lesbian chic. Madonna kisses two girls in the early '00s? LESBIAN CHIC. The L Word features several thin lesbians with long hair? Holy shit it's a LESBIAN CHIC INVASION. Over the past year or two the cries of "lesbian chic" have been especially loud, mostly 'cause of Lindsay Lohan
But which lesbian icons do lesbians actually consider chic? Who's out there making an actual influence on lesbian fashion & style in 2009? Autostraddle knows.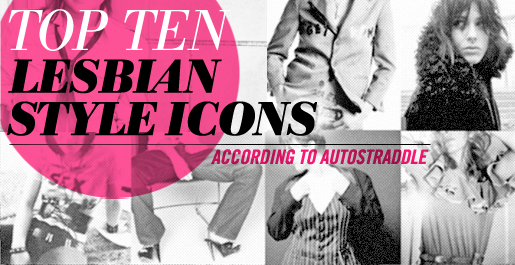 Sidenote: In response to a 2009 declaration of lesbian chic, Feminist philosopher Susan Bordo pointed out that only "a certain kind of lesbian — slim and elegant or butch in just the right androgynous way — is acceptable to mainstream culture." True enough. But wethinks this "certain kind of" standard applies to "chic" for women of all sexualities; in fact, it's upheld for all genders and all sexualities. And actually … not all of our picks fit that mold anyhow. So let us revel in our stylish mainstream acceptable moment. Then let's all go have a cheeseburger and put on our sweatpants.
---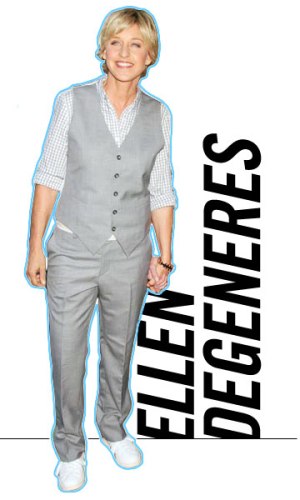 Ellen Degeneres
The Ellen DeGeneres Show has changed a lot of things for America's Favorite Lesbian, including her personal style. Ellen's classic suits, crisp button-downs, body-conscious sweaters and vests are tailored in youthful, trendy and flattering cuts. Matched with playful colors and her signature sporty sneakers; Ellen DeGeneres proves lesbian menswear isn't just for smoky-eyed twentysomething waifs. And speaking of smoky-eyes, she's got the Cover Girl contract to prove her mainstream moment has truly arrived.
On The Ellen DeGeneres Show's website she talks about her wardrobe each day: My Wardrobe… and I Do Have One. We love it.
ELLEN'S STYLE: Smart-casual veteran lesbian who knows how to work a blazer … with sneakers.

Though we could probably thank her wardrobe stylist for this, Ellen has mastered the art of the scarf/neck accessory. Sometimes, a look isn't complete without one OR it classes-it-up OR it makes a blazer or vest look casual.
Ellen Says: "Whenever Portia and I are on the red carpet, they're yelling out for her to tell them what she's wearing. But nobody cares [about what I'm wearing] because I have a suit on, even if it's a Gucci suit … I also feel myself more of a person than a gender."
Ellen DeGeneres' Favorite Designers: Jil Sander, Marc Jacobs, Viktor & Rolf, Neil Barrett.
---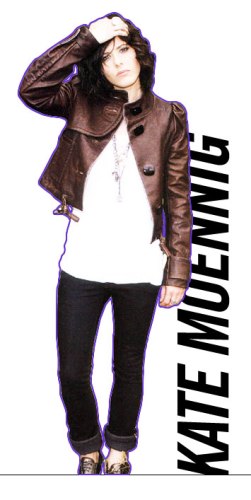 Kate Moennig, 31
Though it's her character Shane from The L Word who sparked The Look that Launched a Thousand Copycats, the apple doesn't fall too far from the tree where Kate Moenning's personal style is concerned. At 5'8, pouty, slouching & sinewy; Kate's signature look includes layers tissue-thin t-shirts, classy fitted blazers, low-slung designer jeans, chunky belts, metallic vintage jewelry and always some leather, somewhere.  Her punky just-out-of-bed hair, inspired by Sally Hershberger, is perhaps the definition of "Alternative lifestyle haircut." Kate collects sunglasses, hats and jewelry and has said if she wasn't an actress, she'd like to be a designer. Kate Moennig does not bend gender, she transcends it.
KATE'S STYLE: A "total tomboy at heart," effortlessly disheveled edgy hi-lo/boy-girl  androgyny.
Kate says: "I like to find men's clothing in the smallest possible size and then have it altered. Because I don't like what designers do to women's clothing."
"I like my pants low. I'm not trying to emulate Britney Spears or anything. I don't wear thongs, I wear little boy-shorts."
Kate Moennig's Favorite Brands/Designers: Generra, Stella McCartney, Jill Stuart, Dior Homme, Gucci, Librtine, Free City.
---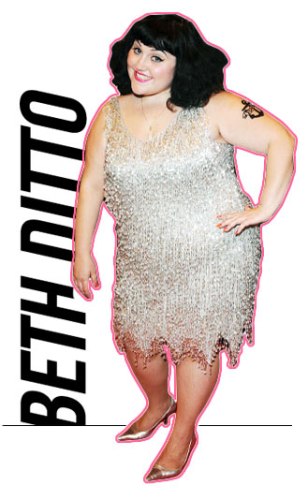 Beth Ditto, 28
Best-known for as singer-songwriter for indie rock band The Gossip, outspoken feminist Beth Ditto has recently launched her own plus-sized fashion line for Evans.
BETH'S STYLE: Uber-femme, loud patterns, bright colors and curve-hugging take-notice girly glam.

However, she's not wearing much at all on the cover of LOVE, which is plastered all over London, promoting positive body image for big sexy girls everywhere. Long before she started her own line, Ditto has been known for her brash, bright and arty dresses; the kind of thing that weird drama girl in your high school would always wear. Now she's grown up and she's just as hot and interesting as you always imagined she would be. Her name is Beth Ditto.
Vogue.com describes Beth Ditto's new collection for Evans as "a capsule range full of slouchy, rock-inspired clothes and accessories with enough sparkle to give Barbie a run for her money."
Beth says: "Just remember – fashion is something that is prepackaged, bought and sold, but style, like art, is a primal instinct."
"In elementary school, I was the only kid in class who knew who Todd Oldham was. When you're my size or you don't have a lot of money, one reason punk is so appealing is because it tells you that you don't have to have anything to be somebody."
Check out Vogue's Beth Ditto Style File.
Beth Ditto's favorite designers: Jeremy Scott, Karl Lagerfeld, Charles Anastase, Louis Vuiton, Gareth Pugh, Vivienne Westwood.
K.D. Lang, 47
K.D. LANG'S STYLE: The Original Butch. Classic, dapper, sophisticated and eternal.

Ariel Levy says: "Never before had Americans seen female masculinity so overtly and unapologetically on display, and we couldn't take our eyes off it. The reason that notorious Herb Ritts cover of Vanity Fair with lang reclining in a tie in a barber's chair while a barely dressed Cindy Crawford shaved her face made such a splash, rendered some people so irate and others so aroused, was that it suggested that lang was the kind of woman who probably enjoyed doing all sorts of things with women that only men are supposed to get to do. And that there were women who wanted her to." (New York Magazine)
K.D. Lang says: "I don't feel like a woman, and I don't feel like a man; I feel like both, simultaneously. Suits help me achieve some kind of balance, because I have a very voluptous, womanly shaped body — a Botticelli sort of body — and I have a mind and an emotional self somewhere in the middle."
KD Lang's Favorite Designers: Miuccia Prada, Richard Tyler, Helmut Lang, Gaultier. "To me, some of the Japenese designers are more at, and I hate to use this word because it's been abused, the androgynous centre of fashion — you know, where it's just this kind of beautiful clothing."
---
Honey Labrador
Though Queer Eye For the Straight Girl lasted for about one hot minute, Bravo's selection of Labrador was a significant moment for a franchise previously based on the gay man's intrinsic ability to dress, fashion, feed and culture the people of less enlightened sexualities. Labrador, who's Latina, Filipino, Chinese and Spanish, has been modeling since she was 16 and as an adult has seemingly set out to singlehandedly prove that "lesbian" and "stylish" aren't mutually exclusive; hosting Q Telvision's behind-the-scenes fashion show "XCess/Access," founding Honey L Designs to match celebrity endorsed branded products with benefiting charities and created a limited edition jeans line for the fourth season of The L Word. She also hosted L'Elements of Style, which provided an inside look to the show's fashion.
At 5'9 with an athletic model physique, Honey can rock just about anything. As a teenage model she sported an androgynous style before it became Officially Trendy for lesbians to do so. She will remain on the cutting edge. We have a feeling.
Jackie Warner, 40
It must be nice to be Jackie Warner, the star of Bravo Reality Show Workout credited with seducing straight housewives nationwide via television. Having dedicated her life to fitness, it's hard to imagine anything looks bad on her, and her perfect lip gloss, evolving blonde shag and perfectly tanned skin doesn't hurt either. Warner actually has a degree in fashion & illustration, which has come in handy when designing her own line of athletic wear for her gym Sky Sport. Her style outside the gym is equally noticeable however; fusing weight training to sleek, futuristic downtown edge for the ageless, shiny Outsiders-gone-fancy icon.
JACKIE'S STYLE: An athletic, timeless clean-cut style that makes even cargo shorts look fashion-forward.
---
Kim Stolz, 26
MTVNews correspondent, political activist and former reality television star Kim Stolz was a revelation when she ushered in a new wave of sexy androgynous style into prime-time on America's Next Top Model. Kim can rock hoodies with pearls, make plaid look high-fashion with Park Avenue understatement.
KIM STOLZ'S STYLE: Kim is sometimes boyish, sometimes girlish, from prep school boy to Brooklyn hipster and back again. Gender binaries are so over.

Kim says: [In the Kim Stolz Autostraddle interview/photoshoot, Kim responds to accusations that post Top Model, she "changed" her style to appease the mainstream]: "If everyone could go back in my life they'd see that I've always fluctuated my look. Yeah, back on Top Model I had short hair and was acting a bit  more androgynously, if that's the word you want to use. Today I'm wearing a dress, and my hair is straight and long. Last week I went to an event wearing a tie and jeans that were certainly too low. It just depends on how I feel. I just wish they'd realize no matter how matter how I dress or look, I will always be really gay."
Kim Stolz's Favorite Designers: Balenciaga, J. Mendel, Marc Jacobs, and Theory.
---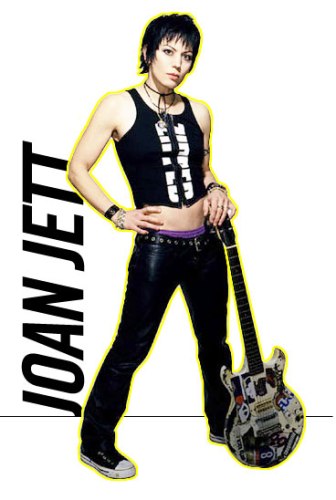 Joan Jett, 48
Jett's unique don't-fuck-with me rock 'n roll style — and her hip-hugging vintage t-shirt wearing 70s getup — is getting a revival with the filming of a new movie about her 70's all-girl band "The Runaways" starring Kristen Stewart. Joan's jet-black hair crop, spandex fetish-wear, leather pants and diesel-arm-bearing streetstyle tanks have defined a kind of glam-goth punk for generations of runaway dreamers.
JOAN JETT'S STYLE: Black. Tight. Leather. Rock n' Roll.
Joan Says: "I find fashion sometimes to be a little overwhelming … I have to really focus and hone my vision to find things that will work for me … I don't wear dresses which really cuts out a lot of stuff! And it's too bad cause I can really appreciate the styles, and the beautiful clothes. I kinda wish I did wear dresses, but it's just not in my thing. I'm not comfortable … so what that means is just pants, shirts, and jackets. like using a high fashion piece and just some jeans … black and white … leather."
Favorite Designers/ Brands: Prada, Roberto Cavalli, Marc Jacobs, Balenciaga, Versace, and "street stuff from St.Mark's" (a neighborhood/street in NYC legendary for punk vintage second-hand stores)++
+

---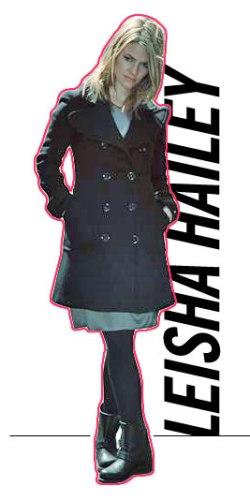 Leisha Hailey, 38
Leisha's had her finger on the pulse of lesbian fashion since she first burst onto the scene in the early 90's; rocking hot pink dreadlocks with her band The Murmurs and doing the girly-grunge thing in coming-of-age flick All Over Me. Leisha regularly sported men's blazers and playful pantsuits in the late 90's while dating the iconic kd Lang, but by the time she hit the mainstream with The L Word in 2004, her style had officially evolved.
LEISHA HAILEY'S STYLE: Downtowny romantic, with a side of "Dark Glam" refined rock star.
Leisha's style evolved oddly at pace with her character's over the course of The L Word's six-season run; in the start Leisha's piecey alternative lifestyle haircut complimented her lacy flirty cleavage-enhancing tanks just as well as it did her peter-pan shirts & skinny ties (with pearls). By Seasons Four, Five and Six, her hair was fully grown out and her look went classically femme with drapey A-line dresses & high-necked parochial schoolgirl pieces both on and off-screen. Fan favorite? Leisha's clingy t-shirts, hoodies and tank tops (often from girlfriend's Free City line), the epitome of lazy-Sunday effortless cool.
Now, devoted primarily to her band with Camila Grey, Uh Huh Her, Leisha's cheeky bright t-shirts, bold jewelery and punk-ballerina skirts are like gothic bohos on acid. In lady-heels and occasional native headbands, the clothes loat with her while she performs her most stylish signature of all; the whirly-trippy hair-tossingly moody Leisha Hailey Dance.
Leisha says: "In my 20s I was punk-slash-feminist-slash-clubkid. It was really important to look as weird as possible. I wanted to look like I was from a different planet to set myself apart from other people. I was one giant identity crisis … When I'm playing a different character I get a chance to be someone else and change myself on a daily basis. Before, the only outlet I had was through my clothes."
L Word Stylist Cynthia Summers said: "Of all our girlie-girls, Leisha is the most likely to wear a dress. She's the girliest — a clotheshorse, she will dress up for an occasion. So Leisha is wearing a vintage A-line dress. I had the purse for her. Leisha tells me .. "Cynthia, lesbians don't carry purses."
The Los Angeles Times says about Uh Hh Her: "Spiky shoes — along with skinny jeans and loads of black eyeliner — are part of what defines the slinky, dark-glam look of new L.A. band Uh Huh Her.
Favorite designers: Rick Owen, Isabel Marant, dating Free City fashion designer Nina Garduno and has "a huge collection at home."  She told the LA Times: "Also, I would love to be in head-to-toe Miu Miu. It's colorful and girlie and fantasy — all the things I love."
---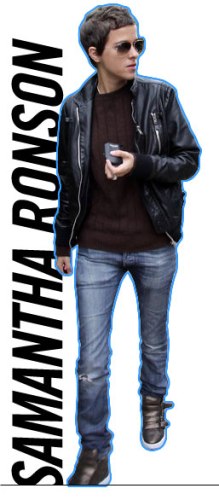 Samantha Ronson, 32
Yes, if there is blame to be placed, you can blame British DJ Samantha Ronson for that sarcastic fedora-skinny-jeans-giant-high-top-sneakers epidemic sweeping gaunt lesbians bicoastally and abroad. The epitome of West Hollywood lesbian hipster cool, Ronson comes from a fashionable family (sister Charlotte is a fashion designer, brother Mark is a DJ), and has the scantily clad girly bad-girl girlfriend to match (or does she? We haven't checked twitter yet today). The Samantha Ronson look is almost the anti-sex, but somehow that goes all the way past bla and back again, to comforting-sexy. She's even designed her own line of signature sneaks for SUPRA.
SAMANTHA RONSON'S STYLE: The very definition of a Modern WeHo Andro Lesbian Hipster.
Samantha's Favorite Brands/Designers: Dior Homme, Filth Mart LA, Blue & Cream, Charlotte Ronson, SUPRA sneakers, Converse.
---
Charlene, 27 and the 'Gimme Sugar' Girls
Charlene Borja from Logo's 'Gimme Sugar' and the cast of both seasons of Logo's reality show is the most visible group of actual female lesbian friends on TV. For better or for worse …
Charlene shows that the Next Generation of lesbian style works on diverse body types as well; matching trendy pieces with timelessly flattering combos like motorcycle boots & shorts. She loves v-necks, as do we, and has mastered edgy club-style Girl Power comfort-chic. Oh and there's that Alternative Lifestyle Haircut with a capital "A." The rest of the cast is one of television's most racially diverse and in Season Two featured Angel, a drag king, along with small boish "player" Devonee who sports the shows's most definitive big attitude. Season Two's Gaby is an aspiring fashion designer and someone wears this weird gold hood thing.
Go Magazine Says: "The castmembers recognize the fact that the show's power lies  with the exploration of range in expressions of masculinity and femininity within the lesbian community.
"I think some of us are an example of the different kind of lesbians that you can find, and you don't necessarily have to look like a lesbian," says Maisi. "I love the way obvious lesbians look, but I am a good example of a non-lesbian looking person. I love boi-looking girls. I love bois. I love the short hair, and the baggy clohtes. But there are many different types."
---
We hope to have more fashion & style coverage eventually on Autostraddle. Perhaps figuring out how to actually buy these clothes on a smaller budget would be a good place to start, and Carly & Alex have a lot of feelings about menswear for girls.