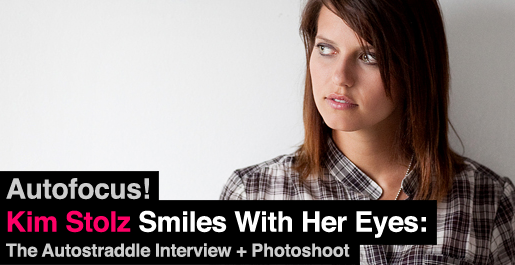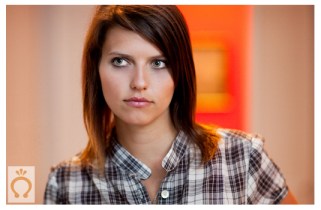 The most surprising thing about Kim Stolz the human being is just how much she resembles Kim Stolz The Concept.
Though out lesbian Kim Stolz didn't win the chance to live her "life as a Cover Girl" (dashing across crowded intersections while applying matte foundation, attending staged photo shoots while spouting maxims about the importance of lipstick that goes the extra mile), Kim Stolz has strategically parlayed her Concept's fifteen minutes of mainstream reality stardom into a career which stands to outlast and benefit the LGBLTQ's common causes far more than all kinds of LashImpact Mascara.
The Concept catwalked onto our teevee screens in 2005 in a tie and cut-offs and told Tyra Banks, "I'm out and I'm gay and I'm really proud of it," [with trademark missed-the-pointedness, Tyra advised Kim that Tyra herself never walked down the runway yelping, "I'm black! I'm black!" and Kim should be wary of such dangerous/offensive Not Modeling Through It behaviors herself], presenting perhaps the first network-televised image ever of  a strikingly beautiful boyish girl who, as Kim told Autostraddle she's always felt, is "unwavering" in her "comfort with being gay." And although her own parents took years to accept her sexuality, the woman we saw on teevee didn't appear to have been rejected for anything, ever.
Kim-on-ANTM wasn't angry or compromised or stupid. It was like she'd come to earth from some other planet or maybe even from The Future; a place where "ideals" = "laws" and lesbianism was already established as cool & good-looking & seductive and … well … I guess … totally human. To most of America, and to young lesbian women raised on aggressively idiotic & reductive reality television in particular, this Concept was a revelation.
Of course to a lot of women, Kim was important specifically because she wasn't a revelation; she was a lot like the lesbians they knew, maybe in another liberal arts college they'd been lucky enough to attend. Finally! Someone articulate & reasonable & passionate & funny! with a background that hadn't hardened her into the understandably furious & defensive lesbian "character" usually recruited for Reality TV shows.
And she was smokin' hot with the kind of fashionable, consumable androgyny that excites straights and inspires entire episodes of Oprah. Or, you know … Tyra.
Kim succeeds because her approach is unthreatening enough to engage her devoted fandom and the skeptical mainstream but intelligent and uncompromising enough to deter the movement's naysayers.
Plainly and simply and all irrelevant cattiness aside, Kim knows what she's doing, she's really smart, and she's really good at being .. well… popular. Like Ellen, Kim seems to realize that mainstream entertainment media visibility truly does enable real cultural change, and that when you use that visibility to promote political and social justice and you look good doing it — you're pretty unstoppable.
The past several months she's been writing political commentary for The Huffington Post and True/Slant, additions to a resume that already includes MTV News correspondent and MTV-U VJ. She's modeled for labels and stores including Abercrombie & Fitch, Brooklyn Industries, American Eagle Outfitters and Seventeen (none of which required her to dangle from a suspension cord in a gold-lycra superwoman/bird costume), among others. She reported on the 2008 Iowa Caucus and has interviewed incredibly important people like John Edwards, Mike Huckabee and Barack Obama.
This is the collision of a strong concept, a strikingly lithe & beautiful woman and a hungry, supportive community.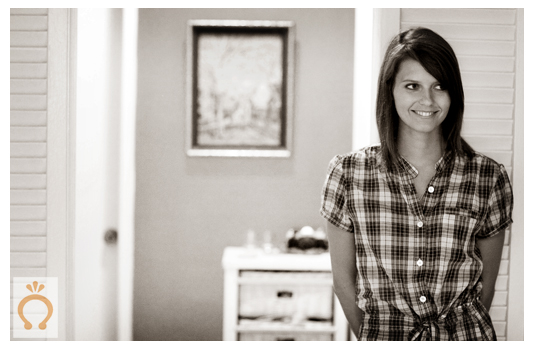 So Robin & I (Riese) spent a fine Friday afternoon in the Monsoon Season of our Discontent with Kim at the Manhattan apartment where she grew up and still lives. While Robin photographed and I interviewed, Alex acted as an athletic supporter, Christina did the makeup and Intern Katrina transcribed like a good little monkey.
We talk about Kim's hopes & dreams, frustration with the binary gender system and the hostility from the community surrounding her decision to wear a dress, the politics of "outing," Obama's lack of movement on DOMA, social networking, being in love, modeling and so much more! She tells us stories about her totally difficult coming out process, gaydar on location, and how she got into all this in the first place … and per ushe, Robin Roemer takes amazing, beautiful photos.

Riese: How do you think you right now and what you want now is different from the Kim that walked into America's Next Top Model four years ago?
Kim: I always wanted to do politics & international relations and to have a life in journalism, but before ANTM I hadn't ever conceived of doing that on-air. I never cared about fame or aspired to be a public figure and I still don't, but I do like that I've been able to use my tiny amount of fame to change things in some ways and to speak out for equal rights & other political causes.
The core of me is still the same — I'm still quirky and nerdy and all those things, I'm still a total news junkie. But ANTM has opened a few extra doors.
Riese: So having done a show that positioned you as an out lone lesbian in the pop culture mainstream and now  working more directly with political action through your writing and television journalism, where do you feel it's been more effective — or easier — to break ground or make progress for the issues faced by the GLBT community?
Kim: They both make progress in very different ways — the demographic I was speaking to on America's Next Top Model is very different in a lot of ways from the people we're speaking to through MTV News or Fox News any other network I've been on.
On ANTM people got to see more of my personality, my voice, who I am and what I stand for 'cause I was playing me, whereas when I write for The Huffington Post or True/Slant or MTV or I'm speaking at a rally, that's more political & informational.  Often it reaches a similar demographic which is a great opportunity to share information with them which definitely furthers the fight for gay rights.
Riese: After America's Next Top Model, you'd said you wanted to do more modeling and acting, but when you were majoring in International Relations at Wesleyan, you had other plans — how did you get from there to here?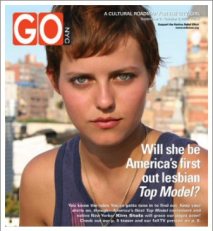 Kim: Well the trajectory of how it happened is actually a very interesting one. I was at Wesleyan doing my senior thesis on exit strategies and US Intervention abroad, and my friends and I were watching television on a study break, and they were telling me that I'd end up buried so deep in Washington and that I had to somehow get out and do something a little bit crazy before going to law school and ending up at a foreign policy think tank or something like that in government.
Basically I ended up losing a bet that meant going to an audition for America's Next Top Model. Somehow I got on the show, and I did rather well, and from that, one thing led to another.
After the show I started working in a law firm, and it was like getting back to my roots and getting back to what I know. But it was also sort of strange 'cause I'd be working at a law firm by day and watching myself on television at night, and I felt that a door had been opened, and that the smartest thing to do would be for me to walk through it.
I didn't necessarily want to model; my mom was a big-time model, and I think it's really cool. I like it and there's fun to be had but I really wanted to do something pertaining more to my political interests.
But I kept that on hold for a little bit. Elite Model Management found me at a party for a guy from Project Runway, which was totally random. They asked me to sign with them and I did and shortly thereafter was offered a position hosting a music show on MTV-U. I mentioned I wanted to do news and ended up signing with MTV & MTV-U for two years. Now I'm still an MTV News correspondent and MTV-U VJ, but over time I recognized that I wanted to focus more on political writing and network news hosting.
I'm definitely looking around and figuring out what my next step is going to be or what additional steps there will be.
I actually also just switched agencies and signed with Ford Models — their celebrity division and their music division too — which is exciting and fun.
Riese: Do you enjoy modeling?
Kim: I do! I enjoy modeling. It's a very…different thing for me from what I've been used to my whole life. I mean, you can go through an entire day as a model and not open your mouth, which is crazy. At times it's really stressful, at times it's very humbling.
It's a lot of pressure and there's a lot of aspects that aren't easy. The weight thing is very hard, especially for someone like me who likes to eat all the time. But there's also a lot of perks and I get to meet a lot of cool people and … a lot of models! I like that.



Next … "If all of the gay actors and actresses in Hollywood came out and said they were gay, I'm sure we'd have gay marriage legal in the United States today."
Pages: 1 2 3 4 5See entire article on one page