Early 2018 is shaping up to be pretty thin when it comes to video game releases I actually care about. Sure, I'm looking forward to the new Tomb Raider and Mega Man games (and honestly I'm all in for Death Stranding, whatever the heck that ends up being), but the beginning of the year is a bit boring. I looked back at a few "Best of 2017" lists to see what games I missed, and an Indie game called Doki Doki Literature Club piqued my interest.
DDLC is free (or pay what you want) on Steam or itch.io and only takes a few hours to complete. The game ends up turning into something totally different than it seems at first glance, so if you really want to play it I would urge you to do two things:
Take all the disclaimers very seriously and decide whether or not you actually want to proceed.

If you're sure you're okay to play, jump into the game without reading anything more about it.
(This is the part where I tell you there will be spoilers below, but I promise I won't include anything too graphic.)
It's clear that DDLC wants to subvert your expectations from the moment the game opens. Three different content warnings are displayed before you even get to the main option screen, but they're paired with bubbly anime-style graphics and light, fun music.
After agreeing to the disclaimers, the game starts off like most romantic visual novels. You play, unfortunately, as a teenage boy who is kind of a jerk. Your childhood friend, Sayori, insists that you need to take up an after school activity, and she has the perfect one in mind: the Literature Club! You go along with her, though you have no intention of joining — that is until you find out that the club is full of cute girls.
Lack of female agency is a long-standing trope in dating sims, and DDLC leans on it heavily at the beginning of the game. As soon as you arrive at the Literature Club, it's clear that the girls are automatically yours for the choosing. But instead of actively trying to steer my character toward anyone, romantically, I hoped that they would all just date each other.
Early on, the main game mechanics are simple; even for a visual novel, DDLC is on the light end of the interactivity spectrum. The only choices you can make are which words to include in the poems you write for the Literature Club and which girl you want to share them with first. The rest of the first act establishes the characters, as well as including a whole heap of foreshadowing and a vague sense that things are not quite right.
Because I knew a bit about the game's plot before I started playing, I found myself impatiently waiting for the shift from romance into horror. I expected the twist — Sayori's suicide — to happen suddenly (like a jump scare), but instead the game establishes her depression early. By the time you're about to find her body, you can guess exactly what's happened. Your character blames himself and his choices, but Sayori's suicide is inevitable.
Sayori's death is the turning point for DDLC, and now shit really starts to get weird. After ostensibly ending quite abruptly, the game reloads the main option screen — but this time some of the content is corrupted.
The second playthrough begins as though Sayori never existed, though the game glitches in the places she is supposed to be directly referenced. In this universe, you join the Literature Club because of Monika, the club's president, instead of Sayori. The game gets increasingly unsettling as the other two remaining girls in the club, Yuri and Natsuki, viciously vie for your affection.
In this playthrough, Monika's interference becomes more and more obvious: she breaks the fourth wall, she seems to be controlling the actions and memories of the other girls, she limits your choices in the game so you can pick "Just Monika." Things come to a head when another of the girls, this time Yuri, kills herself violently, and you are left alone with her body for a whole weekend.
Monika apologizes for the game's broken script, deletes Yuri and Natsuki's character files, and takes you away to an empty room. Monika's known it's a game the whole time, you see, and all she wanted to do was make you fall in love with her. And it's such a disappointing reveal! The game acknowledges the lack of female agency in the genre, but makes no actual attempt to subvert the trope.
Instead, the game turns Monika — arguably the only girl with any agency at all — into another trope altogether: "the obsessed stalker." She traps you in the empty room, tells you she loves you, and forces you to choose yes when she asks you out. At this point, the game introduces a novel mechanic: you have to actually find and delete Monika's character file in order to get out of the room.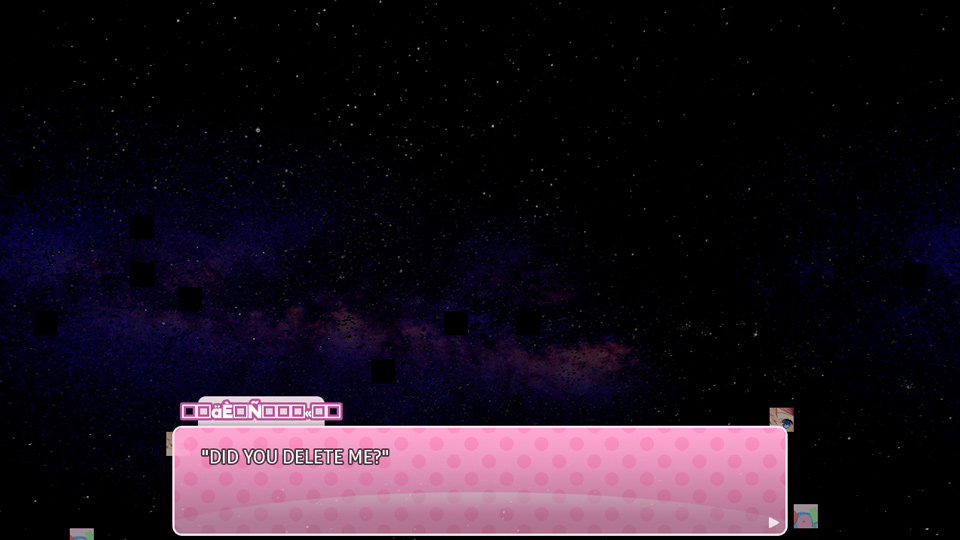 The game starts over again, this time without Monika, and it seems like everything will be fine. Before long, however, it's revealed that Sayori, the new club president, is aware of everything that happened in the previous playthroughs. She goes full-Monika-crazy and tries to take you away to the empty room again, but actual Monika somehow intervenes. She realizes now that nothing good can come from the Literature Club, and deletes everything, ending the game for real.
As a horror game, DDLC definitely succeeds in delivering scares — a mix of a few startling moments, graphic images that are hard to forget, and a general and persisting sense of creepiness and despair. And the game is clever, sure, but ultimately I was left disappointed. Rather than simply acknowledging the ridiculous trope of no female agency in dating sims and attempting to explain it away from a meta perspective, I wish the game had instead just given the girls more agency. For an experience that was clearly designed to flip expectations, DDLC missed a huge opportunity and fell flat for me.