I get proposed to. A lot. Outside of gay clubs, by gay men. It seems to be the customary practice upon meeting other queer Filipinos here in the States. Give the gay eye, give the Filipino eye, hug and rejoice, pronounce each other's names with silly fake Filipino accents, begin to plan a wedding so that our parents will never have to know. Standard, yeah?
It is for us.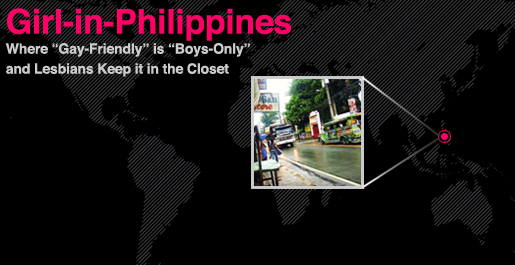 It's more than just a giant inside joke among countrymen, really. It's more like a reflection of the greater society that our parents grew up in; flamboyant and celebratory at first glance but guarded and secret for those who dare to look closer. It's a Filipino cultural thing: we can be out and proud and dancing queens (of any gender) all up in the gay clubs and in our lives away from home, but when it comes to family, a certain code of closeted conduct is expected.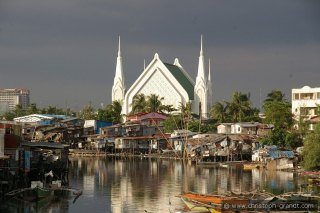 The capital city of the Philippines, Manila, is a city that lives behind gates and listens through walls. It's also a huge cultural center where tradition coexists clumsily with progress. Its palm-tree lined back alleys and boulevards give way to the towering monoliths of condominiums and office buildings which rise indiscriminately behind stately manors as often as they ominously shade rows of dilapidated huts.
The Philippines is also widely regarded as Asia's most gay-friendly country. Despite this, it's also the kind of place where, if you've got something to hide — and for women, this probably applies to most of your feelings and ideas — you'd better do so before everyone and their mom and their priest finds out about it.
Let me explain. When they say that the Philippines is a "gay-friendlywp_postscountry, they mean two things:
1) Friendly to gay men, of course. What are these "lezz-be-ins" you speak of? Aren't they from Greece or something? This is the Philippines, sorry, we don't have those here.
2) "Gay-friendly" as in like, "we would like to tokenize you as our hairdressers and makeup artists because you gay guys are cute and funny, come make people laugh on our TV shows.
In fact, gay men are so prevalent in Filipino society and media that they've become universally recognized icons referred to as "the bakla" (meaning: "gay"). Although this term has a derogatory connotation (though, if we're living in a society that holds a derogatory opinion of gays, isn't even the truth meant to sound insulting?), it has very much been reclaimed by the gay male community, rendering it fairly harmless. It's kind of like what's been happening to "queerwp_postsin the US for the last 40 or so years. Redefining a word on our own terms takes away its deprecating power. They can't shout it at us in the streets if we're shouting it ourselves.
The bakla remains something of a jester or a spectacle in society, something to be tolerated, but not necessarily fully accepted or understood. Still though, because they are frequently employed, once again as makeup artists or stylists, by upper-class women, they may gain social status. The bakla are given an opportunity that gay women are not: social mobility.
For some reason, the first thing most gays, male or female, say to me when I tell them I'm Filipino is, "Oh my God, my ex is Filipino, that's so funny!wp_postsReally though, if all of you have Filipino exes, where are they?! Where the girls at?
Social mobility is a big deal because tolerance of homosexuality varies among classes. Those in the lower classes tend to have more pressure to have children as a form of financial security. Those in the upper classes are more likely to be followed and scrutinized by society as a whole. It's a lose-lose situation, but at least gay men, being men, are afforded a greater opportunity for financial independence, freeing them, to some extent, from familial expectations or obligations.
Where the girls at?
For some reason, the first thing most gays, male or female, say to me when I tell them I'm Filipino is, "Oh my God, my ex is Filipino, that's so funny!wp_postsTo which I usually reply, "Oh we're totally related! How did you know?wp_postsbecause I am sadistic and enjoy making people feel uncomfortable using my ethnicity and sexuality. Really though, if all of you have Filipino exes, where are they?! Where the girls at?
I dunno, perhaps ask the Catholic Church.
See, the history, and subsequently the contemporary culture, of the Philippines is one largely shaped by colonization. For about 300 years the Philippines was under the crown of Spain (I'm still a little mad about this), and as we all know, the Imperial Spanish loved their Catholicism! 90% of the Philippines is Catholic, which manifests itself in some relatively innocuous ways (neon "Jesus Loves His Childrenwp_postssigns on the highway, the God's Love Drugstore), but also becomes prevalent and highly influential in harmful ways, such as hegemony over the government and the shaping and reinforcement of social norms.
Seemingly less dangerous than the all-American "God-Hates-Fags" route is the Filipino Catholic Church's focus on a specific type of family unit. Though the Filipino family can be a cohesive, supportive, and loving unit, the pressure to, or rather expectation that one will, create a family weighs heavily against the closet door. Here the traditional heterosexual family model is the only acceptable possibility; same-sex marriage, never mind adoption by a same-sex couple, is not within the realm of public consideration, and so for women, who are expected to have children, marriage to a man is really the only option. Sorta like pre-WWII America, where women couldn't come out because (among other things) their position in society did not allow them to seek or achieve financial independence from their husbands.
Specific gender roles, it is no surprise, are also strictly adhered to. With women in powerful careers as well as in political positions (we've even had several female presidents), the Philippines is pretty progressive when it comes to the workplace roles of women. Despite this, the prevailing sentiment is still that the primary role of women is in the home, and they are expected to maintain a certain air of "femininitywp_postswithin their appearance. This is the kind of weird shit that comes up when my family is about to go to church on Sunday, and 30 seconds before we walk out the door my mom freaks out and tells me to "wear girl shoeswp_postsbecause I "had better look like a girl." Like what the hell does that even mean? I'm a girl, I'm wearing these shoes. Girl shoes. It's easy.



While in the Philippines last month I surprisingly did find some lesbinformants, if you will, to ask about what it's like to be in a new generation of gay ladies in the Philippines. This happened unexpectedly while I was out on my first night at a (straight) bar with my cousin and her friends. We were sitting at the bar, eating chicken wings and being legal (at 19, being underage in the US is getting a little old), when a girl walks in— you know the type—gay swagger, plaid shirt, aviators in the collar even though its 11pm, and to my internally wide-eyed surprise, she walks right over and sits next to my cousin.



NEXT:These stories finally give some light as to why my parents and I were mutually shocked by each others reaction to my coming out.
Pages: 1 2See entire article on one page