Julie & Brandy's episodes are supposed to debut every other Monday. But due to a series of fortunate events, you are soooo lucky and you're gonna get episode #3 a week early! This week, the girls decided to see a blockbuster movie, Shutter Island.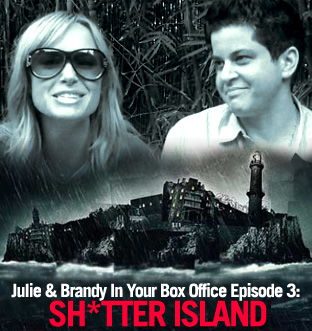 The Shutter Island parody, "Sh*tter Island," is pretty remarkable. so get some of whatever it is Whoopi Goldberg was advertising during the Oscars last night because you will need it because um, this is kinda the funniest one yet.
Julie Goldman and Brandy Howard are the Matt and Ben of Lesbian Movies.  They are a sensational acting/writing duo that are trying to cause a sensation with their sensational, lesbian romantic-comedy, Nicest Thing.
Since no one wants to make their movie or cast them in anything, they feel it is their duty to harshly judge everyone else's work; based on a sliding scale of rage, bitterness, lesbianisim, and lack of any real significant training.
If you missed it, here's Julie & Brandy In Your Box Office #2: Paranormal Activity and Episode One – "Avatar". Per always, this video was edited by Riese and you can always catch up on all the great offerings over at Autio/Video on our Video Blog page.
Actually the footage for this one was so incredibly awesome that we're definitely seeing a DVD Extras special in our future. It will include "Cameltoe Island," a short film that did not make the final cut, but is nevertheless funny.