SEAN HAYES: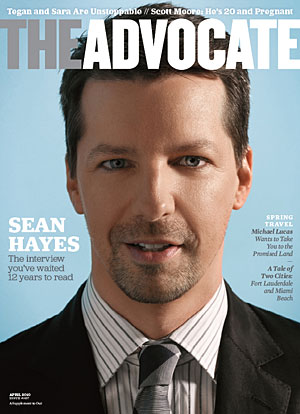 Sean Hayes didn't want to come out but FINE HE'S GONNA COME OUT YOU GUYS SEAN HAYES IS GAY, as you can read in this Advocate cover story! Fun! Also he has a special someone, fyi. CUTE!
Although he played iconic gay character Jack McFarland for eight years on Will & Grace, alongside Megan Mulally, Hayes didn't feel the need to discuss his sexuality with the media. He tells The Advocate that he wasn't necessarily IN because "he never walked some pretty woman down the carpet or faked a straight relationship."
And although he avoided coming out in hopes that his career would not be shattered by the glass closet, he found after Will & Grace that the fact that he played Jack had already especially cemented his fate. Initially, Hayes was frustrated that being pegged as Jack prevented him from getting the mainstream roles he'd hoped for, despite  the fact that "there were like 50 commercials where I was the husband or the nerdy boy or whatever" before he landed Will & Grace.
However, Hayes has recently started his own production company, Hazy Mills (they're making a pilot with Betty White) and has enjoyed getting back into the "art" of acting as opposed to the "factory" which is how he sees the sitcom.  In anticipation of his Broadway debut in the first revival of the 1968 musical Promises, Promises, Hayes agreed to his first interview with The Advocate.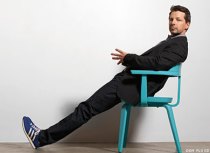 "I believe that nobody owes anything to anybody,wp_postsHayes says, so worked up that he repeats the line. "Nobody owes anything to anybody. You are your authentic self to whom and when you choose to be, and if you don't know somebody, then why would you explain to them how you live your life?"
Finally, Hayes gets to his true point: "I feel like I've contributed monumentally to the success of the gay movement in America, and if anyone wants to argue that, I'm open to it. You're welcome, Advocate."
Howard Bragman, who recently advised Meredith Baxter on her coming out, told The Adovcate:
"People have the right to make personal decisions, and I think for him to deal with it now is exceedingly courageous. The research says if somebody knows a gay person, they're going to be more in favor of our civil rights. And tens of millions of people know Sean and love him. This is an old friend telling us he's gay, and it's going to resonate."
Kristin Chenoweth, one of our favorite people and Sean's co-star in Promises Promises and a huge supporter of gay rights (in fact we marched with her at the National Equality March), says:
"He is a private person. Just because we're performers doesn't mean we are that person. He's known for his character on Will & Grace, but that's not who he is. So I'm glad that he feels free to talk [now], but let me tell you something: Sean has never hidden anything. I don't think he was ever pretending to be anything he wasn't. And that's what to respect."
A very interesting element of the article is that Hayes is really over The Advocate:
To this day he feels burned by a story that ran in this magazine in anticipation of the series finale of Will & Grace. Titled "Sean Hayes: The Interview He Never Gave,wp_poststhe one-page "Q&Awp_postswas a clip job of quotes he'd given to other publications through the years that made him look rather silly for pretending no one knows he's gay.
So yay for Sean Hayes! The thing is in this heteronormative world, not coming out doesn't mean leaving things up in the air. It means letting people think you're straight. Although we all knew Hayes was gay, everyone should recognize that times are changing fast and give him some R-E-S-P-E-C-T. Also Will & Grace is our design director Alex's favorite show of all time. Just FYI.
Anyhow, you should read the article, and here are some closing remarks:
What more do you want me to do? Do you want me to stand on a float? And then what? It's never enough.
"That's the thing about celebrity: It sets you up to fail because the expectation is so high of what's needed, what's wanted from you that the second you don't [meet it], you disappoint people."
TAYLOR SWIFT:
The Absolutely Adorable Gay Taylor Swift Music Video From This College A Capella Group: The only situation in which we like this song — it actually makes a lot more sense and resonates more emotionally with this gay twist.
ADAM LAMBERT:
Adam Lambert does an acoustic version of "Whataya Want From Me" on Australia's morning news show, "Sunrise." And per ushe, the hosts must reassure the audience that Adam is going to be "restrained" onstage during his performance, unlike at the AMAs, our favorite moment of 2009.
Also, PopStar asks if Adam Lambert set the bar too high on American Idol, and Johnny Weir Loves Adam Lambert and wants to do a skate to For Your Entertainment. If that actually happened, I would die.
OSCAR MYSTERIES:
Did you watch/read our Oscar Live-Blog last night? Of course you did, it would've been dumb not to right. Let's clear up some big mysteries!
+ Remember when that lady went up and stole the mike from this dude? Here's the story behind Oscar's "Kanye Moment"
+ Remember how Farrah Fawcett wasn't in the Montage of Death? Why Farrah Fawcett wasn't included: No straight answers really, just a bunch of people being pissed off.
+ Did Sandra Bullock refer to Meryl Streep as "my lover"? Yeah she did.
+ Did their ratings go up even though the show was super boring? Yes indeed. My theory: twitter.
BIGELOW:
Kathryn Bigelow is not a dude: "The director's Oscar victory is a win for women — and plain old great moviemaking " (@salon)
FELICIA DAY:
"Felicia Day, star of web videos The Guild and Joss Whedon's Dr. Horrible's Sing-a-long Blog, who also played "Viwp_postsin the final season of Buffy the Vampire Slayer, will portray a werewolf-hunting descendant of Little Red Riding Hood in the new Syfy Saturday Original Movie, Red.
THE OSCARS
Remainders! Some more photos from various parties: