I get proposed to. A lot. Outside of gay clubs, by gay men. It seems to be the customary practice upon meeting other queer Filipinos here in the States. Give the gay eye, give the Filipino eye, hug and rejoice, pronounce each other's names with silly fake Filipino accents, begin to plan a wedding so that our parents will never have to know. Standard, yeah?
It is for us.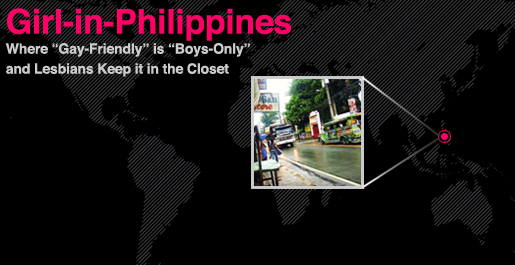 It's more than just a giant inside joke among countrymen, really. It's more like a reflection of the greater society that our parents grew up in; flamboyant and celebratory at first glance but guarded and secret for those who dare to look closer. It's a Filipino cultural thing: we can be out and proud and dancing queens (of any gender) all up in the gay clubs and in our lives away from home, but when it comes to family, a certain code of closeted conduct is expected.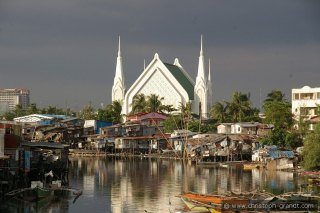 The capital city of the Philippines, Manila, is a city that lives behind gates and listens through walls. It's also a huge cultural center where tradition coexists clumsily with progress. Its palm-tree lined back alleys and boulevards give way to the towering monoliths of condominiums and office buildings which rise indiscriminately behind stately manors as often as they ominously shade rows of dilapidated huts.
The Philippines is also widely regarded as Asia's most gay-friendly country. Despite this, it's also the kind of place where, if you've got something to hide — and for women, this probably applies to most of your feelings and ideas — you'd better do so before everyone and their mom and their priest finds out about it.
Let me explain. When they say that the Philippines is a "gay-friendly" country, they mean two things:
1) Friendly to gay men, of course. What are these "lezz-be-ins" you speak of? Aren't they from Greece or something? This is the Philippines, sorry, we don't have those here.
2) "Gay-friendly" as in like, "we would like to tokenize you as our hairdressers and makeup artists because you gay guys are cute and funny, come make people laugh on our TV shows.
In fact, gay men are so prevalent in Filipino society and media that they've become universally recognized icons referred to as "the bakla" (meaning: "gay"). Although this term has a derogatory connotation (though, if we're living in a society that holds a derogatory opinion of gays, isn't even the truth meant to sound insulting?), it has very much been reclaimed by the gay male community, rendering it fairly harmless. It's kind of like what's been happening to "queer" in the US for the last 40 or so years. Redefining a word on our own terms takes away its deprecating power. They can't shout it at us in the streets if we're shouting it ourselves.
The bakla remains something of a jester or a spectacle in society, something to be tolerated, but not necessarily fully accepted or understood. Still though, because they are frequently employed, once again as makeup artists or stylists, by upper-class women, they may gain social status. The bakla are given an opportunity that gay women are not: social mobility.
For some reason, the first thing most gays, male or female, say to me when I tell them I'm Filipino is, "Oh my God, my ex is Filipino, that's so funny!" Really though, if all of you have Filipino exes, where are they?! Where the girls at?
Social mobility is a big deal because tolerance of homosexuality varies among classes. Those in the lower classes tend to have more pressure to have children as a form of financial security. Those in the upper classes are more likely to be followed and scrutinized by society as a whole. It's a lose-lose situation, but at least gay men, being men, are afforded a greater opportunity for financial independence, freeing them, to some extent, from familial expectations or obligations.
Where the girls at?
For some reason, the first thing most gays, male or female, say to me when I tell them I'm Filipino is, "Oh my God, my ex is Filipino, that's so funny!" To which I usually reply, "Oh we're totally related! How did you know?" because I am sadistic and enjoy making people feel uncomfortable using my ethnicity and sexuality. Really though, if all of you have Filipino exes, where are they?! Where the girls at?
I dunno, perhaps ask the Catholic Church.
See, the history, and subsequently the contemporary culture, of the Philippines is one largely shaped by colonization. For about 300 years the Philippines was under the crown of Spain (I'm still a little mad about this), and as we all know, the Imperial Spanish loved their Catholicism! 90% of the Philippines is Catholic, which manifests itself in some relatively innocuous ways (neon "Jesus Loves His Children" signs on the highway, the God's Love Drugstore), but also becomes prevalent and highly influential in harmful ways, such as hegemony over the government and the shaping and reinforcement of social norms.
Seemingly less dangerous than the all-American "God-Hates-Fags" route is the Filipino Catholic Church's focus on a specific type of family unit. Though the Filipino family can be a cohesive, supportive, and loving unit, the pressure to, or rather expectation that one will, create a family weighs heavily against the closet door. Here the traditional heterosexual family model is the only acceptable possibility; same-sex marriage, never mind adoption by a same-sex couple, is not within the realm of public consideration, and so for women, who are expected to have children, marriage to a man is really the only option. Sorta like pre-WWII America, where women couldn't come out because (among other things) their position in society did not allow them to seek or achieve financial independence from their husbands.
Specific gender roles, it is no surprise, are also strictly adhered to. With women in powerful careers as well as in political positions (we've even had several female presidents), the Philippines is pretty progressive when it comes to the workplace roles of women. Despite this, the prevailing sentiment is still that the primary role of women is in the home, and they are expected to maintain a certain air of "femininity" within their appearance. This is the kind of weird shit that comes up when my family is about to go to church on Sunday, and 30 seconds before we walk out the door my mom freaks out and tells me to "wear girl shoes" because I "had better look like a girl." Like what the hell does that even mean? I'm a girl, I'm wearing these shoes. Girl shoes. It's easy.



While in the Philippines last month I surprisingly did find some lesbinformants, if you will, to ask about what it's like to be in a new generation of gay ladies in the Philippines. This happened unexpectedly while I was out on my first night at a (straight) bar with my cousin and her friends. We were sitting at the bar, eating chicken wings and being legal (at 19, being underage in the US is getting a little old), when a girl walks in— you know the type—gay swagger, plaid shirt, aviators in the collar even though its 11pm, and to my internally wide-eyed surprise, she walks right over and sits next to my cousin.



NEXT:These stories finally give some light as to why my parents and I were mutually shocked by each others reaction to my coming out.

Oh my God. They are friends. Could I be so lucky? Quick, how do I convey that I'm a lesbian? Where did that rainbow stamp go? I need it for my forehead. Good thing I'm a big homo and therefore am always wearing a bandanna, which tonight is on my wrist, and now I must flail it around gratuitously while slouching in my chair and talking about that band, you know, Tegan and Sara. Or about how, yeah, totally I love the men's section of H&M. Turns out my cousin had already told her because she found out through Facebook and never told me (the Internet is magic), and I had just been babbling awkwardly, as per usual. It didn't matter though. I was out, and so was she. Welcome to the Philippines!
Lesbinformant 1: Did you hear? They're making a movie about t.a.t.u. (I CANNOT ESCAPE THEM), and Mischa Barton is going to be in it.
Me: That's so weird, Mischa Barton keeps ending up in lesbian movies. Have you seen Lost and Delirious?
Lesbinformant 2: I have! Piper Perabo's been in a ton of gay stuff too, hasn't she?
Lesbianformant 1: Wait, how do you know that?
Lesbinformant 2: Oh, uh…
Me: Hey, why don't you ask me why I know that!
Lesbianformant 1: Well I mean, I know why you know that.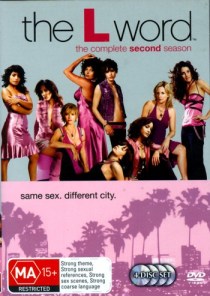 The second future lesbianformat was already at the table. Despite my suspicions of her gayness, I didn't confirm this until a lot later, when—behold, the power of the Internet!—she found my blog and came out to me. We proceeded to talk online and text at length about the universals, y'know, Tegan and Sara (again), The L Word, how DEBS is the most underrated of all lesbian films, our own experiences. Most interestingly, though, she talked about closeting, passing, and the commonality of these practices in certain social circles in the Philippines.
Lesbians everywhere have their own system of smoke signals. Those universals were more than just coincidences; that bandana doesn't mean I'm in a gang (I mean, not really, anyway). In an environment where our sexuality is forced under the radar, we learn to live in code.
Besides the usual suspects (y'know, patriarchy, heterosexism) another factor plays into the need for closeting in the Philippines: a lack of independence.
Most Filipino girls don't have the two experiences that allowed me, and probably a lot of you, to have a sneaky but successful gay adolescence: driving and dorming. In the upper-middle class and onward, it's pretty common for a family to have a driver, even for simple errands. So there's no saying you're going to some after school meeting and really have that meeting be, say, you and that girl messing around in her car in the teachers' parking lot.
There's no saying you're going to some after school meeting and really have that meeting be, say, you and that girl messing around in her car in the teachers' parking lot.
And with Manila being such a small city, most universities are close enough for commute, taking away the classic college "coming out upon release from the nest." Most girls live with their parents during these formative years, and again, because Manila is a small city and word travels fast, many feel pressure from their extended families and society in general to make sure no-one finds out about their real sexuality.
So for a lot of girls, coming out isn't really an option, at least not in the long-term.
Apparently, after graduation (either high school or college), it's pretty common for women who have already openly identified themselves as lesbians to begin trying to date men to appease the expectations of their families. This gives the impression that lesbianism is temporary and gives rise to attitudes of denial and the possibility that one's sexuality can be "fixed."
Both girls I talked to currently have girlfriends, and both girls are uncertain about their futures. For one girl, it's a matter of family; as part of a high-profile family, can she afford to be gay? For her, being a lesbian is almost like being part of a secret society. She's gay, she knows the other gays, she's dating a gay, but it's rarely talked about, just quietly known and subtly acknowledged.
For the other, it's facing the classic question: bisexual or lesbian? And although this is a pretty common part of the coming out process both in the Philippines and in America, it's not the question that's problematic, it's the mentality behind it. Does one question the validity of her sexuality because of feelings within herself, or is it because of societal influences insisting that lesbianism is a phase?
For my parents, and probably for a lot of Filipinos, this whole "alternative lifestyle" really is seen as a choice.
These stories finally give some light as to why my parents and I were mutually shocked by each other's reaction to my coming out. They were appalled that I'd even consider living the rest of my life as a lesbian; I was angry and disappointed that they simply wouldn't "believe" or "accept" that I was gay. This didn't make sense! To anyone involved! But why would they believe that I was gay if, well, women can't be gay. It also once again explains the utter uselessness of my favorite coming out interaction:
Dad: I just…think that you should try dating boys.
Me: I think that YOU should try dating boys!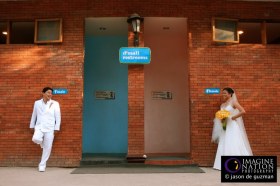 Try dating boys, as if the option had never occurred to me. Like, oh, wait, I can be STRAIGHT? Wow, I never thought of that, sorry brb becoming a heterosexual now. For my parents, and probably for a lot of Filipinos, this whole "alternative lifestyle" really is seen as a choice. And actually, yeah, in terms of coming out, it kind of is. But it's a choice to be honest and happy and just plain satisfied with our lives. So for those of us who dare to desire truth in all things, it's really not a choice at all.

I may better understand my parents' sentiments now, but that doesn't change my attitude about being out. Being willing to meet them halfway means nothing if they're not willing to budge, 'cause that just means I'm standing here halfway, alone, in my gay shoes.
Secrets, Secrets Are No Fun, Secrets Make You a Lesbian
In the Philippines, women go from living in code to living open secrets. They hide behind marriages for the same reason that most Filipinos live behind gates—we don't want anybody to break our shit.
Everyone's hiding behind a lot, like say, for instance, the State and the Church behind each other. The Philippines is notorious for being one of Asia's most corrupt countries. Ten years under a dictator who arbitrarily imposed martial law? Check. Suspiciously unfinished trials of public officials? We've got that too. A newspaper my dad picked up between the Philippines and Korea reported that our current president has a -40% rating. I don't even know what that means. I thought it stopped at zero.
So what is it, really, that's harmful? Women telling the truth and throwing off an outdated, oppressive system and taking a little power away from the established straight male hierarchy? Or a government telling lies when it can't be trusted to deliver answers to its people?
This Is the Way That We Live.
So what does all of this closeting business mean?
Is the Philippines an entire country of ex-gays living "reformed" lifestyles as realities? Maybe.
Some of us, both in the Philippines and here in the US, are trapped by circumstances that don't allow us to be out in every, or maybe any, aspect of our lives. Whether it be something as small as growing out our alternative lifestyle haircuts to appease our parents or something as elaborate and life-altering as marrying men to keep up the charade, we have to make compromises because sometimes the price of the battle is too steep. Sometimes the fight isn't worth the trouble. So does that make us cowards? No. It makes us women trapped by circumstance. It makes us women fighting quietly.
But there are stirrings inside the closet.
Word on the street is that things are getting better. Even the few pop culture-related conversations I had with the girls proved that we're all gaining access to the same ideas about who and how we'd like to be or who and how we could be. We have a lot of the same heroes and the same villains (lookin' at you, Chaiken).
There's even a growing lesbian scene in the Filipino underground. Girls holding hands. Girls dating girls. Girls acknowledging that this is happening and knowing that lesbians exist. And hopefully there's a spreading possibility that, yes, we can live like this, and that's it's okay and it's real and you're real and I'm real, and we're okay. Really.
Pages: 1 2See entire article on one page