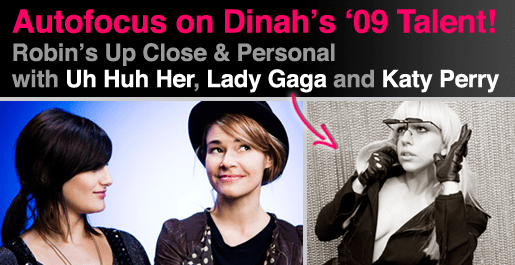 Although I didn't personally have the pleasure of spending the first week of April hanging out poolside with all the celesbians in Palm Springs, I have had the pleasure of photographing many of the artists who rocked the Dinah Shore Crowd this year and I thought I'd share some with you!
When I photographed Katy Perry it was right before the release of her CD "One of the Boys" and of her chart topper lesbionic tune, "I Kissed a Girl" (I liked it too, Katy … clearly).  Unfortunately, at the time, Katy had never really kissed a girl. In fact, her real name is Katheryn Elizabeth Hudson and she got her start as a Christian singer.  (notice any clues on her wrist?)  Although she isn't now and has never been any kind of gay, she sure does like to sing about it.
Here she is flirting it up, amidst a sea of gay imagery:
---
I met Lady Gaga at MTV before I'd heard her music.  She's one of those artists who seems like she's always in character — always ON. Gaga doesn't need coaching to enable interesting and unique imagery; point a camera at this girl and she just … well — does this:
I recently was able to see Lady Gaga perform live and was not disappointed — and clearly neither was A;ex when she caught the Lady at Dinah Shore last week. Lady GaGa and her gay boy dancers put on a fabulous show.
---
Uh Huh … Her. Well, what can I say about Leisha Hailey and Camila Gray that hasn't already been said here?  They're all you'd expect — very funny, super down-to earth — and although Leisha does find it a little bizarre when people shout "Alice!" during her shows, I've gotta say I noticed straight away that she's just as charming and adorable as Alice Piesecki herself. Camilla's so wonderful too. When asked about the L Word fans who flock to UHH shows, she expresses nothing but gratitude and appreciation.
Well, there you have it.  A photographic round-up of the artists who were at Dinah this year.  You can see more of these artists and more on my website and blog.  Feel free to send me an autostraddley message/comment too!