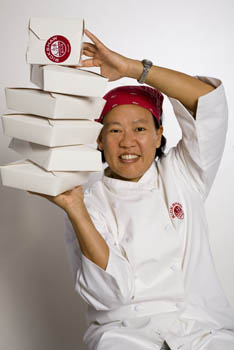 Anita Lo is a fisherwoman, a gardener, a Top Chef Master and a hunter-gatherer. She's also one of the best chefs in America and a super successful restaurateur in a city where it's ridiculously difficult to be either.
Autostraddle chatted with Anita about new dumpling flavors, her propensity toward eating fried bugs, and what it's like to be a lady in the kitchen.
NATALIE: While it's no longer a rarity to see women in the professional kitchen, it is surprisingly uncommon to find them in top positions: women hold roughly 10% of executive level chef positions across the US. According to your profile in Cityfile NY, you are "one of the most vocal advocates for women" in the industry. Can you discuss this a bit more? How do you go about being supportive of women – and minorities in general – in the culinary world?
ANITA: I currently work with Share, a wonderful organization that addresses issues related to breast and ovarian cancer and works toward empowering women and building supportive communities. I help with an annual fundraiser with the top female chefs in NY to benefit Share; this strengthened bonds and community amongst the small minority of women chefs – in service of a great organization!
There are few female chefs overall and – for one reason or another – I am seen as a person other women can speak to, a mentor of sorts. I have spoken to the media about these issues – gender disparity in the culinary world, the lack of mentors, the lack of visibility and recognition – and I think that helps, at least a bit, toward elevating and illuminating the issues.
Incidentally, I also have mainly women working with me – but I didn't plan that. Our wine list at Annisa, is a celebration – a global celebration – of women in wine. There are so many great wines out there produced by women.
NATALIE: How do you think the culinary world – and specifically life in the kitchen – stacks up to other industries w/r/t equality based on sex/race/sexuality? Do you think the culinary world in general – and the kitchen in particular – is more or less gender/women sensitive than other workplaces?
ANITA: Well, the culinary world – and particularly the kitchen – is intense. You really have to want to be there, to put the hours in (which are insane), be dedicated beyond reason. It is a career that chooses you in many senses. And, I think, these types of attributes/characteristics of the field – coupled with the fact that it is often a sexist place to work – are unattractive to many women.
We also lose a lot of women to babies; about a decade ago, many women in fine dining were lost to families. If women do stay, often they have a partner doing the household, reproductive tasks – a househusband. So no, I would not say that the culinary world is particularly gender sensitive.
NATALIE: To what extent has achieving success been more difficult because you are a woman/lesbian/Chinese-American/all of the above?
ANITA: Perhaps it was harder to get ahead because I am a woman or Chinese – but I never really felt that my sexuality was an obstacle. Out of the three, it has definitely gotten in the way the least. I have not encountered homophobia – and the fact that I am gay has not precluded me from moving up.
"Perhaps it was harder to get ahead because I am a woman or Chinese – but I never really felt that my sexuality was an obstacle."
In regards to race, I certainly was pegged as an Asian chef. It was assumed that I knew Asian flavors and cooking better than other flavors/styles. But, I don't – I am French trained!
And, being a woman – well, this is probably the most difficult obstacle. There is a lot sexism, a lot of hostility toward women. You need to be tenacious and move, move, move.
NATALIE:: What made you decide to do the show in the first place? Would you want to collaborate with your competitors?
ANITA: Well, presenting yourself to the media, getting your name out there, comes with the territory; it is part of the job. They called and asked and I immediately said yes.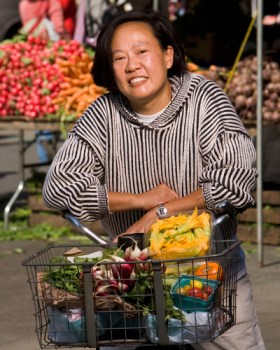 Yes, I would love to collaborate with my competitors at some point. I competed with great people. Although, you know, we are quite spread out, so not sure if that would be feasible. You never know though!
NATALIE: You beat Mario Batali in 2005 on Iron Chef. How was being on Iron Chef? Was it awesome? Did winning make you feel like a total badass?
ANITA: That was a really fun show to do. You have your team with you – which is great. I am a big Alton Brown fan – as well as a Mario fan, actually – it's exciting! It is exactly how it looks: a one-hour, intense competition. I had a great time!
NATALIE: What inspired you to join forces with Kenny Lao to create Rickshaw?
ANITA: It was timing…the timing was right: Annisa was established at this point, my sous chef had been with me for awhile – and it seemed like a great time to branch out and do something new. I love working on new concepts – and opening new restaurants. This one was a fun challenge!
NATALIE: How did you think about/design the menu?
ANITA: The menu has evolved since we first launched it. We did a pan-Asian dumpling menu – we tried to do some classics and some newer dumplings – things you wouldn't find elsewhere.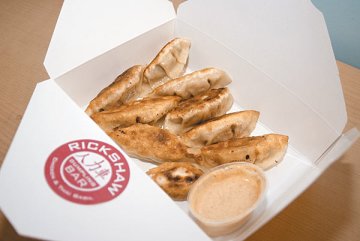 NATALIE: Will there be any new combinations for dumpling fillings coming soon?
Anita: Yes! We are hopefully about to launch a new South Asian dumpling…an Indian influenced dumpling.
.
NATALIE: Will there be more Rickshaw trucks?
ANITA: I certainly hope so! The idea of Rickshaw is to be a chain…so hopefully we will have both more trucks and more stores
NATALIE: After two years, you left your position at Mirezi to travel the world with your partner, Jennifer. You two spent the greater part of the year searching for the ultimate meal all over South East Asia and Mediterranean Europe, and planning for Annisa: Was there anything in particular – a dish, an experience – during these travels that inspired Annisa more than another?

ANITA: I think travel – in general – certainly influences my cuisine; however, I wouldn't say that Annisa sprouted from just one trip. Annisa really encompasses all my experiences. I definitely wanted to do my own restaurant and I knew I wanted it to be small and manageable so that we could really focus on the quality of the food. I also always wanted to have a contemporary American restaurant, so that I could bring forward whatever influence felt right at the time.
NATALIE: When is Annisa opening back up?
ANITA: I hope it reopens in February 2010; but you never know about these things! I wanted to open back in October of 2009. But I am optimistic that it will reopen in February.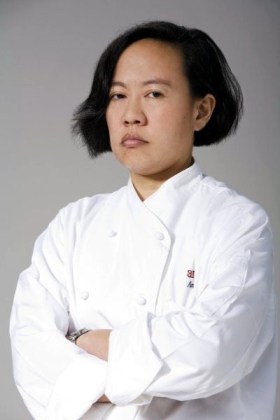 NATALIE: When it opens back up, will your old staff be there? Will your sous chef, Danny Wang, still be there?
ANITA: Almost all of my staff is coming back – both from the kitchen and the front of house. Danny will definitely be there. My staff is just great – a wonderful bunch.
NATALIE: Did you make any major changes to the restaurant? Did you view this it as a chance to redo some things, or is it more about getting the restaurant back to where it was?
ANITA: Although we are updating it a bit, the general feel will remain the same. I think people loved the dining room – and I think we will keep its core being.
NATALIE: What are some of your favorite restaurants around the city?
ANITA: I love Dell'Anima and L'Artusi; L'Artusi is right around the corner from me! And Gabe [the chef] is there – and his pasta is just great.
"I also believe that if you are going to kill an animal, you should eat the entire animal."
Jewel Bako in the east village for Sushi is great…and, Degustation, right next door to Jewel Bako is small and cosy and really good. Wesley Genovart is the chef there – and he is really innovative and talented.
NATALIE: Any place in particular for dessert?
ANITA: I love ChikaLicious! Chika Tillman is really talented. Also, Pichet Ong – just opened Spot; I think his deserts are great – and creative. The Pastry Chef at the Locanda Verde – Karen DeMasco – is also outstanding.
NATALIE: You grew up in Detroit, correct? Where specifically?
ANITA: Birmingham.
NATALIE: Any thoughts of going back?
ANITA: Oh! No.
NATALIE: I understand – I grew up in Cleveland.
NATALIE: In Food & Wine (2001), you were quoted as saying "People need to stop being afraid of food." What food(s) do you wish more people would try? Are there any foods you will not eat?

ANITA: I will try absolutely anything – unless there is a compelling reason not to (such as if I eat this, the animal will become extinct, or if its made in a non-ethical way). I have eaten everything from live octopus to deep fried bugs, I try to open my mind to this. I don't need everyone to eat bugs, but eating new foods is really important. It leads to biodiversity, which is critical for the survival of the planet. I also believe that if you are going to kill an animal, you should eat the entire animal.
At the end of the day, these things are really cultural differences.
NATALIE: What do you cook for yourself on your days off?
ANITA: All sorts of things! I try to keep it very simple and ingredient focused; out in Long Island…I cook a lot of Italian: I love to make grilled pizza. I am a big fisherman and a hunter-gatherer and I garden.
NATALIE: What's next? Cookbooks, barbeque sauce, more restaurants? All the above?
ANITA: My focus right now is Annisa…We will be reviewed, I am sure!
I've sold my cookbook to Stewart, Tabori and Chang, and we hope to release it in the fall of 2011; it is a cookbook about multiculturalism – it is my cuisine—teaching people how to put food together.
NATALIE: Anything else?
ANITA: There will be new things – I am always talking to people about new concepts!