Welcome to the second interview in a little series we call "Our Life on the IFC-Blacklist,wp_postsin which, due to our propensity to stop being polite/start getting real and in spite of our size/reach/awesomeness, we have no choice but to cast aside little chicken blockades and focus on the ladies you're really curious about — the ones who aren't in a contract with our favorite hit teevee show maker!
Today, Jess has tracked down Whitney's main bitches: Romi, Sara and the all knowing, all seeing roommate Alyssa to give a voice to the voiceless. The girls discuss what inspires them, how their families feel about their role as Whitney's on-screen (ex)sex partners, what's going on between Romi & Sara and if Whitney really is that good in bed.

First of all, thank you for "Power of the Clam." You've changed Autostraddle's life forever. You came up with that, right?
Alyssa: Yes, I coined "The Power of The Clam" on the show, although I can't totally take all the credit for it. When I was a teenager, my very first girlfriend's father used to claim that his wife harnessed "The Power of The Clam" which basically meant that she could make him do anything she wanted. I found it hilarious and adopted the phrase. It clearly had staying power.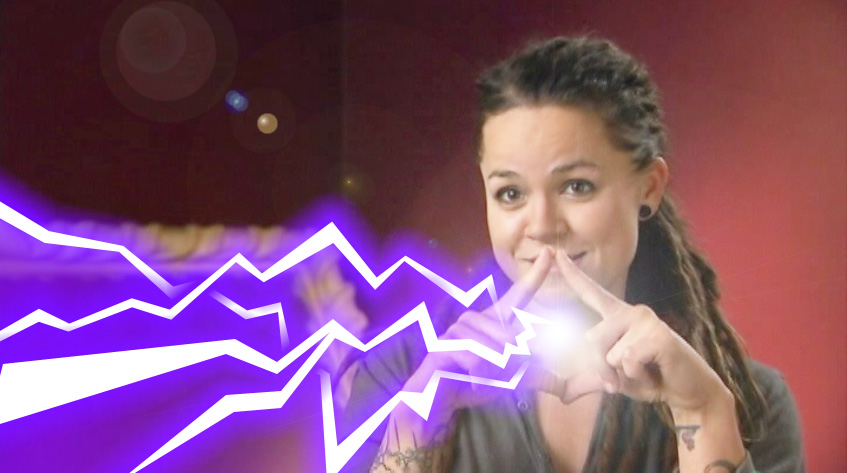 How did you react when you found out Whitney was going to be on The Real L Word?
Alyssa: The first time Whitney mentioned the show, she told me that she was going with a friend that had been asked to audition for the show, who wanted Whitney to come with her on the interview. In the back of my mind, I kind of knew she would be asked to be on the show. I totally teased her about it saying "Ha ha.. you're going to be on TV, gross!!" When they started filming, it then turned into "oh shit.. were *all* going to be on TV.. guuuh!" I don't think we really had a full grasp of what it all meant back when she told us she had actually been cast on the show… at least not until the crew was in our house setting up lights and putting microphones under our shirts.

Sara: We had been hooking up a 1.5 years ago, prior to rekindling, so I had no idea the show was happening. I was surprised when she told me and also a little unsure of the whole situation as far as interacting with cameras around, though it was also exciting at the same time.
Romi: Whitney and I first hooked up only a week or two before the show started filming. She mentioned there would be cameras around for a while and I didn't know whether I would be involved in that or not because I didn't have anything concrete going on with her quite yet.  Then, all of a sudden the cameras were there and I didn't react very well to them because we were JUST getting involved. It was very distracting to go out with my friends and have cameras showing up in my face…they were just very annoying and frustrating to be around.  Eventually I gave in and just went with it because I couldn't control the situation.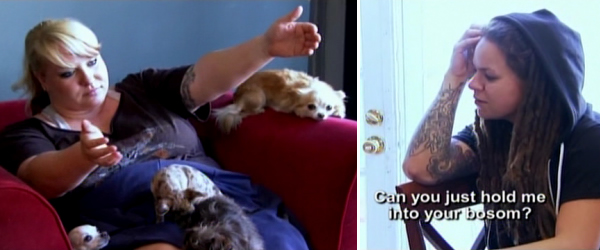 How do you feel about all that's being written about yourselves in the blogosphere, including our recaps?
Alyssa: We have read the recaps on Autostraddle. Hahaha, I was honestly a little hesitant to do this interview because of the things I've read each week. It's tough, I feel like the reviews, especially those centered around Whitney have been a little harsh, okay, a lot harsh, and she is my best friend. The sad thing about the show in my opinion is that they really only show one side of Whitney, the naughty, sometimes messy side. Whitney is actually a very intelligent, good person and great friend, aside from being a messy chick magnet. Whitney graduated Cum Laude from Pace University in New York with two Bachelor's degrees, one in Political Science and the other in Women's Studies. That being said, I'm not saying it gives her a free pass to be a player, but I just think they leave out the parts of her that make her multi-dimensional and it kind of dumbs her down in my opinion. Maybe intelligence isn't as entertaining??  I think when it comes to being single, we have all dated more than one person at the same time, sort of like interviewing people for the position of "can I actually date you exclusively."

Romi: It's a reality show so honestly we're just left there to see what they've [producers/editors] created out of all they filmed. That's not to say what you're seeing didn't happen but it is most definitely a "show." So, to see people on the internet get so involved in what you've done and REALLY VOICE their opinion is at times funny but also hurtful at times. I mean, I love Autostraddle. The recaps are witty and really funny but at the same time they also hurt. Luckily we're all such good friends so we're able to laugh more easily about it.
Sara: I have mixed feelings. I take everything that's written with a grain of salt because I know people don't understand the full extent of was happening with Whitney and I. Girls like Romi and I can either choose to believe what people are saying, or choose to read it and just move on.
What's the craziest thing you've seen Whitney do (aside from having sex on camera in reality TV show)?
Alyssa: I think the craziest thing I have seen Whitney do was get on a plane and fly to Thailand alone, to a remote location in the jungle with only printed internet directions that led her from the airport to a village in the middle of the rainforest without ever having spoken to anyone about it in person. She went there to help construct natural buildings and establish permaculture in an eco village. It was just her and two other people living out in the rainforest, sleeping on a pile of her own laundry in grass huts.
What's one thing that we should all know about you that wasn't shown on The Real L Word?
Sara: Since we're on the sidelines and not compensated for doing the show I'd like to use whatever notoriety we have to say that I am a hair dresser/make-up artist/stylist and I'm also pursuing an acting career. I said that in interviews on the show but they obviously never aired that information. I hope if I can get anything out of this experience it would be nice to mention my career which I am building a-new in Los Angeles after moving from San Francisco last Spring. I'd like to mention I'm currently working at Blo Salon in West Hollywood!
Romi: It would've been nice for them to show more of me than just being a crazy lesbian stalker! [laughing] Though there was that one episode where they showed me at work at the salon with Mikey's aunt, so I was really happy about that… Sara and I actually created a business together called KlingerCourt and we're doing freelance styling jobs together as a team. We do hair and makeup for photoshoots, etc. Our future plans are to create jewelry, clothing and makeup lines. Fans of the show have been asking us things like: "where did you get that earring you wear?" or "what kind of hat does Sara wear?" People will be able to buy all our stuff online soon so keep an eye out for KlingerCourt.
Do you have any regrets throughout this whole process?

Romi: I have HUGE regrets. I regret the strap-on episode and I regret that day entirely. Unfortunately, when Whitney and I signed the release forms 3 months prior I didn't know what was going to happen down the line.
Sara: I didn't know the shower scene with Whitney was being filmed because we were behind a shower curtain and they snuck up behind us so there was nothing I could do about it. It's very shocking to see yourself like that and I was pissed initially, but then I guess I got over it. It just doesn't matter.

Do your parents watch the show?
Sara: My parents have no idea about the show but my sister watches it. We're really trying to keep it from my parents. I had to delete all of my family friends in the Portuguese community from my Facebook to keep them from talking about it online.
Romi: Well, the whole gay thing is very open in my family because my mom was with a woman for 15 years and my aunt is a lesbian. So, my whole family has seen the show… my mom TIVO's the show, so that's fun! [laughing] She's supportive and she loves me so I hope I haven't disappointed her… that is my biggest concern. Although my family is very open-minded, I really hope my uncles and cousins don't look at me differently after seeing the show. Because my mom was with a woman for so long she finds it interesting to see how they are portraying the relationships and her only comment is that there's a lot of sex. She would've liked to see the "characters" with more depth. She's not the biggest fan of the show.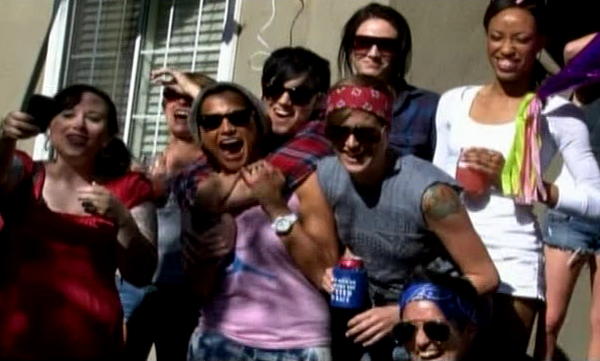 Did your family see the creamed corn wrestling episode?
Romi: My mom knows there was a strap-on sex scene that was filmed and I asked my family to please not watch the episode. She respected that and has been supportive. [See Romi's exclusive statement on this episode]

What political issues are most important to you?
Alyssa: I don't want to sound cliché because I am gay, but overturning Prop 8 is very important to me. This not only directly affects me, and my ability to marry the woman I have been with for the last six years [Shay], it is also a genuine contradiction to what America is supposed to stand for in regards to civil rights. It is also a blatant overlap of church and state that has created an entire population of second class citizens.

Romi: I grew up in a family with two women as parents and I saw what happened to my family as a result of not having a lot of rights.  It's important to me that I be protected under the law with gay rights. I do promotional parties for lesbians with my company PYT and we did a huge fundraiser on Pride for the Harvey Milk Foundation.
Sara: Definitely gay marriage. It really bothers me that straight couples can go to Vegas and get married on a whim and have it annulled the next day but gay couples who have been together for 15 years can't share that marriage and have civil rights.

Tell me about a book that changed your life.
Alyssa: As for books I'll admit, before we all moved to LA I lived in New York City for ten years and I read sooo much more while living there, going to and from work each day on the subways, than I have living (and driving) in LA. At the moment, I don't think that I can honestly claim that I have read a book that has actually "changed my life." Right now I am reading Slapstick or Lonesome No More by Kurt Vonnegut, I'm almost finished with it and have loved every moment.

Sara: I have two. One of them has to be The Secret which I read all the time if I'm feeling sad or not motivated. It changed my life and the way I think about things so I really love that book and think everyone should read it. The other book is by Julia Butterfly and has to do with forests. It really inspired me because I'm such an environmentalist and those issues are really important to me. It's such a beautiful book – I laughed and I cried… just to see what one person can do on their own because of their passion for something.
Romi: I've always been into reading a lot of biographies to learn about different people's lives. Like, I've read a bunch of books on Bob Dylan, for example.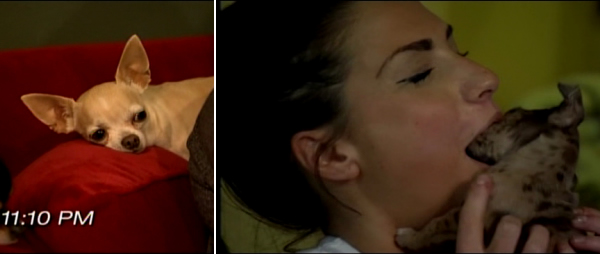 Please reaffirm for us that all the dogs are  OK.
Alyssa: Hahahaha! The doggies are definitely all okay. Noodle (the scrappy brown one), Jake (the chubby puggle) and Meechu (the fluffy blonde chihuahua) belong to me and Shay. Judy (the fluffy black chihuahua) and Kiwi (the short hair cream chihuahua) belong to Whitney. It's like a glorified petting zoo, but our house never smells like dog because I bathe them like human children. They're pretty much the most spoiled babies in the neighborhood.
Did you know each other before the show?
Sara: No, we met each other through the process of filming of the show and really hit it off because we're so similar… we have the same style and have so much in common career-wise and everything.
Have you ever dated?
Romi & Sara: [awkward silence/laughing] ….No….
Are you sure?
Romi: Sara's very sexy and I love the way she looks! [laughing] We just fell in love with each other as friends and had so much to talk about when we first met because we were in the same position with the whole Real L Word filming process through our connections to Whitney. Even if we met without the common Whitney factor we would've loved each other right away.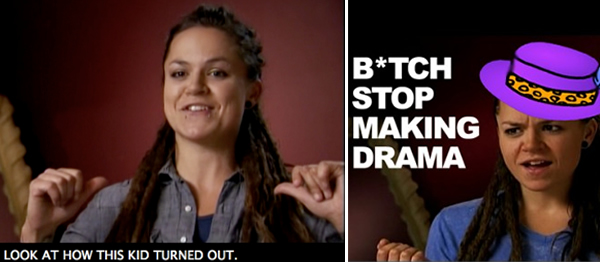 Let's be real, is Whitney really that good in bed that all these women are falling at her feet?
Alyssa: HA! I don't kiss and tell! At the same time I'd hate to say "you'll have to try it and see for yourself" so I will say that she is ahem… a talented individual. Also, its not always about what happens in bed that draws people in. Sometimes it's a lot more complicated than just the sex. Sex usually seals the deal and is ultimately what sends bitches off the deep end of the cuckoo train, that is why I always try to tell Whitney to take things a lot slower. I mean c'mon… there's always room for Jello, right? Why rush?

Sara: I actually wouldn't say it has anything to do with being in bed. They've left out so much with regard to Whitney's real life, beyond her "player" image. She is such an incredible person with a lot of depth and they don't show that at all. She is a huge humanitarian with a very big heart and the show makes her seem like all she cares about is looking for girls. It sucks for her because I think she wishes that wasn't the only light in which she's shown.
Romi: I don't really think of Whitney as the type to jump in bed with everyone… she's very cautious. She knows herself and is very confident and there's a charm to that, so people kind of fall in love with her. I mean, that's why she was cast on the show to begin with. Other than being sexual she's an amazing human being who knows herself and holds her head up high, and that's very attractive…
---
+
Sara & Romi – makeup artists with art/music/beauty – check 'em out
Alyssa Morgan – makeup artist for fashion, film, tv