Welcome to the first interview in a little series we call "Our Life on the IFC-Blacklist," in which, due to our propensity to stop being polite/start getting real and in spite of our size/reach/awesomeness, we [have no choice but to] cast aside little chicken blockades and focus on the ladies you're really curious about — the ones without contracts!
Today, Jess talks to Tracy Ryerson's hilarious girlfriend (and frankly our favorite Real L Word star) Stamie Karakasidis!
Like all superheroes, Stamie has a dual identity: she lives the life of a real estate agent and mom of three kiddies by day, and transforms into a stand-up comedian by night.  Unfortunately, Stamie & Tracy are frequently sidelined on The Real L Word in favor of sex, drugs and rock 'n roll, so I figured this is obvs the best place for some quality time with the dynamic duo. Stamie and I chatted about adjusting to reality fame with Tracy, coming out to her Greek parents, The Kids Are All Right,  the cast's real opinion of TRLW and our very own recaps.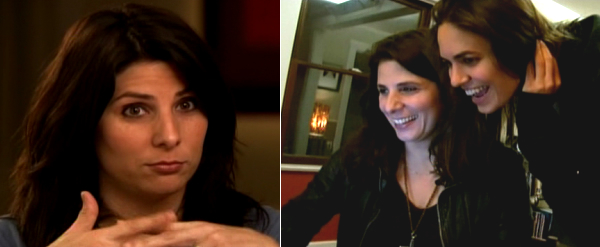 Jess: What was your first reaction to the glowing vadge poster?
Stamie: I was like, that looks hot! I was a big fan of the glowing vagina. And then I took her home to check. You heard it here first… it glows!! I went to the first photo shoot the girls all did together and literally the first thing they threw on her was a gold bikini, so we weren't really surprised by the results. The cast was pleasantly surprised by the poster, except for Whitney and Mikey who were not very happy about the tattoo photoshopping.

Jess: How do you feel about our epic novels, aka Riese's Real L Word recaps?
Stamie: Tracy and I literally laugh out loud reading the Autostraddle recaps. To us, it's clearly the funniest site. I read the blogs covering the show for entertainment purposes and you guys serve that up on a platter. The "Is It Sex" flowchart was amazing. Even the Julie VS. Stamie thing you did. I like that Autostraddle makes observations about the show and calls it what it is, but isn't malicious. And I gotta tell you, my real estate business partner really did ask that question about "what is lesbian sex?" That wasn't planned by a producer or anything. Cause it's a straight guy question! If straight guys have the attention of a lesbian or two – that's the first thing they wanna know, and you're like, really? That's the only question you have right now? And they're like, "yea."
+
Jess: Tracy declined the offer to do the show several times before finally agreeing – largely due to your encouragement. Why did you want her to do the show?
Stamie: I think a lot of people live in their safe zone and in my experience, if you're given a chance – take it. It doesn't matter what it is – you have nothing to lose. There's that saying, "luck is when preparation meets opportunity."  I've always felt this way. You know, I met my very first girlfriend because she was on a soap opera and I went to a fan club luncheon in New York City and that's where I met her. She became my girlfriend and I wound up moving out to LA with her. You just never know what opportunity can come from taking a chance. Not a reckless chance, but you know…  So when Tracy was like "I don't know if I should do the show, I'm not really reality TV material" – cause she's…NORMAL… [laughing]
In my mind I'm like – you don't even know part of what God has given you in terms of quality, and it's not just looks… so maybe now is the time to utilize that. She was working very long hours in a very tough Hollywood career and I'm in a freelance profession which is tough, but I still get my time. And I was like, you have nothing to lose… you have so much ahead of you that you don't have any idea. Sometimes it takes someone else to come and give you a little kick in the ass. At the time she was leaving Warner Brothers she was 29 going on 30 and that was a really big year for me in terms of not just doing stand-up and waiting on tables, so I thought it was a great time for her to branch out into other areas of life. And you know what, God gave her a gift – she's beautiful. She was in marching band growing up in high school so she still thinks she's in the marching band. I just have to remind her now that she's become a cheerleader.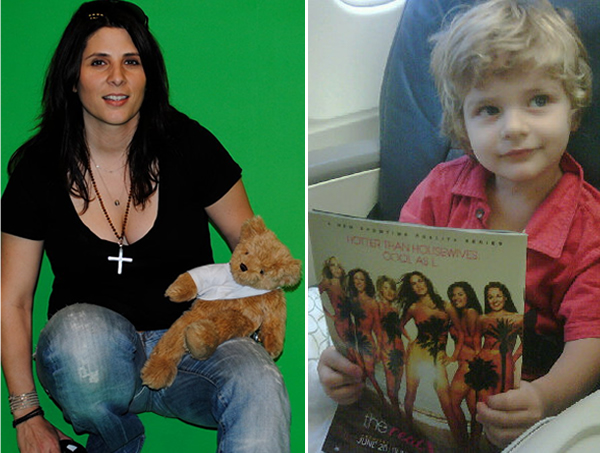 Jess: How do you reconcile putting your kids on camera in a TV show with this much sex and nudity?
Stamie: Initially we thought the kids wouldn't be in the show at all but then my ex agreed to having them on. As far as the kids being on a show with sexual content, what's the big fucking deal? It's not like they're watching it with me! The most amazing part is that the kids adjusted to the cameras easier than we did. I didn't even know they noticed they were there until they pretended to put microphones on each other after the cameras left. Honestly, the kids haven't really even been in it much… only the first three episodes where they wanted to present Tracy as being a "deer in headlights" which isn't even true. Tracy is awesome with the kids and is far more patient than I am!
Looking back on it, I'm a "glass is half full" kinda person and I think I did the show just to expose that gay people can have kids and they can be pretty damn awesome. I didn't see it as exploiting the kids in any way. My kids are very loving and beautiful and I adore them and so does Julie (my ex)… and if people can see a gay couple with children rather than just hearing about it… We're people too…we raise 'em just like you…get over it! I also wanted to shed some light on Williams Syndrome and what it's like to have kids as a single mother in a new relationship. I mean, that's something that a LOT of people go through – just look at the divorce rate.
[Tracy walks in the room, although a mysterious force prevents her from speaking to us]
I told Jess your vagina glows. That's the only thing that's real about the show.
Jess: When did you come out?
Stamie: My coming out process was hard. I thought I'd never come out to my parents…. am I being funny at all?
Jess: This is the serious part of the interview. We'll talk more about Tracy's vadge in a minute.
Stamie: I come from a Greek household and I never thought I'd be able to tell my parents about it when I had my first girlfriend (the soap star) at 21. In my mid-20s my parents would ask if I was dating anyone and I'd make up boyfriends and eventually I just stopped answering that question. You know, I had plenty of signs for my parents to know I was gay growing up – I played sports, I played with cars, the whole thing. I went home to Philly for Christmas when Julie and I first got together and I came right back to LA for New Year's and my mom was like "why are you going back so soon, do you have a boyfriend?" No. "Do you have a girlfriend?" and I'm like, uh huh… So that's when I told my mom, when I was 33.
I was scared to tell my dad when Jagger was born because now it just wasn't that I was gay, it was that I have a kid and a very serious girlfriend. We were always scared of my dad growing up because he's a hot Greek-head. But, I did finally tell him when Jagger was born and he was just like, "Oh, I have a grandson you never told me about?" … so he actually turned out to be amazing. But, I'm not sure it would've been the same had I came out to them in my 20s because by the time I was in my 30s I had my career and security with my life together already. My parents have met Tracy and they are cool about it, but it's not like they want all their friends to know.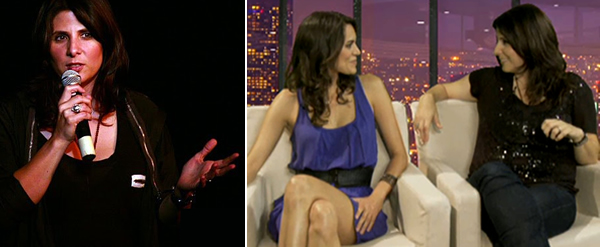 Jess: Do your parents know about The Real L Word?
Stamie: Well, you should know that my parents only watch Greek TV. So the conversation went something like this: Hey mom! I'm doing a reality show with Tracy! "What!?" What's the matter, are you ashamed of me? "No, of course not!" Okay, well then I'm doing the show.
Jess: But do they know it's a lesbian show?
Stamie: Um, my mom knows I'm on a reality show with Tracy but she doesn't know it's about 6 gay chicks. Ignorance is bliss, that's all I have to say. I figure as long as they don't watch American TV or get cable, they'll never see it.
Jess: Were you always out on stage?
Stamie: Noooo. I think that was part of the reason I took a break from comedy when we started having kids. I had gotten into real estate and I wasn't out on stage and it just didn't make sense to be a stand-up comic not talking about everything in my life. I've only been out on stage for a few years, after the kids were born.
Jess: What did you think of The Kids Are All Right?
Stamie: I loved The Kids Are All Right. There are so many nuances between two women that a gay couple would get. I didn't necessarily love that she banged a guy, but shit happens. Look, it's a mainstream gay storyline so I try to appreciate it for that. It happens, people cheat. Sometimes it's with men, sometimes it's with women. I'm just glad that there's a really cool story that represents a couple that has grown kids of gay women, played by amazing actresses. You know, my kids are gonna get older one day and wanna know who the donor is. You really know what you're in for when you see that movie. To be honest the whole story was a little too close to home for me… My son Nikos is already talking about "daddy" and sometimes he'll pick up the phone and be like, "my daddy is on the phone, do you wanna talk to him?" And I'm like, hmm, really!? I'd love to see who this daddy is and how he found you…thanks Nikos!
Jess: What do you say when they ask about daddy?
Stamie: We role play and Tracy puts on a suit. [laughing] I really try to take their feelings into consideration and I know it's a period he's going through and I say, "Nikos, some people have mommies and daddies but you have two mommies… other people have two daddies, some have one mommy…" Cause they're confused, they don't know!  I mean, my kids have four moms… they don't know what the hell's going on. Like, my son can identify a tampon, that's not right!  [laughing]
+
Jess: How is your relationship with Tracy's family these days? Was Tracy's sister Aimee uncomfortable that night because there were cameras around or because you guys were just being affectionate?
Stamie: I'm not BFFs with her family yet but we do hang out… we're a work in progress. I think she was upset that night for a few various reasons. One, because there were cameras around and she couldn't watch the Oscars with volume and two, because she was sick of the subject with her mom and it was brought up, so that upset her. She's not homophobic, it had nothing to do with that. We recently realized that we're both Virgos so we both have strong personalities. I'm also still waiting for her mom to accept my friend request on Facebook.
Jess: Does the cast like the show, overall?
Stamie: Well, I would say that we all have a love/hate relationship with the show. We love it for what it's doing for our community, but are unhappy at times because most of our stories are one-dimensional. Each cast member actually has a lot of "story" going on but the producers decided to make it all about "the wedding" or "fashion week." Fashion week. Fashion week. Fashion week. I think Whitney's happy with her story! [laughing] Rose "don't give a fuck." [laughing] Tracy has some Jersey edge that the producers are choosing not to show. She definitely showed some flavor during filming that they don't really put in there.
Jess: What do you wish the producers had shown more of?
Stamie: We really wished they had covered more of Williams Syndrome and the gay marriage issue with Prop 8. All they show is Nikki & Jill planning a wedding nonstop but they don't define what it is. The show is such a huge platform, I wish they could've used it to educate people a little more, but unfortunately education doesn't sell. We also had a sex scene that they cut out cause I was the bottom and they thought it looked weird. [laughing] They're like, that's great, but it's not believable.
Jess: What characters were you guys into on The L Word?
Stamie: I think we liked the same girls, which is weird! I liked Helena and Carmen. [Tracy yells ME TOO!] Tracy is definitely Helena-meets-Dana. We hang out with Nikki and Jill and they kinda have a Bette and Tina vibe, cause they're like mama bears.
Jess: Do you have any advice for new cast members if the show gets another season in New York?
Stamie: Just stay real to who you are… and use a strap-on so you get more air time… and never, ever take your sunglasses off.
Jess: What are your plans for after the show ends, now that you have a following?
Stamie: We would do another season if it got picked up and Tracy's gonna break into TV hosting, commercials and modeling… and I'm gonna continue to be her fluffer. It's a tough job but someone's gotta do it.  I'm hoping to get booked at more comedy shows… I want to travel and do stand-up in different cities in addition to my real estate career… Maybe become a speaker and talk to people. I'd love a career like Joy Behar's or a reality show like My Life on the D-List meets Jon and Kate Plus 8. We could get all the ex-girlfriends and donors to be in the show. Tracy's gonna have twins. In the first episode you'll find me hanging in the backyard.
Jess: How are you & Tracy handling the degree of reality fame you now have?

Stamie: It's a bit much to handle, I have to say… We're just being pulled in so many directions right now, but we try to find time for ourselves and just connect one-on-one.  But, we're so preoccupied with things that when we're with each other our minds are going to a thousand different places. A lot of girls have been reaching out on Facebook and on Twitter…  Tracy's getting a lot of emails about "how should I come out to my parents?" and I have a lot of girls coming to my comedy shows now, and some of them aren't out. So, I guess a lot of fans are reaching out to the older girls for advice and you kinda want to stay in touch with them cause they're opening up a part of their lives and you want to help them out. But keeping up with all that stuff is very time consuming I'd have to say.
We've been getting recognized a lot in these last two weeks.. and by different people… not by people you'd think. Like, we were recognized by four nurses in Beverly Hills the other day and we're like "really? You watch the show?" and just today we were driving with the twins and some mid 40s housewife rolls down her window and yells to Tracy: "I loved the TMZ shot! Your bikini body looks great! We love the show!" So, you kind of get a kick out of it.. and then you realize, shit, I should've dressed up. Cause we're just running errands but people notice us and put it on the internet. Like, someone twittered the other day "just waited on the Real L Word girls, Tracy & Stamie" and we're like, what? At the Chipotle? Um, OK. [laughing] I really don't know how long after the show has to end before we realize oh yea, we were on a TV show once. Cause, it's surreal.
Follow @StamieLA & @TracyRyerson on Twitter