---
+
Part Eight: Nikki & Jill Use Laptop Computers, Wear Sweaters
Someone Has Really Good Battery Life
Jill & Nikki have a routine in the morning that involves making coffee and sitting at the table on their laptops, looking at wedding dresses.  L.A. lesbians — they're just like any ol' suburban Detroit engaged couple, and therefore just like straight people and therefore just like everyone!
However, they're not like ALL people 'cause, as Nikki puts it, "our marriage is not legalized by the state of California," but that's not gonna stop her from dropping a pretty penny on it.
Regardless, it's nice to hear this issue raised and addressed so squarely! I hope they have more of this next episode.
Jill: I think [not being able to get legally married] is a tremendous injustice. Not being able to get married by law, it makes me incensed. But I'm sure as hell gonna call it a marriage so that's what it is to me.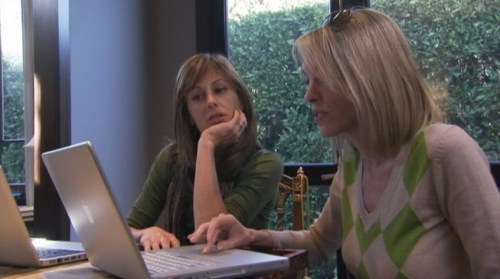 They're Probs Reading Rachel's Prop 8 Trial Recap
Nikki doesn't wanna wear a dress because that's too matchy. I fully support this. I think it looks cuter if one person is in pants and one in a dress. You can totally yell at me, or you can look at how cute Ellen & Portia were, and then ask yourself, "Is this what I want in my life? Do I want to be Ellen & Portia, or do I want to be me and my "best friend" at prom '96?" Right. Suck it. It's just aesthetically pleasing.
Jill: You need to feel comfortable.
Nikki: And that's why I'm looking up Dolce & Gababna and Gucci white suits —*
Jill: I just want you to keep an open mind.
Nikki: Look baby love — that's sexy!
Jill: But is that wedding sexy?
Nikki: I'll make it wedding-sexy! — I don't wanna be like, we're both in white dresses, and we're like twins walking down the aisle. I'd like to complement one another.
Jill: If a suit is what you love then —
Nikki: I'm very self-conscious, I don't wanna look like I have cleavage, like I have an ass on my chest!
*This wouldn't make me feel comfortable because then I'd have overdrafted my bank account & maxed out my credit cards. That's okay, right now Alex is making pictures of Clay Aiken acting out The Power of the Clam, Sarah is screencapping Jenny's boobs, and Laneia just said, while searching for something in gmail she needs to find, "How could I have never have typed 'Sarah' and 'boobs' into an email with an attachment EVER?" — so if I'm going to be hungry and have a bad credit score, I can't imagine a better way to do it.
---
+
Part Nine: In Which The Real L Word is really good for about eight minutes straight.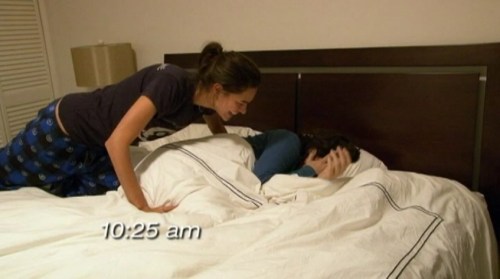 Wake Up Filming Starts Today!
Tracy's life is complicated now 'cause she's in a relationship with Stamie, who has three kids and an ex-girlfriend, Julie, with whom Stamie shares joint custody.  Tracy says the relationship is "complicated" and I agree. So much so that I'd like to ask CAN Y'ALL JUST HAVE A SHOW? JUST HAVE YOUR OWN FUCKING SHOW? I LOVE YOU ALL, I WANT TO KNOW EVERYTHING ABOUT YOU. Actually, I wish everyone was a character in a scripted show. Why reality TV? Why does this exist? Writers write really interesting stories! Also, Stamie & Tracy have a cute dog.
Essentially, Tracy is in a relationship with everyone I like in this show: Stamie, the dog, as well as Stamie & Julie's three children: Jagger, Daughtry and Nikos.  So jealous on so many levels.
Julie comes by to drop off the kids and have awesome convos with Stamie.

Lesbian Squabble #3: I Just Want Someone to Yell TINNAAAAAAAAAAA
In the Ring: Stamie vs. Julie
How it Goes Down: Julie suggests that Stamie leaves her coffee cup in the car, like Stamie leaves all her crap in the car. Stamie counters that she'll just drive the car to Julie's and leave it in her drivewa,y like Stamie always does, and  leave it "trashy" like Stamie always does.
Who Wins? Stamie hands down! For, "I'm going to leave my book in there. In the trunk. Is that okay? Is there enough space in there?"
So far, Stamie is my favorite character.
Stamie on Joint Custody: You break up with someone, and you're like, "Have a good life. Talk to you in a few years," you know? But when you break up with kids, you're like "Hey let's talk tomorrow, and the next day, and the next day," because you have children together.

"Those kids have an abacus?" – Carly
I wonder how Stamie & Julie worked out joint custody. Is it a legal arrangement? So many interesting questions with fascinating answers, but instead 95% of the episode is spent at Truck Stop. Anyhoo. Let's get back to Julie and Stamie outside negotiating something involving cars & little people.
Julie: Who's high heels were those?
Stamie: Those are my high heels.
Julie: They were not.
Stamie: I wear high heels. I learned how to walk. I took a grace class and an etiquette class. Look —
Julie: They're a little scuffed up.
Stamie: They're gonna be polished, that's why they're in the car, jackass.
Laneia:"They would fuck in a second."
Everyone: "Yep."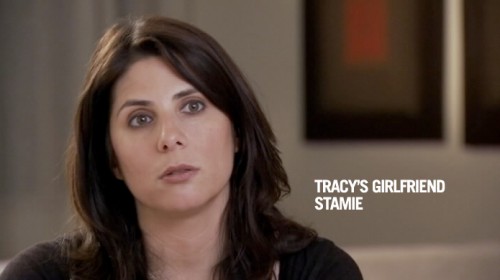 Quote of the Week Award Goes to Stamie:
Stamie: It's fine, it's fine. What am I gonna do, sit in my house and cry that my relationship didn't work out, and I have to raise three kids? Bullshit! My life is too short and my boobs are too big to lock 'em up in the valley.
Love.
---
P+
Part Ten: You Can't Smize Under Those Sunglasses, Can You Mikey
Mikey explains what fashion week is. Her goal is to create the best LA Fashion Week that they've ever seen. She hates all the models, because they come from a foreign planet where agencies send models on go-sees without comp cards or books. Seriously. Where is Kelly Cutrone?
Carly: You have to see my Mikey impression. It's amazing.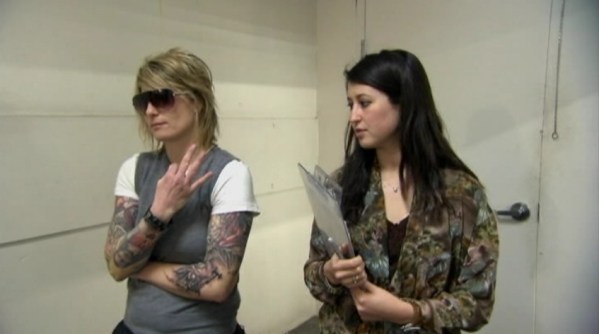 This is How You Make a Girl Cum the First Time You Have Sex
Mikey yells at someone about something. I yell at the TV about how this is clearly staged because no model would get an agent, let alone be called in for LA FASHION WEEK, without a fucking COMP CARD. No one, however, is as upset as Tyra.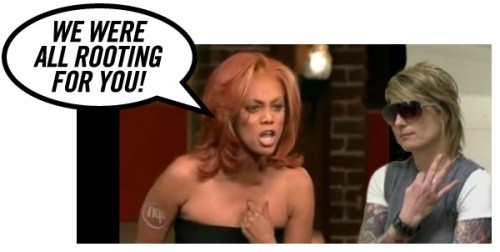 Mikiva the Diva
Mikey says this is going to be a "disaster" because there are only three weeks 'til fashion week, and they just spent the day playing out a staged scenario regarding a fake modeling agency and fake models for Ilene Chaiken's dog-and-pony-show. Luckily, there are like, 5 billion models vying for spots at LA Fashion Week/any jobs at all, so don't worry! I know you were worried but I'm telling you: don't worry.
Sara M.: I have a ton of styling comments, you guys. Mikey can't dress herself, that's the primary takeaway.
Carly: Mikey looks like she's crying under her really giant sunglasses.
NEWS FLASH
[UPDATED Thursday June 24th 3pm – we'd previously reported that there is no "LA Fashion Week" — it stopped in '08 — but apparently there is, sorta,  and — well — read on]

Guess what y'all? We decided to do a little research 'cause for realz this does not make sense that any major Fashion Week (the ones ppl pay attention to are in New York City, Paris and I believe Milan?) would actually be hard up for models. Basically there was a sort of lose consortium of fashion weeky events starting in the 90's in LA coordinated by journalists, designers and marketers. This eventually became Mercedes-Benz Fashion Week, which ended in 2008,  'cause apparently the clothes sucked, not enough celebrities came, and nobody had money anymore.
But still, in March and October, producers like GenArt and Simply Stylist hold fashion events and it's referred to as LA Fashion Week, or Fashion Week LA, but it's not at all like the industry-standard weeks held in Paris, London & New York City.
One of these things that happens, for example, is a little something called LA Fashion WeekEND.
Guess who invented it?
Mikey Koffman.
Guess when she invented it?
2010.
Uh huh.
Her.
Guess what would have been interesting, at least mildly? The story of Mikey inventing LA Fashion Weekend and why she decided to do it and what aspects she hopes to bring from the NYC fashion weeks, etc. But instead, we have this stupid show.
---
+
Part Eleven: Whitney Explains Pumps & Pants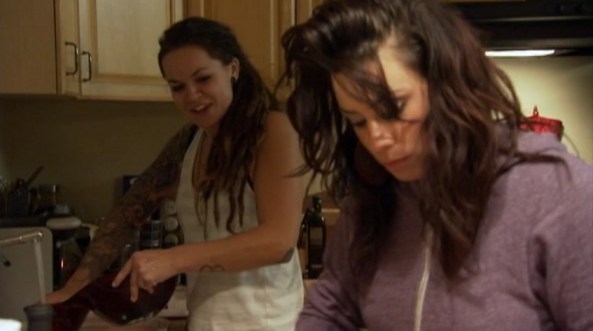 Cooking the Books Without Emily Gould
Whitney, like many of us (seriously THIS IS THE WAY THAT WE LIVE), lives with like 2-6 roommates, one of whom is an ex-girlfriend, and one of whom is a guy, or maybe a dog, or a friend, or a kitchen sink, or someone from Sara's band or something. Of course Sara has a band.
And of course Whitney has some lingo:
Whitney: "There's pumps, and there's pants. Myself and Taylor: pants. Sara: pumps. Pumps are the feminine girls, touch up the makeup before they go out, wear high heels even though you know that shit hurts. Pants? Know how to swing a hammer. They're usually the ones in control."
I think I must be a pumps, 'cause right now the other lesbians are making dinner, and I am in here writing the recap. But I don't wear pumps. Maybe that just makes me the idiot.
Here's basically how it works:
Julia: "Wait, pants and pumps? That's what we're calling them these days?"
Everyone: "GROAAAAAAAAAAAAAN."
Riese: "This is like bush confidence redux."
---
+
Part Twelve: Rose's Casa es Su Casa, Unless You're Rose's Mom
Aw, now it's time to meet Rose's cute family when Rose goes to her grandmother's house to talk about ladies. Rose's grandmother gets a little bit of that breast-to-mouth action straight away.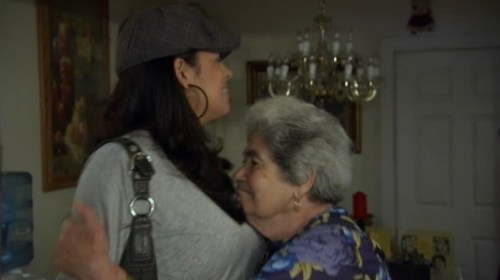 Really Though Can You Blame Her
Carly: This whole family is really touchy-feely.
Sarah M: Her aunt looks like Frida Kahlo.
Rose says there's a huge "family feud" happening. Not the kind of Family Fued where you get to guess Things You Buy at the Beach while a washed up gameshow host faux-emotes nonsense at you, but the kind where Rose can't come over when her Mom is around.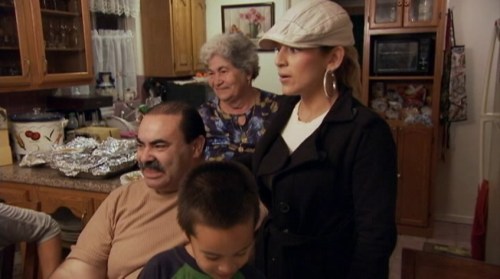 A Good Female is Hard to Find
Uncle Ray: "Once you have a good female, how you cater toward her is different. You cater to her. You don't fuck around with your friends, you know what I'm saying… the thing I like about Natalie, she's very family oriented."
Rose drops that she has a restraining order against her ex-girlfriend, Angel, which I have 500 questions about. Instead let's talk about Natalie and how Rose's whole family wants them to be together. Natalie confirms this.
Uncle Ray has a lot of sage old advice, he's like The Oracle of The Real L Word. I hope next week he tells Mikey to stick her head in a vacuum cleaner.
Uncle Ray: You're in this world here for a little time. Make the best of it.
Natalie: Make a baby!
Rose: What?
While Rose probably debates which window in the house is best to jump out of, Natalie says she'd want their sperm donor to have "nice hair, good skin, not very many health issues and family history." Proactiv is expensive so I'm glad she's paying attention to skin quality, v.important in a child. I want my baby daddy to be just like Tila Tequila's — the army man hip-hop artist etc. etc. Uncle Ray asks if she wants to be Octomom, which is the best idea I've heard since Octomom.
It's Just Like My Relationship With Rufus the Bear
Uncle Ray seems to have a serious relationship with this white stuffed bear I won at the Ohio State Fair in the '90s, which is probs how he understands Rose's homogayness.
---
+
Part Thirteen: But Mikey is Hungry NOW
BAKE ME A PIE WOMAN
Mikey is starving to death and cannot shove some Doritos down her piehole until Raquel comes home and prepares something best served on Pearl's River Mart dishes on a bamboo placemat. Mikey thinks her skills are best employed by watching her girlfriend chop food.
Laneia: "If someone came in and said, 'Where's dinner,' I would walk the fuck out."
Riese: "I'd just make dinner."
---
+
Part Fourteen: Lesbians on Fiar
Whitney and her friends are having a fake conversation in the backyard bonfire about how Whitney has the power of the clam.
The Best part About This Scene is the Dog, and the Not-Skinny-Girl Visibility For a Change
The Power of the Clam is a magical power actually that Whitney has – that's how she seduces ladies. I just want to make a really special announcement: PEOPLE DON'T ACTUALLY TALK LIKE THIS unless it's with irony. All these "catchphrases"? Yeah, we use 'em now, AS JOKES. Thanks, Ilene.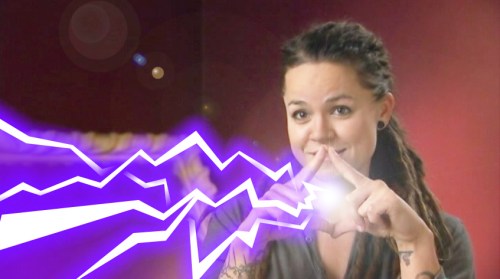 Star Wars 69: The Power of the Clam
Riese: "Nipple confidence REDUX."
Everyone: "GROANNNNN SHRIEK GAGGGG"
Hark! What's that? Whitney's roommate/friend/ex/hookup/earthmother/whatever announces that she has something profound to say to Whitney about her womanizing ways (false alarm: not profound):
Whitney's Friend: "You date girls that are looking for relationships, you don't date girls that are looking for a good time."
Whitney: "What lesbian is looking for a good time? Tell me where she is."
Whitney's Friend: "You."
This is probs very exciting to Whitney because you imagine that there is almost no one she'd want to make out with more than herself, like Megan Fox.
The Real Lesbian Dolls
The outside group also uses this opportunity to explain how lesbian relationships move really quickly, so that the straight men and bored teeangers watching this show will understand that very important concept.
---
+
What a Girl Wants, What a Girl Needs
Mikey's already had a couple of cocktails. Just like your mother warned you, cocktails turn girls into irritating lesbians who want a 12-inch cock and their hand up their girlfriend's skirt.
Sara M.: "Oh my god."
Robin: "That is disgusting"
Carly:"Is she wearing a kimono?"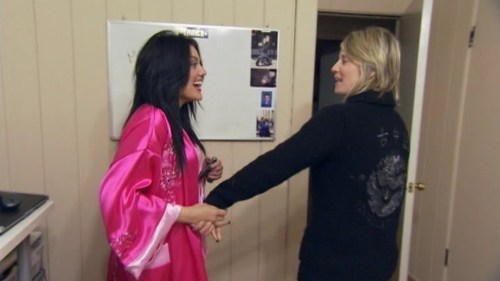 The Biggest Loser Still is Probs Me For Watching
Mikey is ready to pop and lock it with her 12-inch dick, and lures Raquel into the bedroom like so:
Mikey: "C'mon let's go to bed, you can be Jillian Michaels, and I'll be Jackie Warner."
The duo joust in bed, and Raquel yells "What is your weight loss goal? What is it?" It's actually quite hilarious and awesome.
Jess: "Wait, that was funny."
Riese: "That was funny."
Laneia & Julia: "Wait what WHAT?"
Jess: "She said "you be Jillian Michaels, and I'll be Jackie Warner."
Riese: "That's the only good thing that's happened."
Laneia: "That's the title of this post."
Riese:"You be Jillian Michaels, and I'll be Jackie Warner, and we'll beat each other up until we both die."
You'll be the prince and I'll be the princess, it's a love story baby just say yes
Raquel says her story with Mikey is like the Romeo & Juliet story, which she seems to understand about as much as Taylor Swift does. On a scale of one to ten, I'd best liken this to the relationship between Ryan Reynolds & Sandra Bullock in The Proposal.
In Raquel's special illustrated version of Romeo & Juliet, Romeo and Juliet "wake up, reconnect, and live their lives somewhere."
Riese: "If I was her girlfriend, I would wake up and hit her in the face."
---
P+
Part Fifteen: The Wedding Planners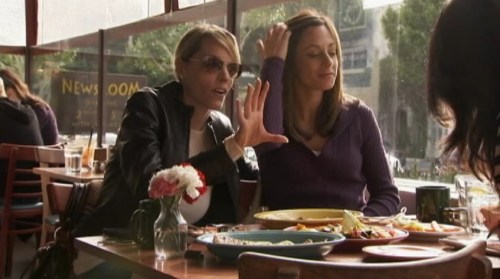 And This is What I Do Once I Get All The Way Up Inside Her Uterus
Nikki & Jill meet with the wedding planner to talk about private estates, grand halls, and weddings. Nikki doesn't even know where to begin with it. I'd begin with repealing Prop 8, and I'm pretty sure they would, too, but in the meantime because they're both Jewish, they'd like to find a lovely Rabbi.
Riese: "A wonderful rabbi? That's how Jewish they are — they have to find a wonderful rabbi — they don't know one?"
Laneia: "A WONDERFUL rabbi!"
Nikki wants to spend more on the wedding than Jill because she's been working hard all her life since she was 21 and moved here with $500 in her pocket and big dreams.
---
[PP
Part Sixteen: All the Lesbians Go to Crown Bar
We are treated to a series of pre-going out confessionals regarding their plans for the evening, because if there's one thing Ilene likes to do, it's SET THE SCENE.
Here's one scene we very much enjoy setting:
Carly: "Is this show just tracy in her underwear?"
Robin: "I'd rather just watch that."
Sara M.: "That little shot of her right there is the highlight of the whole thing."
Sarah C.: "These people are despicable human beings."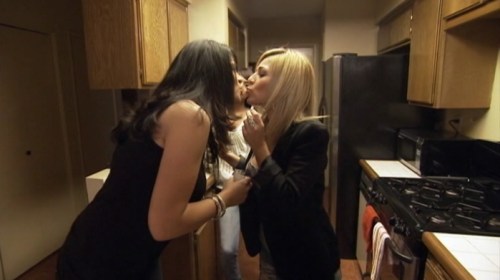 +
Lipstick Lesbians Are Just Like This
Laneia: "Oh! Kisses! Lipstick kisses!
Julia: "That's how we put our lipstick on."
OMG you guys you will NEVER GUESS how small the lesbian community is, it's like EVERYONE IS LIKE going to like CROWN BAR, and omg, I hope that Rose doesn't forget she has a girlfriend, I am SOOOO glad that Natalie just reminded her, and then omg, guess what, Whitney's going to Crown Bar too! OMG AND TRACEY OMG OMG.
Sarah C.: "If this is what LA is like, I'm not fuckin' going."
---
+
Pages: 1 2 3See entire article on one page