NOW WE'RE AT CROWN BAR YAY!
Whitney wants to go meet that hot girl over there at the bar. You know, Tracy. What did she notice first about Tracy? Her lean phisique? Her flowing brown hair? THE CAMERA CREW FOLLOWING HER AROUND THE BAR?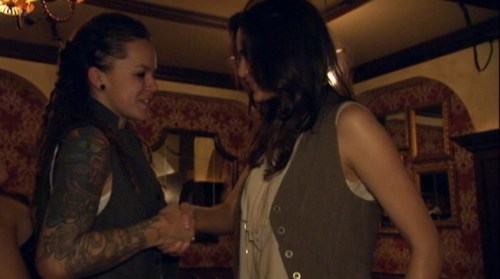 Sometimes You Can Feel the Wind Blow in a Handshake
Riese: "So Whitney sees another girl at the bar with a camera in her face, and she just goes over and says, "I think we did a photoshoot together for the cast of this show!"
Carly: "Hey, my crew knows your crew, fancy that!"
Whitney & Tracy share a poorly edited conversation about where they live and something about tying up a string/sexswing between their two homes to communicate, just in case you know, someone gets voted off the island, and they never meet again.
Let's see what's happening with Girls Girls Girls.
Lesbian Squabble #4: My Fist's So Weak If I could Lift Your Body
In the Ring: Natalie vs. Rose
How it Goes Down: Natalie is upset that Rose picked another girl up. Literally. Yes, this confused us too. Literally Rose lifted another girl into the air, and Natalie doesn't like it. Rose says that it's hard to be with girl after girl after girl and then just suddenly be with only ONE REALLY HOT GIRL.
Who Wins? Rose says it wouldn't be okay with her for Natalie to give another girl a piggyback ride either, so I guess that means Natalie wins.
Meanwhile on the other side of the bar, Whitney calls Tracy over to where she's sitting with Sara and Scarlett. Whitney calls Tracy "baby girl," and Tracy asks if Whitney is there with Sara (or if they are girlfriends), and Whitney is vague about it. This upsets Sara, but not nearly as much as the whole set-up upsets us.
You know what's amazing though? When Tracy (and her camera crew) saunter over to where Whitney's hanging out, you can see Whitney's boom guy on a nearby bench jetting for it.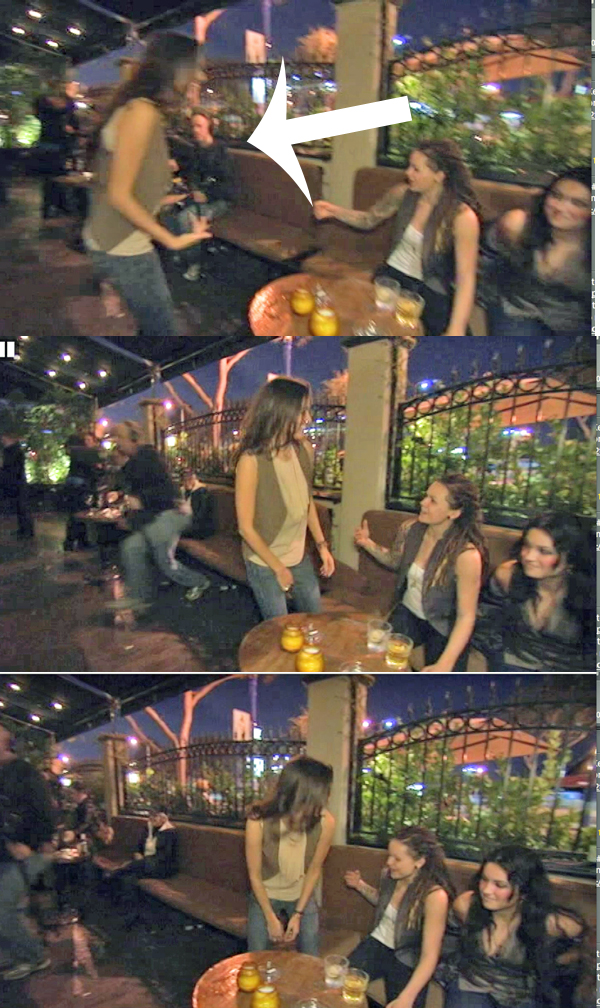 Tracy joins Whitney, Sara and Scarlet and strikes up a fascinating conversation.
Whitney: Are you a smoker?
Tracy: I'm not.
Whitney: I quit smoking for two years.
Tracy: You did? I quit coffee for two years.
Whitney: You did?
Tracy: But that didn't last.
Whitney: I love coffee. So you're onto coffee.
Tracy: Yeah that's my vice.
Whitney: So good, we should go get coffee, and I won't smoke a cigarette during it.
Tracy: Alright.
I can't believe that the producers created this entire scenario but nobody can come up with a better thing for Tracy and Whitney to have in common besides "liking coffee." Well, that's the Ilene Chaiken magic, ain't it?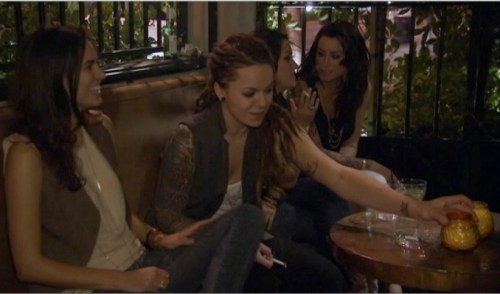 Probs I'd Prefer for Sara & Whitney to take it outside so I Could Be Alone with Scarlett and Tracy Who I Like a Lot Better
After Whitney & Tracy schedule their super exciting upcoming coffee date (the lamest kinds of dates ever), Sara is understandably upset. So she heads to the bathroom to do heroin. JK. That would be way too interesting.
The camera people loom outside the bathroom, checking for monsters under the bed.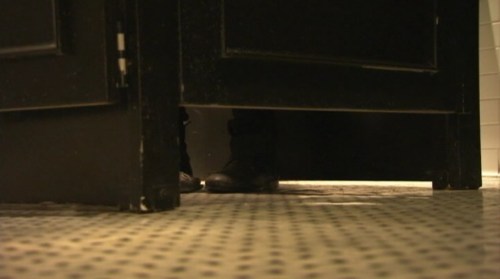 Since We're In Here Anyway Can I Pee or Would That Be Weird
Robin: "OH MY GOD THEY'RE GONNA HAVE AN ARGUMENT IN THE BATHROOM STAAAALL!"
Sarah C: "That's not what you do in the bathroom stall, ladies."
+
So they take it outside…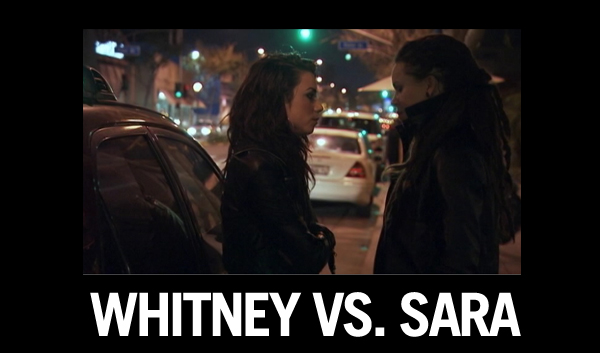 Lesbian Squabble #5: This is It
In the Ring: Whitney vs. Sara
How it Goes Down: Sara flew all the way to Los Angeles to hang out with Whitney, and then Whitney's tattoo crawled up Whitney's arm and ate Sara's face off, giving Sara scabies, rabies, and mumps. Then Whitney talked to another girl being followed around by a camera who doesn't seem like she really wants to be on camera, which makes Sara jealous, 'cause she did not fly all the way here and put on those cute white pants just to be ignored.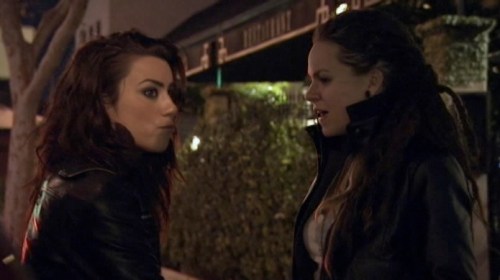 Riese: "Why are they fighting?"
Laneia: "It's that fucking Edward Cullen collar she's rocking."
Julia: "It's very Edward Cullen."
Riese: "Is that a Twilight reference?"
Laneia: "Look at her! She's like, dying to bite her right now."
Julia: "That would make this so much more entertaining. Let's just combine Twilight and The Real L Word!"
Laneia: "Oh my god! And they would actually eat them! But not like on Buffy,where things are funny afterwards."
Riese: "It would be like, "I like girls, and sometimes I have to kill them."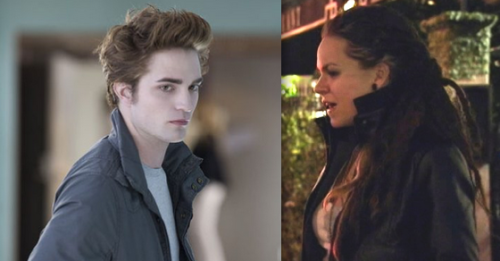 The fight is basically bad improv, but let's continue.
Sara: I said I wasn't into it, not that I wasn't into YOU. I'm into you 100%. There's no like percentage left out of that. It has nothing to do with you, it has to do with the situation at hand.
[ILLUSTRATED]:

Whitney: What situation?
Sara: Like I'm holding you back!
Whitney: What are you holding me back from?
Sara: I don't fucking know! I just don't want you (??!) and that makes me feel uneasy.
Whitney: That is not my fucking type, and regardless of any type I have, I'm telling you that I like you. So if you don't —
Sara: Come here to me, okay?
Whitney: If I could just read your mind and just know. You don't need to read my mind because I'm telling you what's going on.
Then Whitney says something generic about putting up walls, not wanting to be vulnerable, and the fear of getting hurt, which we already learned on A Shot at Love With Tila Tequila so OLD NEWS!
Who Wins: I bet this was good publicity for Crown Bar.
Laneia: "WHY IS THIS SO TERRIBLE?! BLAALALALHAGHHLALALAAAGH! Like, no one has
a bike shop to go to?"
Riese: "Wait, a bike shop?"
Laneia:"Yeah, a bike shop would be more interesting than this."
Julia: "But what made you think of a bike shop?!"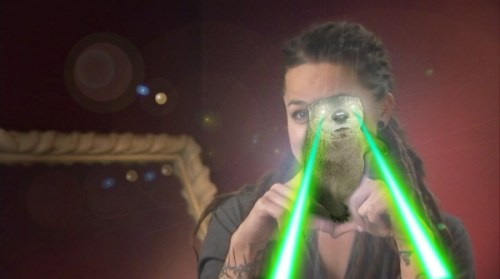 ---
P+
Part Fifteen: All the Lesbians Go Home And Have Sexytime
Lesbian Sexy Moment #1: Sponsored by Enya or EZ Girl
The Players: Whitney & Sara, Rose & Natalie
The Pick-Up: Probably something unbearably cheesy/dramatic.
Hot or Not? Is there anything hotter than a series of watered-down push slides, followed by a shot of foliage climbing a wall with breathy voiceovers emoting "you are so fucking sexy," "you're really good at this," "you made me cum"?
Yes. A Burger King Commercial.
---
+
Whitney says that last night's fingerblasting session with Sara wasn't just sex; it was more than that. Now it's a bad soft-core love scene that can be available and replayed on the internet forever and ever.
Keep Me Warm While I'm Still Here
Because Sara's leaving for San Francisco today, Whitney is going to stay in bed and protest. Like John Lennon & Yoko Ono did to promote world peace, except all she's prolonging is um, the running time of the show.
Instead of promoting World Peace, they're promoting the love they may or may not feel for one another, which may or may not matter, JK, it won't.
Julia: "Wait, she puts her bra on backwards??"
Riese: "Yeah."
Julia: "Do people do that?"
Riese: "Yes!"
Before we wrap up this compelling piece of musical theater, we get one more tidbit from Whitney the Wise.
Whitney: "Lust is easy for me, love is hard. Lust is exciting. Love is scary."
Thanks Whitney, I'm sure Kate Gosselin and Lauren Conrad would agree with you there.
---
.+
Whitney then takes Sara to the airport while talking nonsense about love.
Then Whitney drives around and picks up another girl, which is sort of amazing.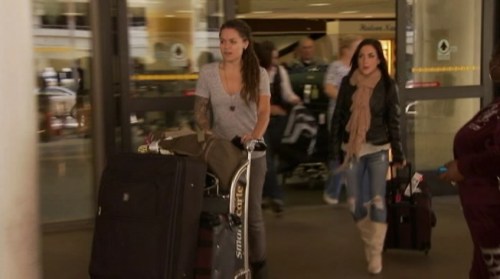 Similar Features, But Longer Hair
For the first time in the whole show, I'm very impressed with Whitney that she was able to coordinate drop-off and pick-up times so well. I mean seriously. It's almost like something that you can't imagine actually happening in real life. You know what that is!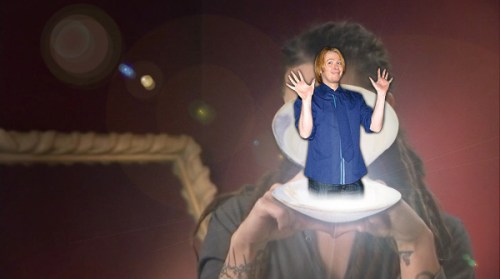 ---
+
At the end, I missed characters I believed in — however briefly. I want to see one human soul. By the end of The L Word's premiere I was ready to cut my heart open and prepare it for TINAAAAAAAAAAAAAA!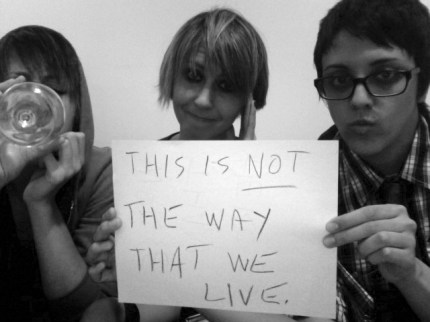 Suzanna: "Are you saying that the L word was more real than the Real L Word?"
Riese: "Yes!"
Suzanna: "If this were real, they'd all be saying, "I miss Shane."
The scenes from the rest of the season frighten me, much like the scenes from The Real World's second New Orleans cast which I saw last week and from which I have barely recovered.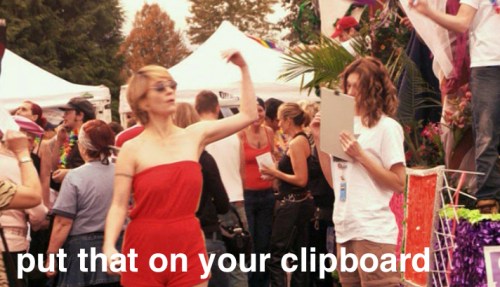 Pages: 1 2 3See entire article on one page