REAL L WORD: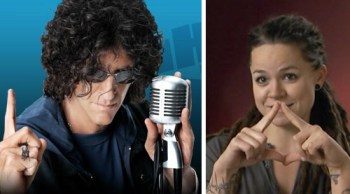 In Real L Word news, Howard Stern checked out the show and guess what – he was bored shitless just like us!  He describes Mikey as "a real asshole" and was disappointed because he's rooting for the lesbians to come off well. He says the world hates lesbians and this is the last thing we need. In fact, he's even more concerned about the two Jewish lesbians (Nikki & Jill) because of how much the world hates Jews & Lesbians. He was also amazed by the show's depiction of lesbians as childish bar-hopping partyers, fighting over girlfriends. Yea, well… it's Ilene Chaiken's world. We just live in it. Seriously though, it's interesting to have an outsider's perspective on the whole thing because maybe we are all just too close to it to judge properly? But no, the man most likely to enjoy this shit… HATED IT.
He says:  "They're even more childish than heterosexuals. I would think they'd be more advanced about all this. I thought women would be more evolved or something." Howard has always been a strong gay rights advocate and it's totally endearing to hear his disappointment in the show's negative depiction of gay women.
Listen to Howard Stern Review The Real L Word:

In other "Real" L Word News, only one episode has aired but Nikki & Jill (the couple) are already doing damage control regarding this Sunday's new episode. This week, some clever editing makes it seem like Jill is flirting with her male best friend, asking him to take his shirt off, et al,  pissing off Nikki. They say the entire thing was fabricated and Jill asked him to take his shirt off to show a new tattoo and Nikki was upset over a work project that didn't come through.  (@zap2it)
Riese Special Sidenote: This scene  pushed us over the edge. WE WERE SCREAMING 'cause it was so clearly staged and cleverly edited to make it seem like there was a problem when there wasn't, beginning with how Jill held his hand for half a second with Nikki in the car and YOU WOULD NEVER DO THAT if she still had feelings for him (you'd do it in private), but you would do that if he was JUST A FRIEND and you were a human being who sometimes touched other humans. We determined that yes, this show must be for straight men after all, as the circumstances surrounding his visit and the oddly edited voiceovers were SO. CLEARLY. STAGED. that we screamed through the whole thing and felt bad for Jill & Nikki and I said I cannot recap this at least twelve times.
ELLEN DEGENERES:
Ellen DeGeneres has signed a deal to write her memoir which has the internet wondering aloud if it"ll delve into the crazy dyke drama that went down back in 2000 between Ellen and Anne Heche. According to the always reliable National Enquirer:
"When they split, Ellen bit her tongue, but she's finally prepared to tell the world how Anne used her as a Hollywood stepping stone. She's got no problems now talking about Anne's bizarre behavior, her drug use, and the way she used men to make Ellen jealous."
Ellen has previously released two comedy books, My Point…And I Do Have One in 1995 and The Funny Thing Is in 2003.
(@mediabistro)
COURTNEY LOVE:
A hilarious compilation of the most insane quotes pulled from the new Courtney Love: Behind the Music. (@kezebel)
GAGA:
In between appearances in her underwear at various baseball parks in NYC, Gaga squeezed in some time to FINISH her follow-up to The Fame Monster and plans to release it early 2011.
"I've been working on it for months now, and I feel very strongly that it's finished right now. It came so quickly. Some artists take years; I don't. I write music every day. I think I'm gonna get the album title tattooed on me and put out the photo."
There's also this amazing quote from the interview:
"When I wake up in the morning, I feel just like any other insecure 24-year-old girl. Then I say, 'Bitch, you're Lady Gaga, you get up and walk the walk today.' "
(@rollingstone)
MELISSA ETHERIDGE:
Joy Behar had Melissa Etheridge on last night and she finally responded to Tammy Lynn Michaels' blog post asking Melissa to stop telling the press that the break-up was mutual. Melissa says she respects Tammy's right to express her feelings via her blog and always felt she was doing something good for the gay community by being so forthcoming about her relationships but it's very difficult when they end and she has to explain a break-up to the public.
.
CYNTHIA NIXON:
Miranda Hobbes will be back on TV this summer in a recurring role on The Big C, a new Showtime series starring Laura Linney. (@deadlinehollywood)
TEGAN QUIN:
Tegan shares her fave tracks for a Pride party playlist. It's mostly indie pop with a cameo from Rihanna and Robyn. (@flavorwire)
MODERN FAMILY:
There is a Facebook "Let Cam & Mitchell Kiss" campaign underway on Facebook for the two leads of Modern Family.  Jesse Tyler Ferguson spoke about the campaign in an interview:
"There's a great PDA episode they're writing about Mitchell's issues with public displays of affection. Viewers shouldn't be expecting a big, 'Gone with the Wind' romantic kiss. It's very beautiful and poignant. The writers are so good, they're really taking that criticism and they're going to run with it and try and create a talking point with it."
(@popeater)
GLEE:
Ryan Murphy has apparently put a moratorium on the Glee kids having sex in their trailers.
I've certainly dated people I've worked with and, you know, when you work on a set for 18 hours a day I think it's natural, but I have a rule: Don't do it in your trailer. They've broken that rule on many occasions. I'm like, 'I know you guys are young and hormonal, but don't do it in your trailer.' I'm the dad, that's what I say."
In less disturbing Glee news, Chris Colfer (Kurt) appeared on the UK chat show Friday Night with Jonathan Ross (with Mercedes and Mr. Shu) and displayed his sai sword skills. Check this out!