Judge Walker overturned Prop 8 on Wednesday and so we've called in our Legal Beagle Jessica to explain the nuts & bolts to ya. Like wtf is a "stay," right?
In the past, Jessica has explained what Massachusetts' ruling on DOMA means, the implications of having Elena Kagan on our supreme court (and now she is! so you should probably read that again) and initially began writing for us during the Prop 8 trial to answer our questions w/r/t How Do We Win This Thing?, What is Equal Protection? as well as basically briefing us on Prop 8 Trial 101.
All photos are from the rally in San Francisco in the Castro District after Prop 8 was overturned on August 4th, 2010.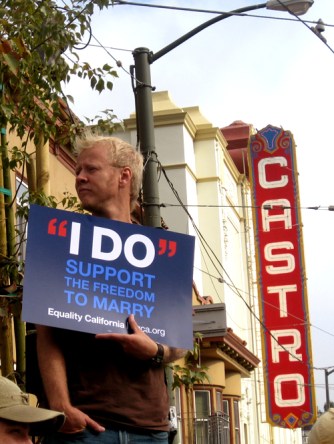 You Might Win Some But You Just Lost One
So what did Judge Walker actually decide? As you may recall, during the Prop 8 trial Team Totally Right was laying the evidentiary groundwork to make three arguments:
1. Proposition 8 violates the fundamental right to marriage as embodied in the due process clause.
2. Proposition 8 violates the equal protection clause because it discriminates based on sex.
3. Proposition 8 violates the equal protection clause because it discriminates based on sexual orientation.
To be invalidated Prop 8 only needs to be unconstitutional for one reason. However, Judge Vaughn Walker found that it is unconstitutional for all of these reasons.
According to Judge Walker, Proposition 8 "unconstitutionally burdens the exercise of the fundamental right to marry and creates an irrational classification on the basis of sexual orientation." Within his analysis of the equal protection argument, Walker acknowledges that discrimination based on sexual orientation can take the form of discrimination based on sex, but explains that it is ultimately a separate claim.
So although he writes about sexual orientation discrimination, he notes that the arguments would be just as effective if considering the laws with regard to sex discrimination.
Judge Walker on The Fundamental Right to Marriage
Both sides agree that the right to marriage is fundamental; the dispute on this issue centered upon whether the couples comprising Team Totally Right were simply seeking to exercise this fundamental right or seeking recognition of a new right (by virtue of being same-sex couples).
After considering the essential characteristics of marriage (two people giving their free consent to form a committed relationship, which then forms the foundation of a household wherein the people agree to support each other and their dependents), Judge Walker concludes that marriage is marriage, regardless of the "relative gender composition" of those involved. Team Totally Right is not requesting the recognition of a new right, they just want that old ordinary right to marriage.
Since that old, ordinary right is a fundamental one, any law that burdens that right must be supported by a really good reason — the government must produce evidence that the law is "narrowly tailored to a compelling government interest." According to Judge Walker, "the minimal evidentiary presentation" made by the H8ers just didn't cut it. They didn't demonstrate a compelling government interest in limiting marriage to opposite-sex couples, and in the absence of such a demonstration, Proposition 8 violates the Due Process Clause (which protects fundamental rights). The law must fall.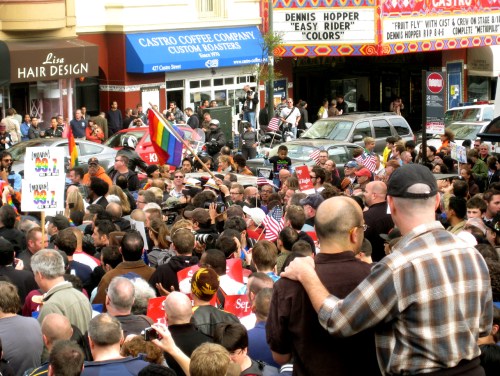 Judge Walker on The Equal Protection Of The Law
Despite its name, the equal protection clause does not require that the laws treat everyone equally. Instead, generally when the government passes a law that treats different people differently, the court presumes that the law is valid and will uphold it as long as the law is rationally related to some legitimate governmental interest. However, when the differing treatment is based upon membership in a "suspect class" (like race or gender) then the law will be scrutinized more closely.
During the trial, Team Totally Right advanced two complementary arguments under the equal protection clause:
1 – Proposition 8 discriminates based on sexual orientation and that sexual orientation is a suspect class warranting some degree of heightened review
2 – Even if the Judge didn't find sexual orientation to be a suspect class warranting heightened scrutiny, Proposition 8 discriminates based on sex, and laws that discriminate based on sex are subject to heightened scrutiny
Judge Walker agrees on all points. He finds that "sexual orientation discrimination can take the form of sex discrimination" and that the two are inherently interrelated, but that sex discrimination is only one component of sexual orientation discrimination. Because Proposition 8 only eliminates the rights gays and lesbians seek to exercise, he makes the ruling based on sexual orientation discrimination, but notes that the claim is "equivalent to a claim of discrimination based on sex."
Walker explains that the evidence presented at trial demonstrates that gays and lesbians are the type of minority that strict scrutiny review intends to protect. Among other things, he references the fact that sexual orientation is immutable and not generally something people choose, gays and lesbians have faced a long history of discrimination, discrimination still exists, irrational stereotypes persist and these stereotypes have resulted in social and legal disadvantages.
Ultimately, however, he finds that the arguments for heightened scrutiny are unnecessary, because Prop 8 cannot pass even the lowest level of review, rational basis. "Excluding same-sex couples from marriage is simply not rationally related to a legitimate governmental interest." The H8ers claim six "legitimate" interests; Judge Walker doesn't accept any of them. Again, without any legitimate governmental interest, the law cannot stand.
In a conclusion that might make your heart weep with joy and warrants reading even if you've already seen it, Judge Walker succinctly explains:
"Proposition 8 fails to advance any rational basis in singling out gay men and lesbians for denial of a marriage license. Indeed, the evidence shows Proposition 8 does nothing more than enshrine in the California Constitution the notion that opposite-sex couples are superior to same-sex couples. Because California has no interest in discriminating against gay men and lesbians, and because Proposition 8 prevents California from fulfilling its constitutional obligation to provide marriages on an equal basis, the court concludes that Proposition 8 is unconstitutional."
If I Gave You Peaches Out of My Own Garden and I Made You a Peach Pie
So you're a rockstar reader and already knew all of that? Good job. Gold stars for you. Those are just the highlights of the opinion, though. The true legal story goes a bit deeper. Beyond the actual words of the opinion (which are admittedly awesome), there are two aspects of the opinion that make it especially special.
First, conventional wisdom suggests that any decision on the matter at the Supreme Court will come down to the opinion of Justice Anthony Kennedy. This may or may not be true, but presumably, Chief Justice Roberts and Justices Scalia, Thomas and Alito will be against us, while Justices Ginsburg, Sotomayor, Breyer and Kagan(!) will automatically be on our side. We'll need five Justices, though, so all eyes are on Justice Kennedy. As Dahlia Lithwick of Slate explained it, the opinion reads a little like a love letter to Justice Kennedy. Walker quotes liberally from Romer v. Evans and Lawrence v. Texas, two opinions Justice Kennedy authored. He focuses on the importance of liberty, a concept that some have suggested sits at the center of Justice Kennedy's jurisprudence. The opinion was clearly written with the knowledge that the decision may come down to Kennedy's opinion.
That said, conventional wisdom about the Supreme Court is sometimes wrong. Judge Walker also quotes from Justice Scalia's dissenting opinion in Lawrence, where Scalia noted that "If moral disapprobation of homosexual conduct is 'no legitimate state interest' for purposes of proscribing that conduct what justification could there possibly be for denying the benefits of marriage to homosexual couples exercising 'the liberty protected by the Constitution'?" As Lawrence established that moral disapproval of an act is insufficient to warrant upholding a law prohibiting the practice, perhaps Scalia is just waiting to cast his vote in favor of the gays. It could happen. [It won't happen.]
Second, it's worth noting Judge Walker's clear, strategic divisions between findings of fact and conclusions of law. Walker wrote this opinion with the intention that it withstand review.
When an appellate court reviews the decision of a lower court, the lower court's legal conclusions are given essentially no deference. However, the factual findings are given significant deference; an appellate court can only set aside a factual determination if the factual determination is clearly erroneous. The credibility findings are subject to even higher deference.
Knowing this, Judge Walker created an incredibly detailed factual record, featuring 80 distinct findings of fact. Among other things, he noted the following:
+ Permitting same-sex couples to marry will not affect the number of opposite-sex couples who marry, divorce, cohabit, have children or otherwise affect the stability of opposite-sex marriage.
+ Individuals do not generally choose their sexual orientation.
+ Sexual orientation is fundamental to a person's identity and is a distinguishing characteristic that defines gays and lesbians as a discrete group
+ Prop 8 places the force of law behind stigmas against gays and lesbians, including that gays and lesbians do not have intimate relationships similar to heterosexual couples, gays and lesbians are not as good as heterosexuals, and gay and lesbian relationships do not deserve the full recognition of society.
The appellate court will be required to contend with these meticulously crafted factual findings. With such a pointed factual record, the appellate court will likely find it difficult to reach legal conclusions contrary to those of Judge Walker. This is not to suggest that the decision can never be overturned on appeal. It can and it very well might be. Judge Walker has done everything that he can to ensure that it won't be, though.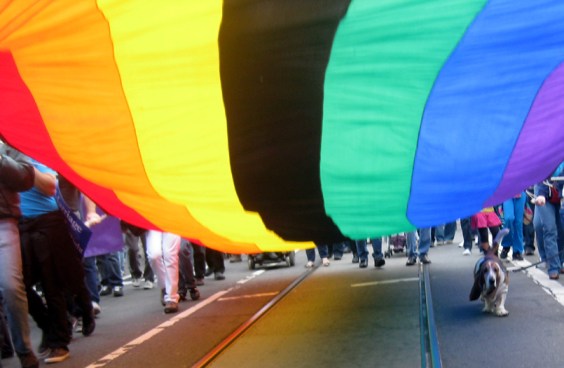 What Happens Now?
Before the opinion was released the H8ers filed a motion to stay the judgment. Essentially, they requested that the effect of the ruling be put on hold until the Ninth Circuit has a chance to rule on the case. After releasing the opinion on Wednesday, Judge Walker granted a temporary stay, giving Team Totally Right time to respond to the H8ers request. He'll make a final decision on the longer-term viability of the stay early next week.
Even if Walker chooses not to grant the stay, he will likely give the H8ers time to request an emergency stay from the Ninth Circuit. In essence, this means that the H8ers have several opportunities to prevent marriages from resuming immediately.
While this issue is being resolved, though, the H8ers are already looking forward to the next round. On Wednesday, they filed a Notice of Appeal. One more reminder that, although this was certainly a victory for Team Totally Right, it is but a step in the process and we still have a long way to go.