Hey, remember Jessica the lawyer from our Prop 8 Q&A on Saturday? She's back, as promised, to further explain the legal issues behind the gay marriage trial happening in San Francisco this week.
Because sometimes that shit is confusing.
---
When we talk about marriage equality, we start with vague ideas of "constitutional protections." We can't all delve into legal definitions (that's my job!) so instead we take these words at face value. If the Equal Protection Clause means anything; it means that gays & lesbians are entitled to the same protections as everyone else, right? Fundamental rights must include the right to dictate the most fundamental aspects of our lives — our families.
And yet, for the past week, we have tracked the arguments in federal court, where witnesses have spent hours discussing discrimination, stigma, economic impact analysis, mental health problems, and a wide range of consequences that essentially stem from the fact that gays and lesbians exist but are somehow exempt from equal protection.

These are undoubtedly important things to consider in some context. But stop and think about it. It seems a little irrelevant, right? If we begin with the assumption that everyone is entitled to equal protections and should be granted fundamental rights, why would it possibly even matter if California might generate additional revenue from legalizing marriage and therefore selling lots of gigantic wedding cakes? Shouldn't the arguments center on, for example, the fact that my little brother can visit California and marry his girlfriend while I cannot? Ignoring the fact that this hypothetical is all about me and the court case isn't, wouldn't this be a more sensible place to begin? After all, if we're both people entitled to equal protections under the law, why can he do things I can't? Why is that not enough?
The answer? The legal world is not like the rest of the world.
In a courtroom, making an argument to strike down a law based on the equal protection clause requires more than just demonstrating obviously unequal treatment – it requires demonstrating that the type of unequal treatment is akin to other types of unequal treatment that have already been deemed unconstitutional. Allegations that marriage is a fundamental right because it is fundamentally important to all aspects of a person's life will go nowhere — instead we must search prior cases that note the fundamental right to marriage.
In essence, this is what has happened in the past week. After emotional pleas from both sides in opening arguments, Team Totally Right's attorneys took control of the courtroom. (As the plaintiffs, they present their witnesses and evidence first). According to their trial memorandum, they have two primary goals before they finish presenting next week: they intend to offer evidence to support the assertions that Proposition 8 violates both the Equal Protection Clause (1) and the Due Process Clause of the Fourteenth Amendment (2). If Proposition 8 is found to be unconstitutional on either ground, it will be struck down.
Although these two arguments are related and rely on much of the same evidence, these are two distinct legal issues.
So today we're gonna just focus on one component of the argument…
The Equal Protection Clause as it relates to sexual orientation.
A phrase like "equal protection under the lawswp_postsseems to suggest that the law is supposed to treat us all the same. In reality though, the law often treats different groups of people differently based on particular attributes. For example, consider alcohol. If you're over 21, you can drink. If you're under 21, you cannot (legally). In allowing only some people to drink, the government is treating people unequally, but this is permissible. Why?
"The issue isn't whether the government is classifying people at all, but whether they have a good enough reason to do it."
Because the issue isn't whether the government is classifying people at all, but whether they have a good enough reason to do it. Most of the time, if someone alleges that a particular law violates the Equal Protection Clause, the court will evaluate the law using rational basis review.
A reviewing court will ask only whether there is a "rational relationshipwp_postsbetween the government's actions and a "legitimatewp_postsgovernmental purpose. The government has restricted the drinking age to 21. Evidence has linked lower drinking ages to increased traffic crash involvement. The state has a legitimate interest in reducing death and injury from traffic crashes. There is a rational relationship between the drinking age and a legitimate governmental purpose. These laws can stand, despite the fact that people are being treated differently.
This is a very deferential standard; most things pass rational basis review. However, the government really is required to establish that it has a legitimate purpose. And, as the Supreme Court previously noted in Lawrence v. Texas, "a bare … desire to harm a politically unpopular group cannot be a legitimate governmental purpose." When there is evidence that the intent of a law is to harm an unpopular group, courts must examine the intention a bit more carefully.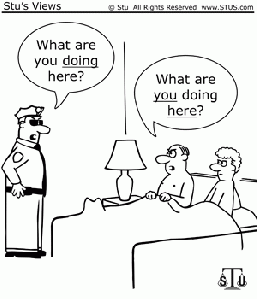 Reasonably, our attorneys argue that Prop 8 was nothing more than an attempt to harm an unpopular group. To do this, they need to first demonstrate an animus toward the gay community — which means we turn to the supporters of Prop 8. They've gone to great lengths to make their irrational hatred clear. This doesn't mean that the court couldn't find a separate "legitimatewp_postspurpose. However, it does provide grounds for the court to provide a more in-depth review.
Ultimately, few things are struck down as unconstitutional under purely rational basis review. For those of us who want to see Proposition 8 deemed unconstitutional, we'd prefer the court not use this standard of review at all. Instead, we want to persuade the court that these circumstances call for a higher standard of review and that they need to look at the government's actions a little more carefully. How do we do this? By demonstrating that the government hasn't just drawn a random classification that affects everyone equally — but that the classification harms a "suspect class."
The Constitution says nothing of suspect classes, but it is one of the most important concepts in equal protection jurisprudence. Back in 1938, the Supreme Court was contemplating the regulation of fake milk in U.S. v. Carolene Products. In a footnote, the Court noted that, although the judiciary generally has a great deal of deference for the legislature, the Court should look more closely when the regulations discriminate against a group warranting special judicial protections.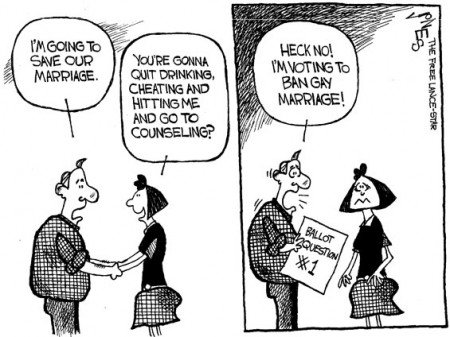 Since this time, the Supreme Court has outlined four key criteria that should be considered when deciding whether a group warrants special protections: a court must consider whether the relevant legislation is aimed at "discrete and insular minorities" who lack the "normal protections of the political process." The court will also examine whether membership in the group is based on immutable characteristics and evaluate the history of discrimination against the group.
The Supreme Court has only identified a few suspect classes that warrant heightened scrutiny. Discrimination based on race, national origin or gender warrants some form of heightened scrutiny. Much of the evidence presented this past week has been geared at demonstrating that sexual orientation should be considered a suspect class, and laws targeting gays and lesbians should be subject to heightened scrutiny.
"Laws in 31 states have made it clear that we lack the normal protections of the political process."
The idea that gays, lesbians and bisexuals comprise a discrete and insular minority is not really a question, and laws in 31 states have made it clear that we lack the normal protections of the political process. Really, the ultimate arguments regarding whether we should be considered a suspect class are likely to center upon whether being gay or lesbian is an immutable characteristic and the history of discrimination.
Immutable characteristics draw special attention, because it is generally recognized that it is unfair to punish someone for something they didn't choose and cannot change. When Plaintiff Kristen Perry took the stand, she was asked if she thought her feelings will change regarding men (she promised they wouldn't). Helen Zia testified to the fact that, though she did not have her first relationship with a woman until 12 years out of college, she's been a lesbian her entire life. Next week, Ryan Kendall will take the stand to discuss his experiences as a gay man who was forced into conversion therapy in his youth. All of these things are presented as evidence to support the claim that sexual orientation is an immutable characteristic.
Finally, and perhaps most importantly, we must establish that gays and lesbians have faced discrimination. Which seems…obvious? But still, we have to put evidence in the trial record. So Professor George Chauncey took the stand to detail the history of discrimination against gays and lesbians. Dr. Ilan Meyer testified that gays and lesbians expect to face discrimination and discussed the stigmas associated with being not heterosexual.
Given these four factors, it seems nearly impossible to imagine that sexual orientation isn't a suspect class. Yet, the Supreme Court has not yet decreed as much…and it's really up to them. Clearly, though, with the evidence presented, we're laying the groundwork in the hopes of securing a classification.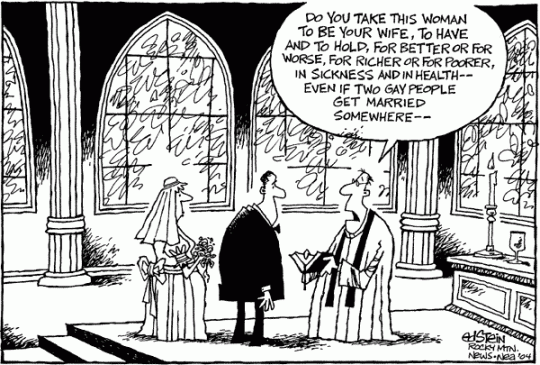 So what happens if sexual orientation is deemed a suspect class? Proposition 8 will be subject to some form of heightened review — either strict scrutiny or intermediate scrutiny.
Under strict scrutiny (which is currently used to review laws that classify people based on race or national origin), the law can only stand if it is "narrowly tailored to serve a compelling governmental interest.wp_postsThe government has to prove that it has a truly important reason for discriminating and that they cannot reach this objective through less discriminatory means.
Under intermediate scrutiny (currently used to review laws that classify people based on gender), a law can only stand if it is "substantially related to an important governmental interest."
Under either standard of heightened review, the court will review the government's actions much more carefully than it does when using rational basis review. This is good. But this doesn't end the case. On heightened review, the government still has the opportunity to demonstrate that it has a sufficient reason for the law — and if it can, the law can be upheld.
So, the other thing that our attorneys are trying to do is demonstrate that there is no narrowly-tailored, compelling reason or substantially related important reason (or even legitimate reason) to prevent gays and lesbians from marrying. And this explains all of the testimony regarding things like Dr. Michael Lamb's testimony on the impact of same-sex parenting on children and Dr. Edmund Egan's testimony on the economic consequences of marriage equality. We really only get one shot to get all of these things in the trial record — so the attorneys are making sure they're covering everything that might be relevant.
Confused yet? There's a reason people have devoted entire careers to understanding constitutional law.
But if you have any questions, I'll be in the comments!
+
+