PROP 8: Hi everyone! As I'm sure you know, the Prop 8 trial started yesterday. We'll be bringing you summarized coverage every day for the duration of the trial and we'll try to have that for you at the end of the day. Today we are late 'cause we're just now getting our shit together. If anyone has pictures or cartoons they would like to send to us, please email green [at] autostraddle dot com.!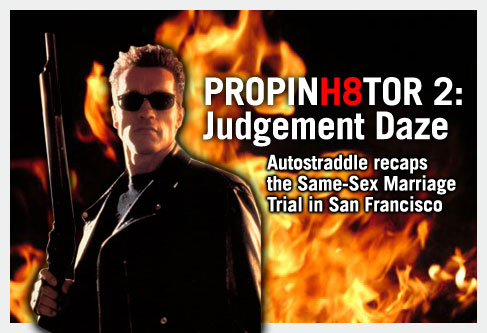 We would have a lot more content about it if we could've watched it on YouTube! Unfortunately, the Supreme Court stepped in and squashed that plan, lest those who wish to uphold discrimination ever be discriminated against. DON'T YOU LOVE AMERICA SOMETIMES?! WE LOVE IT ALL THE TIME!
As the LA Times points out about the court's decision on broadcasting the trial:
This is the second time in recent months in which the high court has intervened on behalf of the defenders of "traditional marriage" and granted an emergency appeal. In October, the justices blocked officials in the state of Washington from releasing the names of 138,000 people who signed ballot petitions seeking to overturn a state law giving equal benefits to gay and lesbian couples. Under Washington law, the names were considered public record.
I'm not a lawyer yet, so I don't know things like precedent in this case. But I do know my gut feeling, and that is WTF ARE YOU SERIOUS. I understand that the justice system works in weird/slow/frustrating ways sometimes, but I'm really tired of hearing about biggots' right to privacy while I can't get married or fear coming out at work. Just sayin'.
But, to play devil's advocate, here's a column from the Washington Post about why the California judge shouldn't have allowed broadcasting in the first place:
Walker performed legal pirouettes worthy of "Dancing with the Stars" to ensure cameras in his courtroom for the same-sex marriage trial. Keep in mind that a federal trial has never before been televised
Because you can't watch the trial online, the next best thing is a liveblog. Rick Jackson at Prop 8 Trial Tracker did a great one yesterday. It's riveting stuff. There's no big picture yet, but Jackson gives a good blow-by-blow of what is being said. He'll be blogging today's proceedings, as well, so check it out for up-to-date info on the trial's progress. The trial begins at 8:30 am PST.
DAY ONE – January 11th:
ANTI-GAY: ProtectMarriage.com's lead counsel, Charles Cooper, gave his opening arguments defending "traditional marriage." His arguments included:
+ Traditional marriage is pro-child & "promotes naturally procreative sexual activity in a stable and enduring relationship" to nurture children.
+ Gays & lesbians were not the target of discriminatory intent in the Yes on 8 campaign,
+ "Millions of Americans" believe in equal rights for GLBT but draw the line at marriage (THAT'S AN OXYMORON LIKE JUMBO SHRIMP) (also "millions of Americans" believe that Two and a Half Men is a good show, so let's leave these people out of it).
PRO-EQUALITY: Andrew Sullivan has a transcript & summary of Ted Olson's opening statement at The Atlantic. Some key quotes:

"In the words of the highest court in the land, marriage is "the most important relation in life,wp_postsand "of fundamental importance for all individuals."
"As the witnesses in this case will elaborate, marriage is central to life in America.  It promotes mental, physical and emotional health and the economic strength and stability of those who enter into a marital union.  It is the building block of family, neighborhood and community."
"Proposition 8 ended the dream of marriage, the most important relation in life, for the plaintiffs and hundreds of thousands of Californians."
Ted Olson summarized his goals as follows:
During this trial, Plaintiffs and leading experts in the fields of history, psychology, economics and political science will prove three fundamental points:
First – Marriage is vitally important in American society.
Second – By denying gay men and lesbians the right to marry, Proposition 8 works a grievous harm on the plaintiffs and other gay men and lesbians throughout California, and adds yet another chapter to the long history of discrimination they have suffered.
Third – Proposition 8 perpetrates this irreparable, immeasurable, discriminatory harm for no good reason.
Jezebel reports that, "much of yesterday's testimony focused on the personal stories behind the fight for marriage equality. Kristin M. Perry, (who brought the case to court) talked about falling in love with her partner, Sandra B. Stier. Perry was asked what it means to be a lesbian, and if she could conceive of changing her sexual orientation":
Ms. Perry, for instance, said that she had tried dating boys when she was growing up in rural Bakersfield, Calif., if only for a chance to "have a date for the prom," but that she had always known she was a lesbian.

Asked by Mr. Olson if she could change her sexual feelings, Ms. Perry paused, then replied: "I'm 45 years old. I don't think so.
P.S.: The LAist reports that at the end of the day, Protect Marriage — the organization responsible for Prop 8's passing — sent an email to its supporters summarizing the day's events:
Never did I think I would see the day where God's institution of marriage – the most stabilizing, pro-family, child-benefiting institution in human history – would be on trial before a federal judge in the nation whose forefathers founded the country on the premise of "in God we trust."
The LAist: "Too bad "In God We Trust" wasn't used by our forefathers. Rather, it first appeared on coins in the 1860s and paper money in the 1950s."
Video: And of course, there were plenty of people gathered outside the courthouse to express their views. Check out the cute lesbian couple a the 0:09 mark!
What to Watch for Day Two: U.S. history professor at Harvard Nancy Cott, who Olson and Boies hope will shoot holes through the idea of "traditional" marriage:
Also, Emily Choo is on top of this shit even though she's from Canada and this trial won't legally affect her! She's provided you with a full list of articles about yesterday's trial to check out:
News Unrelated to the Prop 8 Trial:
WEED: Two days after the Senate voted against marriage equality, the New Jersey legislature legalized marijuana. What's up with states doing that? Maine legalized pot in the same election it repealed gay marriage. And it looks like California might have the opportunity to allow weed soon. (@advocate)
UTAH: A lesbian Utah legislator has decided to carry a child for a gay couple. She's in part taking a stand against Utah's discriminatory adoption laws. (@dallasvoice)
UGANDA: We've heard a lot of outrage over Uganda's anti-gay bill from the international community. But now there's some opposition within the country!
NEW YORK: George Onorato, one of the New York Democrats who voted against the gay marriage bill last month, won't run for reelection. Says the New York Daily News: His recent "no" vote on gay marriage made him vulnerable to a primary challenge, worrying party leaders who urged him to step aside, insiders said.