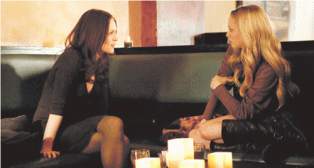 PARTIAL NUDITY & GIRLS MAKING OUT: Amanda Seyfried's fully naked and making out with Julianne Moore in an upcoming film based on a French film from 2003 that is going to be amazing/probs offensive to the homos (some Fatal Attraction type thing, 'cause yannow girls who love girls are CRAZY-ASS STALKERS) and the caps are here. In TIFF: Amanda Seyfried's Second Lesbian Encounter, Vanity Fair offers a run-down of the film and its origins & its potential quality. Here, SheWired explains the plot in less words: "Chloe is a sexually charged thriller about infidelity among the upper-middle class. Vanity Fair describes Chloe as a young prostitute who pretends to be whoever her clients want her to be: their secretary, their grade-school teacher or their daughter. Moore, meanwhile, plays Catherine Stewart, a gynecologist who suspects her professor husband (Liam Neeson) of cheating on her, and who feels she's losing touch with her teenage son (Max Thieriot)."
PRETTY PARTY: Jennifer Beals at The Book of Eli premiere, Fox All-Star Party with the cast of Glee and Olivia Wilde, Chris Colfer in H. Magazine, Blake Lively on the cover of Esquire:
ANYONE BUT ME: Season 2, episode 3 of Anyone But Me premieres today (below)! Also, the team started production on new episodes yesterday, which will include a special surprise guest star. Get excited!
TILA TEQUILA: We were actually kinda interested in watching this, and now it will never happen, because of lawsuits or something: Tila Tequila will not have a shot at Larry King. Tila is not worried b/c there is not a lot of Tila's Hot Spot/Larry King crossover. "I'm not pushing for them to change their minds cuz honestly, my fanbase demographic and to the people that matter to my career dont watch Larry King. Yes he is a huge credible person, but really not someone a young demographic of people watch." (@e!)
CLAIRE DANES: The Claire Danes Guide to Winning Career Plaudits without Really Trying. (@gawker)
SHOWTIME: Do you watch Secret Diary of a Call Girl? There's so many reasons why you should! Sassiness, nakedness, Britishness, a smart exploration of the issues of sex work… etc. Call Girl season three premieres at 10 p.m. on Feb. 1. There will be some behind the scenes footage on Jan. 25, too. Showtime put together this video on the history of prostitution for the occasion. Here's the season three trailer to whet your appetite. Did I just say "whet your appetite?"
Speaking of British people on Showtime, Tracy Ullman's State of the Union is also returning on Jan. 25. They have a trailer up for season 3, as well.
FUSE: Adam Lambert is on the record with FUSE. (@ontd)
AI: Leading up to her debut on American Idol, Esquire thinks Ellen is awesome and is kind of like Rosa Parks! That's a dicey relation these days, but ok Esquire we love Ellen too! (@esquire)